When arranged in the wrong order, voting and marijuana don't necessarily go hand-in-hand. If you get too stoned, there's a high probably that, instead of standing in line at your local polling place to exercise your most fundamental of constitutional rights, you'll fall asleep on the couch watching Adventure Time.
But, when put in the right order, voting and pot go together like chocolate and peanut butter and pot. There are few things more satisfying after doing your part to ensure a healthy democracy than to get toasted and spend the rest of the day thinking about how your vote probably doesn't actually matter in the grand scheme of things because it's not accompanied by millions of dollars in campaign donations.
That connection is why one Sacramento, Calif. medical marijuana clinic spent election day giving out a free gram of weed to everyone who walked into the dispensary wearing an "I voted" sticker. The free pot on election day giveaway is being offered by the River City Phoenix pot club: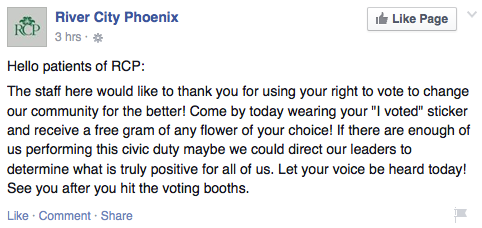 Screengrab via River City Phoenix/Facebook
California is expected to have the lowest turnout for a gubernatorial election ever—falling below 50 percent for the first time ever. So anything that could get people to the polls is probably a good thing, even though the only people who could take advantage of the free pot offer need to also have medical marijuana cards.
"The idea was to reward people for being active and casting their vote," said David Spradlin, a member of the River City Phoenix Board of Directors. "We weren't trying to incentivise people vote for one thing or another, we just wanted people to vote."
Free gram of medical marijuana to people who can prove they voted at River City Phoenix in Sacramento. pic.twitter.com/grIa9Eh7gi

— Mike Luery (@KCRALuery) November 4, 2014
However, midway through the day, the staff at River City Phoenix got a call from a representative of the California Secretary of State's office informing them that giving away free pot, or really free anything, to voters was technically a felony and that they had to stop the promotion immediately. The dispensary was told that it wouldn't face any legal concequences from the giveaway, as long as they stopped handing out free pot.
"It's a pretty complicated law, apparently the… [Secretary of State's office] also had to call Chick-fil-A and tell them to stop a promotion too," Spradlin said with a laugh.
There are no marijuana-related issues on the ballot in California this election cycle, but Golden State pot legalization advocates are paying attention to what's happening across the country. California became first state in the country to permit medical marijuana way back in 1996; however, it has yet to legalize recreational use. The success of legalization ballot measures in Alaska and Oregon could serve as a harbinger of success in a planned push to get full-scale legalization in front of California voters in 2016.
River City Phoenix isn't the first pot club to give out free weed in exchange for having voted. Earlier this year, a pot club in San Jose, Calif. handed out free pot to people sporting "I voted" stickers during June's primary election.
Photo by cheifyc/Flickr (CC BY 2.0)