There's a scene in the movie Her, before Joaquin Phoenix's character Theodore Twombly falls for the disembodied voice of Scarlett Johansson's hyper-intelligent operating system Samantha, where a lonely and horny Twombly jiggers up a futuristic phone sex app. He either passes or selects someone to get freaky with based on snippets of their voices.
Things definitely don't go well for Twombly's voice-based matchup, but perhaps people will have better luck with its real-life counterpart, Revealr, a voice-based dating app. Revealr isn't for phone sex, but it does ask users to record 20-second voice-only introductions for potential partners. Revealr is similar to Tinder in that you have to use Facebook to log in and you swipe left or right to match up with someone in a quick, almost gamified judgment process.
The main difference is the audible aspect. On Tinder, images are front and center (often, the only thing that gets judged). There's no way of knowing whether that knockout who looks like Kim Kardashian unfortunately also talks with Sexy Baby Voice like Kim Kardashian, or whether that guy who looks like Johnny Depp in What's Eating Gilbert Grape has a voice like Gilbert Gottfried. Revealr rectifies that by pushing voice snippets front-and-center; people only see what other users look like after they match with their voice. Prior to that, they see a pixelated profile photo, so it's not completely looks-blind, since it's still clear, for instance, what color hair the other person has.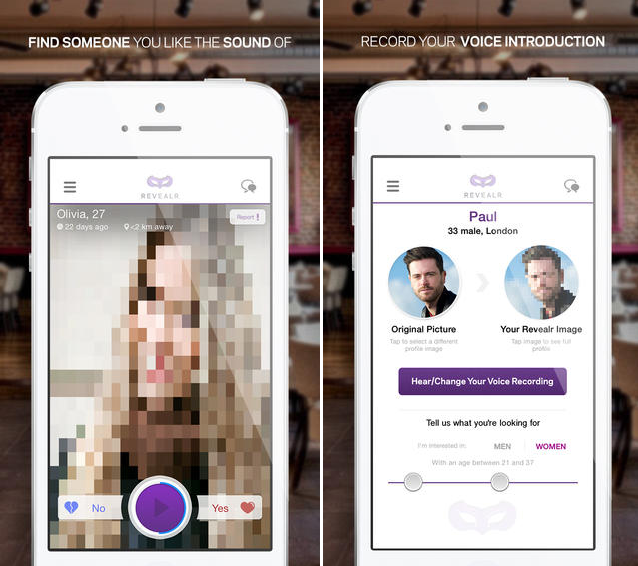 But since the image is blurry, using it and swiping to make a match is still a little bit like Christina Aguilera slamming her hand on the buzzer on The Voice and hoping she didn't get a big dork. (Actually, maybe she hopes she did get a big dork because the cognitive dissonance produced by a beautiful voice emerging from an awkward person excites viewers. I do not know Aguilera's long game, fyi.)
Throwing voice into the mix adds a wrinkle to the experience of using a dating app that might appeal to some, but it would be surprising if this app gained mainstream appeal. Looks tend to be much more important than voice when it comes to getting dates. Plus, people are lazy. Why switch to a Tinder-for-voices when normal Tinder already exists?
Despite the criticism, Revealr could gain a niche following, and I don't think we're done seeing dating apps with specific schticks. Smell is also allegedly a huge attraction factor…
H/T The Next Web | Photo via Flickr/RJ ( CC BY-SA 2.0)