Modern smartphones can take photos that often rival the quality of actual cameras, but you'd never know it based on how many apps purposely make your snapshots look like they were taken with a broken Polaroid. Reelagram takes this technology-infused nostalgia trend a step further, converting your most tastefully-filtered Instagram photos and turning them into a vintage View-Master reel.
Just like the retro toy it's modeled after, the circular reels contain your shrunken snapshots on photographic film. Each reel contains seven photos on 14 slides—one photo for each eye, for maximum visual splendor—and costs $19.95. The reels will work in an original View-Master, or with a modern clone that you can buy directly from the Reelagram online shop for an extra $10. (How convenient!)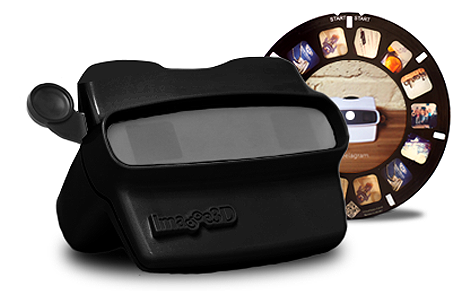 In a world where digital photography now reigns supreme, getting prints of your favorite shots is usually an afterthought, if you ever decide to do it at all. Reelagram is a funky, original take on converting your smartphone snaps to something physical, and the retro awesomeness of the View-Master style simply can't be denied.
There is some reverse engineering going on here: We moved from analog to digital photography for a reason, so why the (rather large) step backward? There's something that pulls us back with photography, it seems, something in our love of superimposing nostalgia, even if it's a little falsified. But it's OK, because Reelagram is a very novel way to do it.
As cool as Reelagram's creations are, there's still a bit of a problem: The whole "agram" thing in its name is running afoul of Instagram itself. Instagram asked the company to change its name, as it has done with many other "agram" and "insta" brands. The case hasn't been worked out yet, but the fact that Reelagram doesn't have an app and isn't in the business of digital photography should help them weather the storm. 
H/T TechCrunch | Photo via Reelagram