If you were wondering about the pornography habits of the average Joe—of course you were!—Pornhub's latest insights report has you covered. As ubiquitous across operating systems as lust across the human psyche, porn still makes the Internet go 'round. Here's how.
85 percent of desktop use is from Windows. Windows still accounts for roughly 88 percent of the desktop computing market, makes sense.
11 percent of Pornhub's desktop users run Apple's OS X. Since only 6.64 percent of desktop users own Macs, Apple lovers seem to be getting pretty busy.
Android accounts for half of Pornhub's traffic from smartphones.
Windows Phone users drive 2.3 percent of smartphone traffic, and BlackBerry is miraculously still hanging in there with 1.8 percent.
iPad porngoers make up 77 percent of Pornhub's tablet traffic.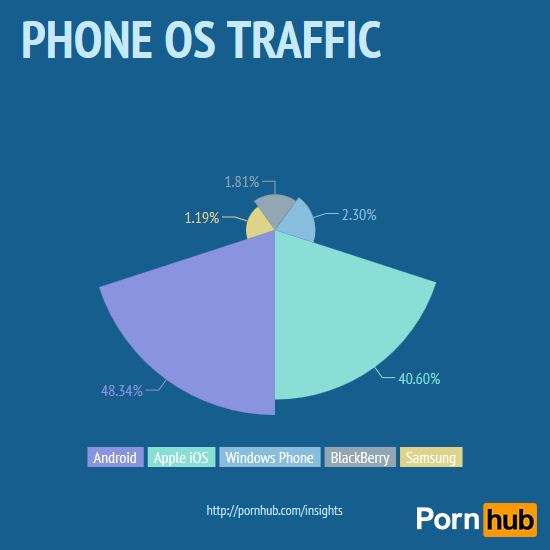 The most surprising stats? Arguably, the ones depicting Pornhub use across video game consoles. Who knew? (Millions of Pornhub fans, apparently.)
The PlayStation 3 accounts the bulk of gamer traffic, followed closely by the Xbox (we're assuming the Xbox 360 here, but Pornhub doesn't specify).
The Nintendo Wii weighs in with 6.4 percent of Pornhub's visits from game consoles. Yes, when the kids go to bed the most family-friendly console of all transforms into a pornbeast.
The Sony PS Vita and Nintendo 3Ds handheld were 4.5 percent and 1.4 percent respectively, which makes sense, given the Vita's porn-readier display.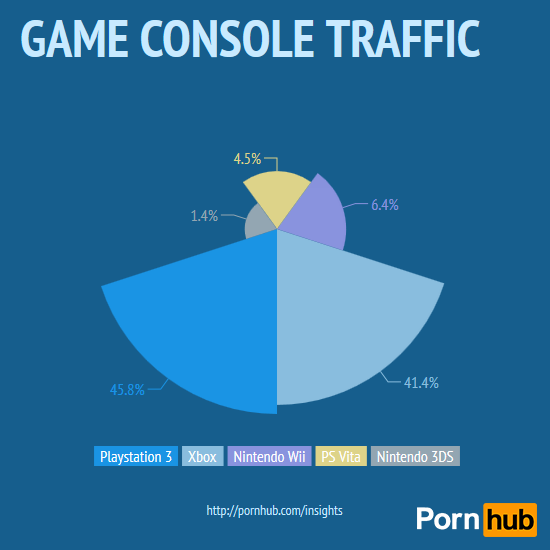 Some interesting things can also be, er, inferred about the sexual habits of Pornhub's users from their "average visit duration."
Seasoned Windows users stay on Pornhub for an average of eight minutes and 39 seconds, while Mac users clock in an additional minute.
iPhone and Android users view Pornhub for comparable intervals of time.
Windows phone users stick around for over nine minutes during an average session. But BlackBerry users? A whopping 11 minutes and 53 seconds. One can assume most of that time is spent loading the page.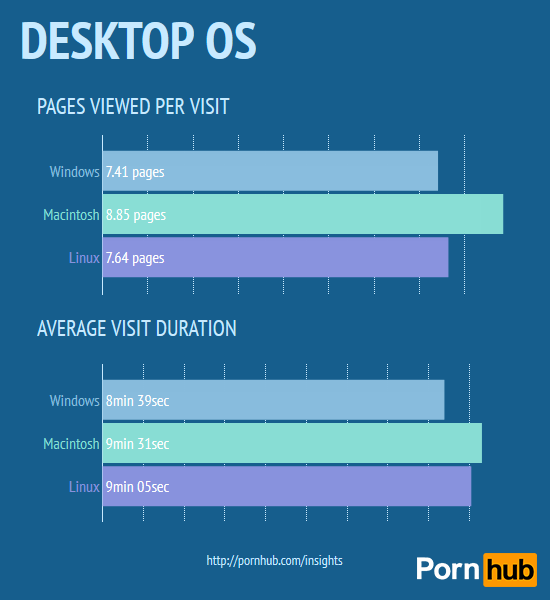 On game consoles, Xbox users were right up there with BlackBerry owners, almost.

PlayStation Vita users had the shortest visit times of all, at seven minutes and 55 seconds. N00bs.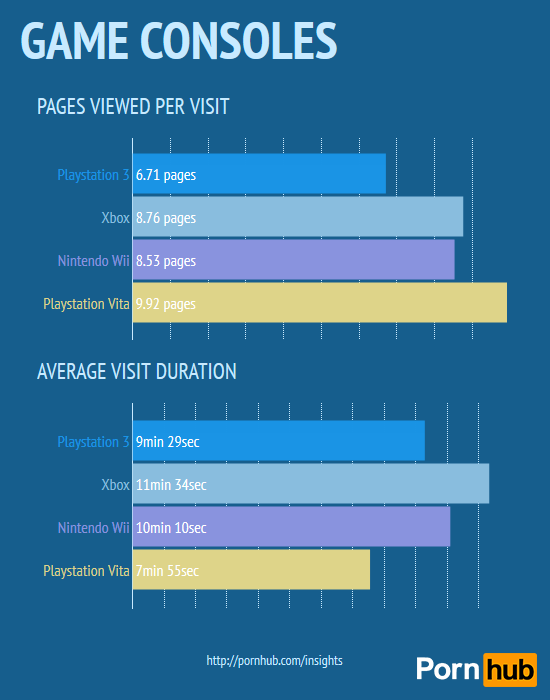 What does it all mean? Well, we're not totally sure we want to know. But props to Pornhub for giving us a little data-rich peek behind the scenes. Check out the rest of the report for the full scoop.
Photo by Håkan Dahlström/Flickr (CC BY 2.0)