Want to get involved in political action online? Here's a very simple way to get in on the action: Facebook.
The enormous social media platform has been criticized during the 2016 presidential election for the spread of fake news meant to distort—and outright lie about—candidates and their views. But Facebook is also a powerful tool for people trying to get involved in politics or political action.
Facebook is aware of this. The website has a "Facebook for Politics" page where it helps people get connected to their local elected officials and offer some best practices on how candidates or politicians' pages can interact with its billions of users. It's even started using a fact-checking measure that allows users to flag content that is clearly "fake news." (The real kind, not news you don't like).
For the average user, however, it can be daunting to try and find exactly what you're trying to get involved with.
Here's a simple list of things you can do to get involved politically using Facebook.
Facebook Town Hall Feature:
Earlier this year Facebook launched its "Town Hall" project, which allows you to get in touch with local officials.
Depending on what kind of location data you've inputted into Facebook (hometown, etc.) it will give you a detailed rundown of your state and federal representatives' pages.
When you click on the "contact" button, Facebook will give you an address and phone number so you can contact your representative to voice your opinion about upcoming legislative actions.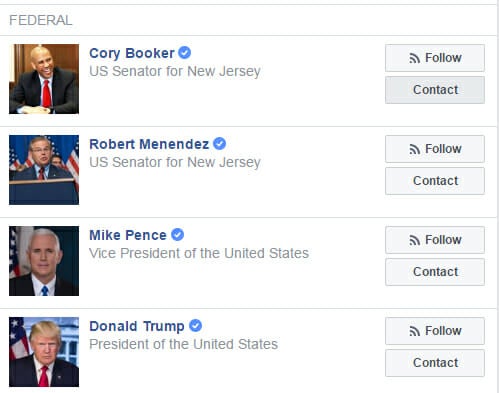 Facebook Groups:
Facebook groups are a good way to be surrounded by like-minded people who can share articles, advice, or simply musings about topics you're passionate about.
There are tons of groups out there—ranging from Democrat-centric to Republican-centric. Find one that feels most comfortable and start interacting with other people.
Sometimes, people within the group might post about events happening near you.
Facebook Events:
Much like the name implies, the event's page on Facebook shows you what has been organized by specific people or organizations around you. It's an easy way to see what kind of political action is happening in your backyard and nationally.
The March for Science event page, for example, gave detailed instructions for people who wanted to gather in Washington, D.C., and march in the name of science and the environment.
Around 27,000 people signed up on the organization's Facebook event—which also had a discussion area where people were able to ask for specific directions and offer encouragement to people.
It's not just nationally either; many state or local organizations use Facebook's events page for a variety of different protests, rallies, or meetings.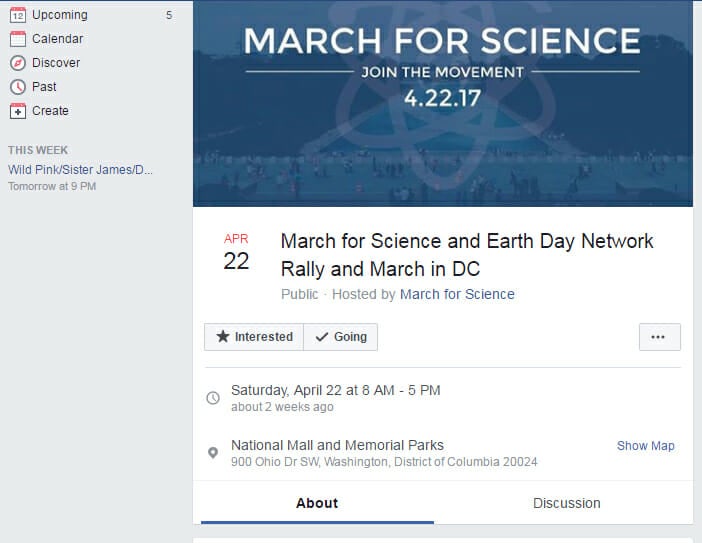 Facebook-Integrated Apps:
Facebook also allows users to have apps access their account for political purposes.
The app Votizen, for instance, enables users to see how many of their friends are registered to vote. Facebook claims 1.5 million voters were reached with Votizen.
There are a few other apps that Facebook highlighted, which you can read about here.
Other:
One last idea for being more politically active on Facebook include following the pages of your elected officials. You can follow a politician's page using the Town Hall project.
Many times, senators, members of the House, governors, and even elected officials in your hometown will have Facebook pages where they will share speeches, press releases, videos, updates, and other material that—even if you don't agree with their politics—will make you more informed as a citizen (which is always a good place to start).