If you're looking to catch the Pokémon Munchlax, your first instinct would be to check a honey tree or possibly Undella Town. Today, however, you would actually have better luck at the Empire State Building.
As an April Fool's Day prank, Google has married together the seemingly endless popularity of Pokémon with the infinite usability of its Maps app. Throughout April Fool's Day, Android and iPhone users can literally search the world for at least 150 different Pokémon. Unfortunately, the game is not available on the desktop version of Google Maps. After all, April Fool's Day is still on a Tuesday and the entire world's productivity can't be compromised.
As part of the game, Google released a "how to" video that shows Pokémon creeping along Google Street View scenery.
Players start the game in Mountain View, California, home of Google's headquarters (the main building of which has been appropriately replaced with a Pokémon Lab). Almost immediately, you will see characters like Dragonite and Bulbasaur roaming the "wild" streets of Mountain View. Nearby metro area San Francisco also appears to have been taken over by Pokémon, including Froakie, who is enjoying the view near Pier 39.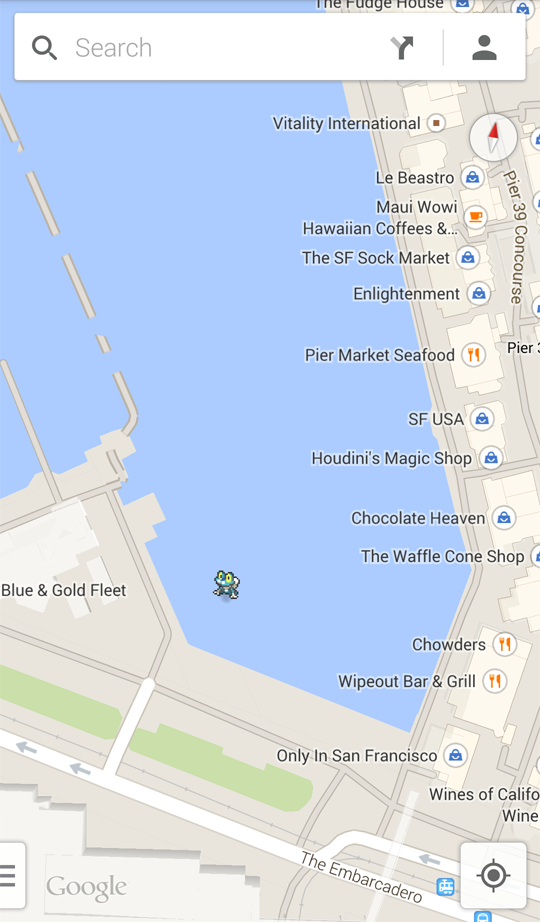 Image via Google Maps
Certain zoom levels must be activated for the Pokémon to become visible as you carefully navigate the streets of each city. Fortunately, the Pokémon do not put up much of a fight; simply by clicking on each character, you are able to capture it and add it to your own personal Pokédex.
Google released the game a day early and already dedicated players have set up numerous websites alerting people where Pokémon outside of the greater central California can be found. According to Kotaku, Helioptile is hanging out at the Eiffel Tower in Paris, France while Kirlia can be found snooping around Area 51 in Nevada.
Who knows? You could have a Mewtwo or Pikachu in your very own city, wandering down your exact street!
This isn't Google's first foray into lighthearted territory for the Internet's favorite holiday. In 2012, users were able to explore Google Maps as if they were in an 8-bit video game. 
Main image via Google Maps, ArenaJunkies