Would you play Candy Crush on Facebook while you're having sex? Shockingly, a sizable percentage of smartphone owners would, according to a study sponsored by condom company Durex in March. The study also determined that 15 percent of people would answer their smartphones or respond to a text while they were having sex, and a staggering 5 percent would actually check Facebook.
For some technophobic bloggers, the study confirmed what they'd already suspected about smartphones ruining people's relationships, and technology heralding the end of intimacy as we know it. So it's ironic then, that Erica Grigg and her husband Tim Watson are crowdfunding Passionly, a guide to saving your marriage and sex life—in the form of a mobile app.
"We don't want couples to be using the app independently all that much, we want them to be using it as a way for them to see more of each other," Grigg told the Daily Dot on the phone last week. "It's interesting because people are using something that you would think is not good for your relationship, and it's becoming good for your relationship."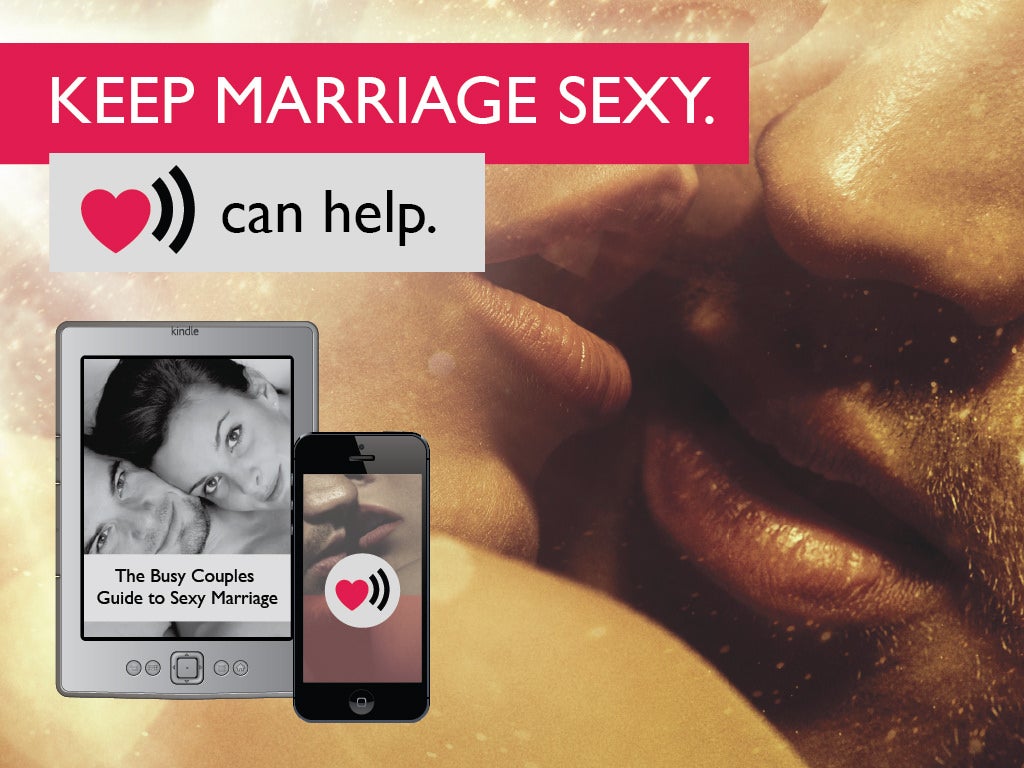 Currently available via Web, Passionly is a collaboration between Grigg and Watson, who have been married for five years. The app aims to take a step-by-step approach to solving a problem that nearly all couples encounter, the age-old conundrum: How do you restore the spark in a long-term, committed relationship?
It's something that Grigg and Watson have personal experience with. A year after they first met and fell in love—their first date, Grigg says, lasted 72 hours—they found that the "honeymoon feeling started to fade." (Relationship researchers say that on average, this usually happens between the first and third year of a relationship.) "We were having boring sex and didn't communicate with each other super well," says Grigg. "So we were both wondering what to do."
After reading a series of books and articles on how to bring the spark back, to no avail, Grigg and Watson cofounded GetLusty, a website that offered advice from psychologists and therapists on how to repair couples' sex lives. From there, they founded Passionly, a desktop app for couples who want to take a "step-by-step approach" to improving and strengthening their relationships. The app culls together advice from leading dating and sex experts.
In essence, Passionly suggests six "actions" to help couples improve their relationships, including scheduling dates, having "sex dates" (for examples, in one couples are encouraged to sexualize each other's feet; there's another that includes stranger-in-a-bar roleplay) and romantic "challenges" based on tips from dating experts. The app also includes a flirtatious messaging feature for couples, as well as a "memories" section, where couples can post wedding or vacation photos.
All of this sounds pretty standard for a relationship-building app, and the advice seems similar to what you can find in the pages of Redbook or other women's magazines. What makes Passionly somewhat unique is that it gives users the ability to schedule time for romantic or sexual dates, which, while it might sound counter to the goal of restoring spontaneity into one's relationship, is actually proven to significantly improve your sex life and overall well-being.
Scheduling sex, says Grigg, gives couples "a chance to get excited about what's gonna happen, you get a chance to imagine how it's gonna be. It might sound like you're micro-managing your sex life, but you're actually seeing these ideas and using this time to try something new and different. It's a space that you carve out for your own life and sexuality, and most couples aren't actually doing that."
Passionly is not the only relationship-building app on the market, let alone the only app built exclusively for couples. There's also Couple, a social network for couples in relationships, and HowAboutWe's couples app You&Me, which this reporter tried out (and thoroughly enjoyed) when it launched back in May. But Grigg draws a distinction between Passionly and other couples' apps, in that Passionly is "an extremely comprehensive, expert-driven, research-driven app." "All the features are there to help couples solve everyday problems proactively and help them have better sex," she says.
Can an app actually help couples communicate better and have better sex? That's another question entirely. But at the very least, it's probably better to have an app like Passionly next to you in bed than Candy Crush or Facebook.
Update 10:08am CT, Nov. 13: Passionly contacted us to clarify that while it started as a Kickstarter, it's canceling that campaign and launching outright. "We're canceling our Kickstarter today. Our product and book are going to launch all the same. We'll launch our iPhone app in January and Android in February (with the book on VDay). However, now we get to focus on making our product awesome, rather than galvanizing support on Kickstarter."
Photo by Pedro Roberto Simoes/Flickr (CC BY 2.0)