Barely half a day after President Barack Obama posted an election victory photo to Facebook and Twitter, he's set three new Guinness World Records.
The record arbiter confirmed the feats Wednesday morning, with the president now holding the titles for "Most widespread social network message in 24 hours," "Most likes on a Facebook item in 24 hours" and "Most likes on a Facebook item ever."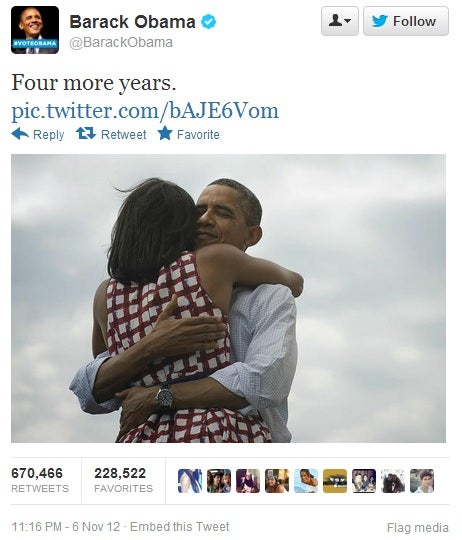 The first record relates to a tweet which read "four more years" and had a photo, taken several months ago, of the re-elected president hugging his wife. It surpassed Justin Bieber's record for the most retweets (more than 223,000) on a single post in less than an hour. With exactly 12 hours gone, it reached 670,466 retweets.
The very same photo was posted to Obama's Facebook page, where it snagged the other two records with more than 3.3 million Likes inside half a day. Guinness World Records will confirm the final figures that will enter the record books once the 24-hour period is over, at 11:16pm EST Wednesday.
While obtaining three world records in a short space of time is certainly notable and something to brag about, one expects Obama has more pressing matters on his mind.
Photo via CNN/YouTube