Two days after the world learned the National Security Agency logs practically every American phone call, the agency had started cracking down on entrepreneurs who made fun of it.
That's according to Dan McCall, founder of politically themed T-shirt company Liberty Maniacs.
On June 5, the Guardian posted the first of many documents, leaked by former contractor Edward Snowden, that detail NSA's spy practices. Two days later, McCall put up a handful of T-shirts and bumper stickers for sale on the custom goods marketplace Zazzle, which distributes most of Liberty Maniacs' goods. Each of those items had the NSA logo, plus a common joke as a slogan: "The only part of the government that actually listens."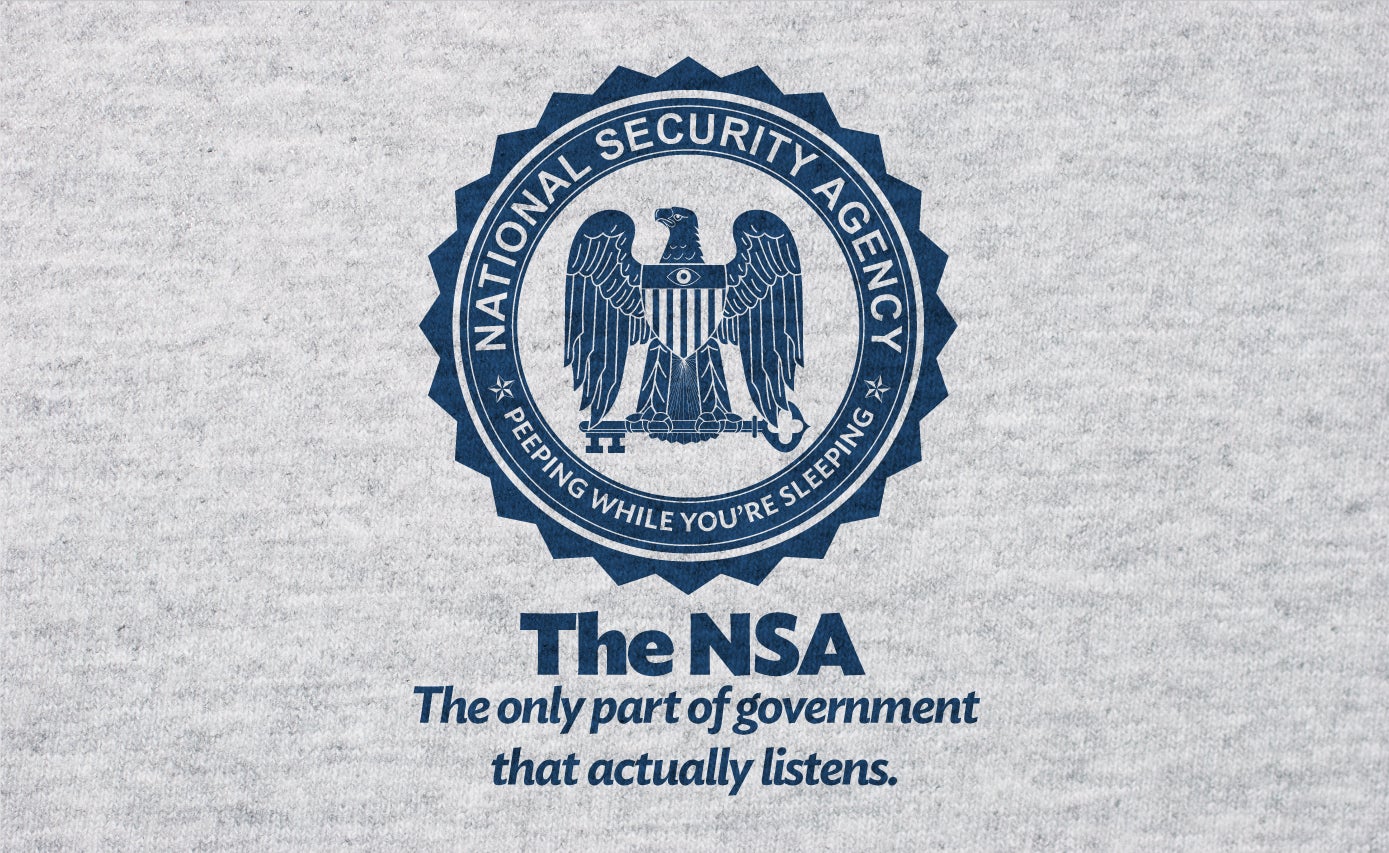 "Within an hour or two," as McCall told the Daily Dot, Zazzle emailed him to say the shirt had been removed from the Zazzle site. (Zazzle didn't respond to the Daily Dot's request for comment, nor did the NSA.)
Zazzle's first email, which McCall forwarded to the Daily Dot, said in part:
Unfortunately, it appears that your product, The NSA, contains content that is in conflict with one or more of our acceptable content guidelines.

We will be removing this product from the Zazzle Marketplace shortly. …

Result: Not Approved

Policy Notes: Design contains an image or text that may infringe on intellectual property rights. We have been contacted by the intellectual property right holder and we will be removing your product from Zazzle's Marketplace due to infringement claims.
McCall, who says he'd worked with Zazzle for five years, asked for an explanation, but when the company responded June 11, the distributor didn't share much more:
Unfortunately, it appears that your product, " the nsa", does not meet Zazzle Acceptable Content Guidelines. Specifically, your product contained content which infringes upon the intellectual property rights of National Security Agency.

We have been contacted by legal representatives from the National Security Agency, and at their request, have removed the product from the Zazzle Marketplace.
"We were actually the very first independent shop signed onto their successful 'ProSeller' program years ago, so we've had an absolutely wonderful relationship [with Zazzle]," McCall told the Daily Dot. "Which is why this has been so crazy. I basically can't speak to anyone about it.  None of my reps or anyone there will send anything but a canned response."
Fortunately for McCall, his trouble selling the shirt ended with Zazzle. He put the dozens of shirts with the logo (plus beer steins, stickers, shot glasses, aprons, gym bags, beach totes, iPad cases, etc.) on Cafepress. He hasn't had any trouble there.
UPDATE: The NSA has issued the following statement to the Daily Dot:
The NSA seal is protected by Public Law 86-36, which states that it is not permitted for "…any person to use the initials 'NSA,' the words 'National Security Agency' and the NSA seal without first acquiring written permission from the Director of NSA."
UPDATE 2: The NSA sent the Daily Dot a clarification about this particular case:  
NSA has not sent a cease and desist letter to Zazzle since March 2011 regarding a mug they were selling using the NSA Seal.   At any time that NSA is made aware that the NSA Seal is being used without our permission, we will take appropriate actions. 
Zazzle has not returned a request for comment on McCall's shirt design.
H/T bennswann.com | Photo via Dan McCall. Remix by Fernando Alfonso III