On Sept. 8, the Brazilian news outlet O Globo aired reports of yet another U.S. National Security Agency spying operation disclosed by former intelligence worker Edward Snowden. This time, the agency's controversial surveillance was aimed at Brazil's oil giant, Petrobras. The agency, it seemed, had spied on the company's private communications and potentially hacked into its computer systems. But to what end, exactly, isn't known.
From the start, the leak has presented a particular problem for the U.S. government. Unlike the previous surveillance disclosures, it was difficult for the White House to justify how this corporate spying was a national security concern. As nefarious as oil companies might be, they don't generally target the sovereignty of other nations. If Petrobras was doing so in this case, the U.S. wasn't saying; if not, spying on the company would appear to be a form of economic espionage, a tactic that had already been openly condemned by American officials.
Economic espionage, or industrial espionage, as it is called when the spying body is a private corporation, is the act of attempting to acquire intelligence, trade secrets, or technological knowledge from a rival company in order to gain a competitive edge. As David Fidler, a law professor at Indiana University, told me, when it comes to national security, spying on other governments "always violates the domestic laws of other jurisdictions. That's the funny thing; it doesn't matter because everybody does it."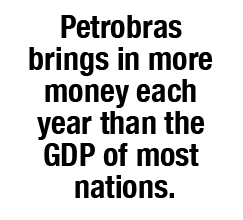 Economic espionage is another matter. The U.S. has publicly taken a firm stance against such behavior, both in international negotiations and by passing the Economic Espionage Act of 1996, which banned the practice in the country.
So why, then, did the NSA spy on a Brazilian oil company? With revenue of more than $120 billion, Petrobras brings in more money each year than the gross domestic product of most of the nations of the world. The company operates about 80 oil rigs stretching out along the Brazilian coastline.
"The U.S. doesn't want Brazil to get too powerful," journalist and Latin America historian Nikolas Kozloff told me. Kozloff, the author of  Hugo Chavez: Oil, Politics and the Challenge to the U.S., said that "one manifestation of Brazil's growing clout is the country's growing energy profile, which makes Washington nervous."
O Globo's report wasn't certain about what, if any, information the NSA was able to extract from Petrobras. As the Brazilian outlet reported, "It's clear Petrobras was a target, but no documents show exactly what information the NSA searched for." One can hazard a guess, however. According to O Globo, Petrobras has two supercomputers dedicated to analyzing seismic data. A similar analysis was recently behind Petrobras's discovery of oil fields off the coast of Brazil, the largest of its kind in recent years. As the Brazilian outlet put it, the company has "strategic knowledge" worth billions. "Brazil has developed impressive expertise in offshore oil technology," Kozloff told me, "and thus it is not a surprise that the U.S. and Britain hacked into the Brazilian Ministry of Energy and Mines."
Though the NSA's intentions in spying on Petrobras—which one might reasonably say could extend to other instances of economic espionage—aren't known, "the U.S. has many reasons for spying on Brazil," Kozloff said. "The country is an up-and-coming player in the region, which makes Washington nervous because Latin America has traditionally fallen into the U.S. sphere of influence." Kozloff offered a few guesses: It is possible, he said, that the U.S. wants to make sure Brazil's offshore oil technology doesn't overpower that of American companies. Another possibility is that the NSA wants a leg up for its companies bidding at auction of oil field markets.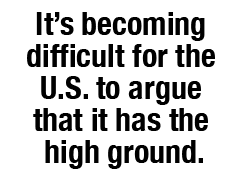 The latter scenario works like this: Internationally, companies bid for the right to drill in various oil fields. If U.S. outfits learned from Petrobras which of those fields were known to contain oil, they could make a no-risk investment, similar to the way insider trading works on Wall Street. And the amount of money at stake in these auctions is huge. On Oct. 22, for example, 40 percent of Petrobras's Libra oil field was auctioned off to foreign companies. It is estimated that in the coming decades the field will bring in some $460 billion for Brazil and Petrobras.
To be clear, there is no direct evidence that gaming such bidding wars was America's intention in conducting espionage. And Petrobras is partially owned by the Brazilian government, which further complicates the motivations behind the NSA's interest in the company.
What's more, despite the Petrobras reports, the U.S. has outright denied engaging in economic espionage against Brazil. One explanation for this discrepancy may be that, from the NSA's perspective, the ethical arguments surrounding surveillance activities are focused not so much on what data is collected but on how that data is used. Recall that the NSA's consistent response to allegations of domestic spying, particularly involving telephony metadata collection and Internet surveillance, has been that the information collected on American citizens is not used to prosecute them for domestic crimes, only to pursue national security threats. (That said, Reuters reported this summer that the NSA has shared information with the Drug Enforcement Administration for domestic drug cases, deploying a method known as parallel construction to conceal where the evidence originated.) If the U.S. isn't using the Petrobras data for economic advantage, it may feel comfortable insisting it's not economic espionage.
Because of the ambiguity of the O Globo report on the NSA's surveillance of Petrobras, it is difficult to calculate how much, if any, real economic damage the NSA inflicted on the Brazilian company and, by extension, the Brazilian government. In a broad sense, however, "Brazil and the U.S. have a lot of trade barriers," Carolina Rossini, the project director for the Latin American Resource Center at the New America Foundation, told me. Given that Brazilian President Dilma Rousseff has publicly accused the NSA of economic espionage over Petrobras, it's doubtful those barriers will come down anytime soon.  
Further, it is clear from Petrobras's reaction that the company was shaken. And the potential risk it sees in such spying is evident in its response. While denying a major NSA security breach, the company called the revelations "very disturbing" and subsequently spent $9.5 billion to up the safeguards of their information.
In the end, the real economic damage from the U.S. spying on Petrobras could end up falling upon U.S. companies. The U.S. government has pushed strong guidelines against the practice internationally, calling for strong regulation in the Transatlantic Trade and Investment Partnership with Europe and the Trans-Pacific Partnership with Asia. To be caught in economic espionage would certainly jeopardize its standing in those negotiations. And losing that ground may leave American companies vulnerable to intellectual property theft.
Each year, economic espionage costs U.S. companies $250 billion. The issue is particularly troublesome in regards to China. For the past decade, the U.S. has cast itself (rightfully) as the victim of Chinese economic espionage campaigns. For example, the first U.S. prosecution under the Economic Espionage Act was against Dongfan "Greg" Chung, a Boeing employee accused of passing secret information about the U.S. space program to the Chinese government. Federal prosecutors argued that Chung stole some 300,000 Boeing company documents for China. "This is a very, very big red flag," an assistant U.S. attorney said in his closing arguments, "as big as any red flag flying over China today." In February 2010, Chung was sentenced to more than 15 years in prison for his economic spying.
Chinese economic espionage attacks appear, in fact, to spread across many different industrial sectors in the U.S. and to be growing in frequency. According to a 2013 report by the Silicon Valley research firm, Symantec, a "hacker-for-hire" group known as Hidden Lynx has since 2009 been working for the Chinese government to attack Google, Adobe, and other Silicon Valley companies. The Office of the National Counterintelligence Executive has stated that in 2010 America prosecuted more Chinese economic espionage cases than at any other time in history.
However, given these recent revelations of NSA spying on Petrobras, as well as other allegations of economic espionage that have since surfaced in the European Union, it is becoming difficult for the U.S. to argue it has the high ground. When everyone is spying on one another, "it undercuts the U.S.'s arguments about the Chinese spying on us," said Fidler. And as the barrage of Chinese attacks shows, such regulation is desperately needed.
Ultimately, there is no clear indication what effect, if any, the allegations of spying on Petrobras will have on these trade agreements. Nor is it clear how widespread an occurrence NSA economic spying is. But the incident reveals what a calculated risk espionage can be. And in this case, the essential question of whether the benefit of such spying outweighs the cost of getting caught remains—and is likely to continue to remain—unanswered.
Illustration by Jason Reed