Is the #Normcore epidemic still infecting your browser? Never fear. One man has created a way to stop the word from existing on your Internet.
Last week, New York magazine profiled Normcore, a fashion trend in which cool kids attempt to blend in by wearing the most "normal," uninteresting, dad-like clothing possible. We covered it. Sorry.
As articles about Normcore flooded the virtual fishbowl, the backlash began, as did a demand for normcore mentions to be banished from the Internet. So Daniel Spagnoli developed a Chrome extension called No More #Normcore to redact the word from existing.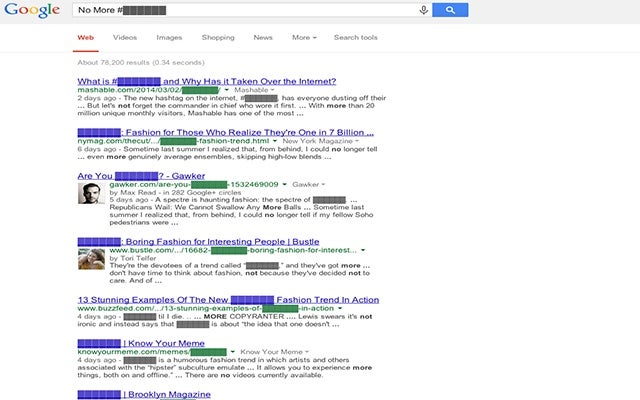 "The extension started out as a joke public request from the clothing company @to_dot_be," he explains. "It made me think of another project that the artist collective Free Art and Technology made a few years ago. They used to make all sorts of silly extensions with a meaningful statement. Theirs redacted everything on the page, as part of a statement against Internet censorship. I wasn't looking to make anything too elaborate or deep, just something fun to ease this strange, sudden, and unnecessary turmoil #normcore has created."
An app that filters anything involving the word normcore from your feed

— to.be (@to_dot_be) February 27, 2014
His mantra is "Say no to forced memes," which could be applied to so much content clogging up the Internet. But he sees the Normcore phenomenon as something that speaks to the larger issue of virality and false signals online.
Normcore itself bothers me in its artificiality. Something about a trend being invented (or 'coined' as they are calling it) by a trend forecasting group seems fake, like some sort of insider trading. Also, memes are supposed to be simulacra. Attributing a singular source of origin and definition (K-HOLE) invalidates it.

Dressing normal isn't a thing, people who dress #fabcore (no, that isn't a thing) do it to make a statement. I wear 'normal' clothes when I go to work because I don't want to make a statement with my clothes; I have other statements to make, and don't want the message to get lost. Also, there is most definitely not some sort of meta-statement in not making a statement. I don't think the stylists for Seinfeld were thinking anything other than, 'How do we make these actors look like everyday people.'
As for the future of Normcore, he has his own trend forecast:
"Back years ago, you would get people who thought they had a good idea posting it on message boards over and over again in attempt to make it an Internet meme by perceived popularity. Some of them stuck around for a little bit, but the Internet has this inherent ability to flush out the 'forced memes.' Memes like #Seapunk stick around because of their genuine absurdity, self-awareness, and public ownership. … I don't think we will be talking about #Normcore in six months, except in a 2014 recap."
H/T Bullett Media | Photo by Cathy T/Flickr (CC-BY 2.0)