Last month, we reported that anti-social apps, or apps that help you avoid people by sending an alert when they're nearby, are the hot new thing in the app market. The latest app to jump on the bandwagon is Ex-Posure, an app that uses Facebook location data to help you avoid running into your exes.
Created by MTV U.K. as a way to promote its new reality show, Ex on the Beach (which, judging by the above promo photo, looks like it was cast entirely from the "no" headshot pile from Jersey Shore), Ex-Posure lets you choose your exes among your Facebook friends. It then shows you the approximate location of where they last checked in on a map, so you can best avoid them.
Is the app accurate? Uh, no, not really. Here's what happened when I plugged in my high school boyfriend, who Facebook tells me currently works at an investment bank in lower Manhattan.
Yeah, this could literally be anywhere in New York. ANYWHERE. You've been very unhelpful, Vicky, whoever you are.
To test it out again, I plugged in someone whose location I actually knew: my boyfriend, who is a graduate student at a university in upper Manhattan and who I knew was currently in class: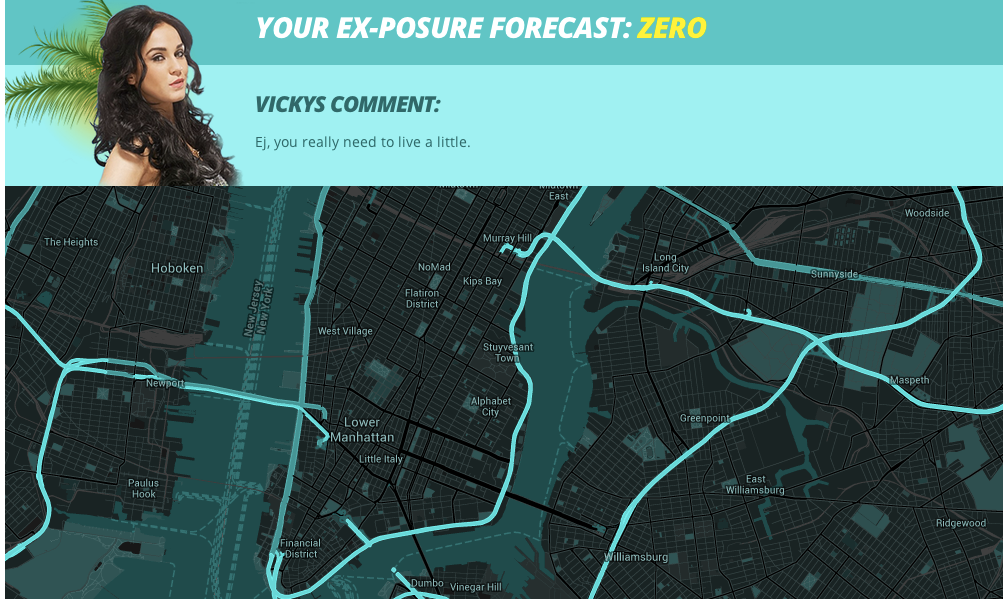 Wow, thanks a bunch, Vick. British reality TV celebrities are mean.
H/T Metro | Photo via MTV Ex on the Beach/Facebook