Even though it's been two decades since Monica Lewinsky's scandalous affair with then-president Bill Clinton hit the press, her name can still be greeted with sneers and jeers. But it looks like Lewinsky is turning the narrative, and all the jokes we've ever made about her, neatly on its head.
Fresh off of being named a producer for Impeachment, the new season of Ryan Murphy's American Crime Story, Lewinsky launched a perfect tweet.
When journalist Lauren Duca poked fun at Vice President Mike Pence's advice to, "Spend more time on your knees than the Internet," Lewinsky had the perfect reply.
"Who's going to tell him?" asked Duca.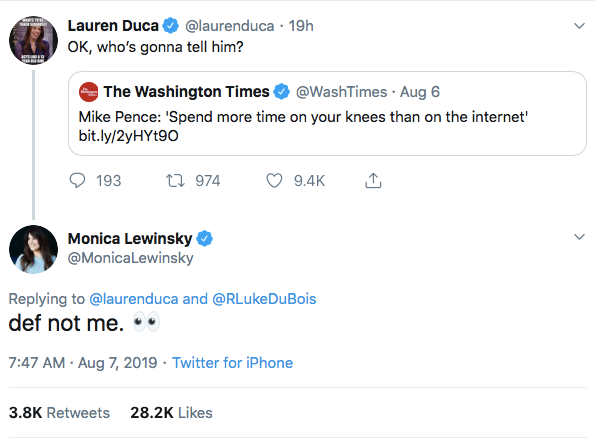 "Def not me. 👀" replied Lewinsky.
The response elicited lots of cheers and enthusiastic reaction gifs. But it also proves—as some Twitter users pointed out—that there's tremendous power in owning our stories. 

Some even said that Lewinsky's humor and wit have changed their opinion of her.

In short, the tweet is proof that despite having endured endless bullying over the years, Lewinsky is finally coming out on top.

If this is what she can do with a tweet, we can't wait to see what she'll do with a whole season of American Crime Story.
READ MORE: 
Got five minutes? We'd love to hear from you. Help shape our journalism and be entered to win an Amazon gift card by filling out our 2019 reader survey.