I'll be honest: I find it hard to get excited about Oculus Rift. As much as I think it'd be fun to, say, play a space game with a vulgar avatar a la Joaquin Phoenix in Her, or cop a feel of some adult performer's enhanced mammary glands, I just don't think headsets like Oculus Rift have yet transcended the status of novelty. Sure, it'd be cool to go to a friend's house and try it out, but it doesn't seem like we're close to it becoming a household entertainment staple.
To be fair, though, my perspective on Oculus Rift was largely without merit, because I'd never tried it before—until now. Yesterday, I went to the Marriott Marquis in midtown Manhattan to try out the Teleporter, a virtual travel simulation that uses Oculus Rift and a booth-like structure to "teleport" you to various exotic locales.  
The result of a partnership between Marriott Hotels and video effects studio Framestore, the Teleporter is an 100-second virtual reality experience that transports you from your current location to the beaches of Maui, or to the top of a skyscraper in downtown London. The Teleporter uses the Oculus Rift and a sensory "booth" to convey the sensory details of your specific locale—for instance, it spritzes you with mist when you're landing near the Pacific, or with a blast of heat if you're touring the Sahara.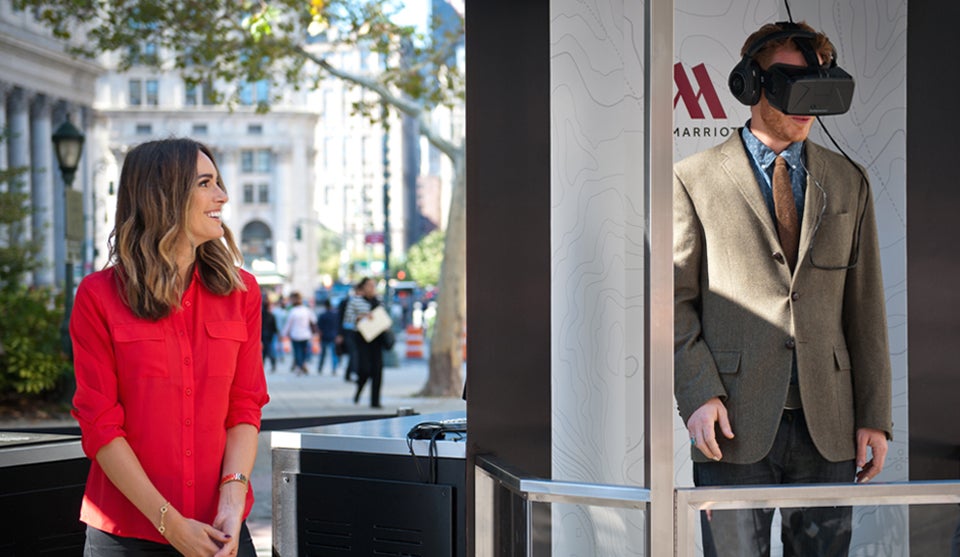 Conceived as part of Marriott's Travel Brilliantly campaign, the Teleporter is one of the travel and hospitality industry's first forays into the "cutting-edge" field of virtual technology, Lucia Stoller, the director of social marketing at Marriott Hotels told me.
"Travel is, at its core, an emotional experience, where you are living fully in the moment," Stoller told me via email. "In the Teleporter, [your] destinations evoke emotional reactions: Calm and relaxation, and excitement and adventure. All of your senses are tricking you into believing that you are actually there.
Stoller also said that far from virtual reality being merely a novelty, Marriott sees "many potential applications for this technology in the tourism industry": For instance, as in-room entertainment, or even as a way for travel agents to help people "take a peek at different destinations" before they schedule their itinerary, or peruse different exotic locales. "This technology would never replace travel, but would instead enhance it in a completely immersive way," Stoller said.
As someone who enjoys experiencing the sights and sounds and flavors of new places, but loathes the actual experience of traveling like the plague, Marriott's virtual travel experience piqued my curiosity. So I trekked to the Marriott Marquis in midtown Manhattan, where a group of journalists were already queueing up to try the Teleporter.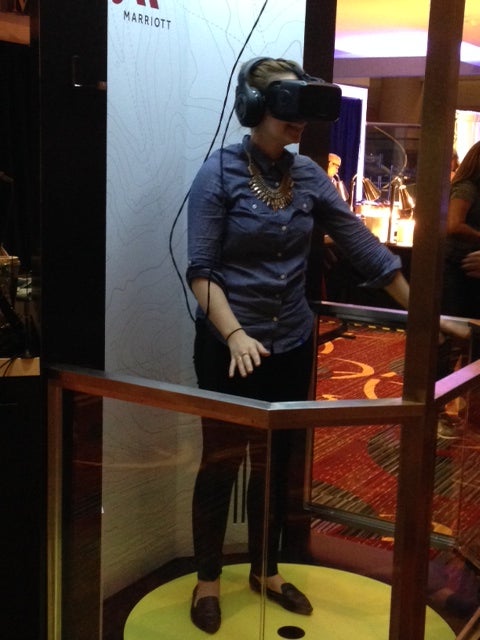 After signing a release confirming I didn't have vertigo and wasn't afraid of heights, I climbed into the Teleporter and embarked on my virtual travel experience. You can watch it here. 
The 100-second simulation started exactly where we were: at a hotel bar. As the booth filled with the sounds of chatter and clinking silverware, I tried to adjust my eyes so I could see the picture clearer. Someone assured me that my eyes would adjust to the pixelation, but I felt a little disoriented and like I was going blind. If I didn't have vertigo before using the Teleporter, I probably had it now.
The simulation then took me to what I was later informed was a beach in Hawaii (though given how blurry the picture was, the exact location was unclear.) The booth sprayed me with mist and a gentle breeze before hurtling me to the top of a skyscraper at an undisclosed urban location—London, according to the Marriott rep I spoke with afterwards. The sounds filling the headset were far less pleasant—honking, European sirens, the wind crashing around my ears—and the graphics still hadn't cleared up, so I was relieved when the simulation took me back to the Marriott bar.
Overall, I found the simulation pretty underwhelming: It didn't seem like the graphics or the technology itself were any more or less sophisticated than the virtual reality headsets I played with as a kid at EPCOT. While the concept of immersive virtual travel experiences is cool in theory, if it's actually the future of the tourism industry, I think we have a long way to go before I'd actually chuck my ticket to Paris for an Oculus Rift headset and a simulation of Montmartre.
Correction: A previous version of this article referred to the Teleporter as a "Transporter" a few times. We have fixed the error. 
Screengrab via Marriott #GetTeleported