This weekend, a failed Republican candidate who referred to himself online as the "MAGA king" was arrested for shootings at four Democratic lawmakers' homes.
Solomon Peña unsuccessfully ran for the New Mexico legislature last year. Since then, Pena has continuously falsely insisted that the election was rigged against him.
According to the Albuquerque Journal, Peña was arrested Monday afternoon. He's charged with paying four men to shoot at the homes of four Democratic lawmakers—two county commissioners and two state legislators. Police say that Peña was present for at least one of the shootings, all of which occurred since early December. He's also accused of firing a weapon at one of the homes.
No one was hurt in the shootings, though one lawmaker said that three bullets went through the bedroom of her young daughter's room as the girl was sleeping.
The Journal reports that Peña visited three of the Democrats' homes unannounced in November urging them not to certify the election.
Police say that ShotSpotter technology alerted them of the Jan. 3 shooting at New Mexico state Rep. Linda Lopez's (D) home. Police subsequently pulled over the alleged shooter in a vehicle that was reportedly registered Peña. The driver was arrested on an unrelated warrant; cops say that shell casings found outside Lopez's home matched weapons that were in the vehicle.
Police told the Journal that they believe Peña is the "mastermind" behind the shootings and that it isn't clear whether the four men he allegedly paid knew who the targets were.
Social media and his campaign website give the impression of Peña as bombastic, conspiratorial, and at times combative.
The day after he lost the election, Peña tweeted, "I dissent. I am the MAGA king."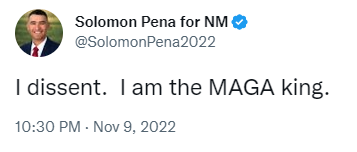 The day before the most recent shooting, he falsely claimed the election was rigged and vowed to "fight it until the day I die."
On other occasions, he told Arizona Gov. Katie Hobbs (D) to "[g]o to effing hell" and called someone who criticized MAGA "an effing bitch."
He also tweeted about the "deep state" and called Rep. Melanie Stansbury (D-N.M.) a "demon possessed liar."
Peña's campaign website refers to various Democratic policies as "demonic" and claims that the 2020 election was stolen from former President Donald Trump. It says that the guilty parties committed "treason" for which they should be imprisoned "in Guantanamo Bay, Cuba for the remainder of their natural lives."
The deep state, demons, Guantanamo Bay, and treason are common obsessions of far-right conspiracy theorists and QAnon followers.
He also declared "feminism is demonicism," saying that "women and men are not equal."  
Peña also appears to have been in Washington, D.C. during the Capitol riot. Late last year, he tweeted "one of the last pictures I have of the Jan 06 trip" and said he'd lost that phone at a Trump rally in July 2021.
Pena is charged with conspiracy to commit a felony, shooting at dwellings or occupied buildings, and shooting from a vehicle. It is not yet known how he intends to plea to the charges.
Peña previously served nearly seven years in prison for a 2008 theft conviction.


We crawl the web so you don't have to.
Sign up for the Daily Dot newsletter to get the best and worst of the internet in your inbox every day.