The nation's largest third party is seeing scores of its candidates on the ballot this November. Voters sick of the two-party system may flock to their state's Libertarian candidates. Here's a run-down of the major Libertarian candidates running for Congress by state.  
Libertarian candidates 2018
Arizona
Barry Hess, U.S. Senate (Write-in)
Barry Hess, a longtime Libertarian activist, has run for governor of Arizona as the Libertarian candidate in every election since 2002. Due to a law change in 2015 that increased the number of signatures required for a candidate's name to make the ballot, Hess is running as a write-in candidate for U.S. Senate. Republicans are hoping this change will prevent potential Republican voters from voting Libertarian, but Hess insists that such a change will just hurt voter turnout.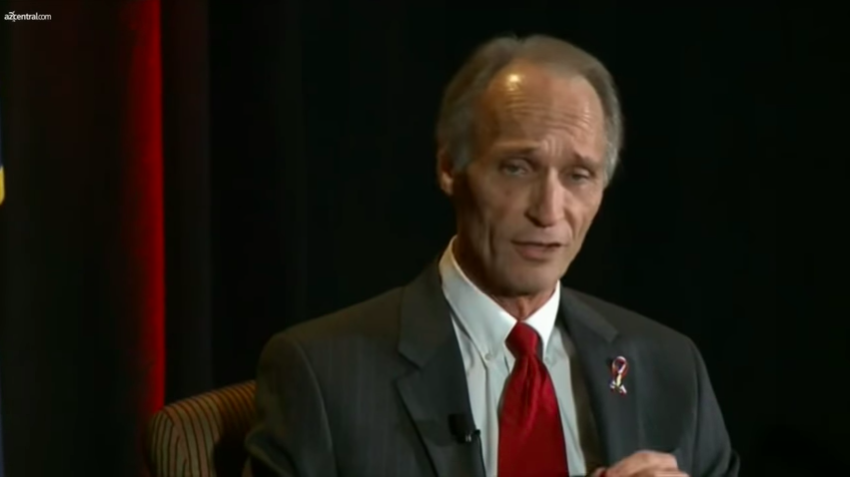 Arkansas
Tom Canada, U.S. House of Representatives, Arkansas 4th District
Tom Canada is a native of Scranton, Arkansas. According to his Facebook page, he supports overturning Roe v. Wade, ending foreign aid, and shrinking the size of the federal government. Canada opposes the death penalty and believes that Arkansas currently has too many laws that criminalize nonviolent behavior.
Michael Kalagias, U.S. House of Representatives, Arkansas 3rd District
Michael Kalagias has lived in Benton County, Arkansas since 1991. He is a U.S. Navy veteran who has also worked as a public school teacher and school security guard. If elected, Kalagias promises not to vote for any spending increases. He is pro-life and a supporter of the Second Amendment.

READ MORE:
Elvis Presley, U.S. House of Representatives, Arkansas 1st District
An Elvis impersonator who legally changed his name to closely resemble the famed rock musician, Elvis D. Presley is based in Star City, Arkansas. Formerly known as Joey Ashmore, the 51-year old is a car refinisher by day. Presley believes that gun purchases should require mental health evaluations, that Arkansas farmers need assistance, and the state's potholes need to be fixed. If elected, Pressley has no plans to hang up his white jumpsuit. "I would continue to do the Elvis Presley show because it is something that's been in my life for years and I won't let it down," said Presley in an interview with Inside Edition. "But I will not let it interfere with my job in Washington."
Joe Swafford, U.S. House of Representatives, Arkansas 2nd District
Joe Swafford was raised in Central Arkansas. According to his Ballotpedia survey responses, Swafford's top three priorities if elected would be to balance the budget, cut spending and taxes, and plan to pay off the debt. According to his Facebook page, Swafford also supports civil asset forfeiture reform and ending the drug war.
Colorado
Roger Barris, U.S. House of Representatives, Colorado 2nd District
Roger Barris is a long time investor and entrepreneur, working at both Deutsche Bank and Goldman Sachs. He managed his own real estate investment fund, Peakside Capital, until retiring in 2015. If elected, Barris promises to fight for term limits in Congress, sunset provisions for laws, and bills with a single, clear, subject stated clearly in its title.
Raymon Doane, U.S. House of Representatives, Colorado 1st District
Raymon Doane resides in Northeast Denver. According to his Facebook page, if elected to office he plans on working on GED support for individuals who have not finished high school, spreading awareness among the small business community of local entrepreneurship opportunities, and increasing transparency and accountability within the government. Doane also wants to push for term limits in Congress, an equitable tax code, and the national legalization of marijuana.
Gaylon Kent, U.S. House of Representatives, Colorado 3rd District
Gaylon Kent is a hotel night auditor and a part-time worker at Walmart. He has run unsuccessfully for various House and Senate races in Colorado since 2012. He has written 11 e-books and is self-educated.
Kat Martin, U.S. House of Representatives, Colorado 6th District
Kat Martin is a 28-year old from Denver. She has worked as a waitress and a deli clerk and currently resides in Aurora. She plans to fight for sex worker rights, paternity leave, and an end to private prisons. She tells the Denver Post that the opioid crisis motivated her to make a run for Congress.
"The opioid crisis and the fact that America has the highest per capita incarnation rate. I want to bring compassion and understanding to Washington," said Martin.
Jennifer Nackerud, U.S. House of Representatives, Colorado 7th District
The 35-year old Jennifer Nackerud is the write-in Libertarian House candidate for Colorado's 7th District. She is a registered behavior technician who has lived in Westminster for the past six years and considers Trinidad her hometown.
Nackerud believes in school choice, the Second Amendment, does not support an overhaul of Obamacare, and is pro-life.
Richard Lion, U.S. Senate
Richard Lion is a veteran of the U.S. Air Force and served as Chairman of the Libertarian Party of Connecticut from 2003 to 2008. Lion is pro-life, and believes in eliminating gun control laws, government bailouts of corporations, and decreasing military spending. He is a supporter of gay marriage and gays in the military.
Connecticut
Dan Reale, U.S. House of Representatives, Connecticut 2nd District
The 34-year old Dan Reale is a paralegal who grew up in Plainfield. He believes that the U.S. government should overhaul existing trade agreements such as NAFTA in favor of an equal trade policy for all nations and all industries. He favors legislation that would make student loans dischargeable in bankruptcy, cutting federal spending, and increasing transparency in healthcare pricing.
Delaware
Nadine Frost, U.S. Senate
Nadine Frost is challenging long-time incumbent U.S. Senator Thomas Carper (D-Del.) as the Libertarian candidate for his seat. She is a 52-year old single mom. Frost lives in Wilmington and has no experience in public office.
Georgia
Martin Cowen, U.S. House of Representatives, Georgia 13th District
Martin Cowen is the write-in Libertarian candidate for Georgia's 13th District. He is an attorney and a graduate of the University of Georgia and University of Georgia School of Law. He served as an associate judge of Clayton County Probate Court in Georgia from 2013 to 2015.
Robin Gilmer, U.S. House of Representatives, Georgia 9th District
Robin Gilmer has spent over 20 years living in the state of Georgia. He worked at Novogradac & Company LLP, working in the field of low-income housing tax credits. He has also worked on compliance projects with the Department of Housing and Urban Development. Currently, he is an auditor. Gilmer is also a foster parent.
Hawaii
Michelle Tippens, U.S. House of Representatives, Hawaii 1st District
Michelle Tippens is the current Executive Director and acting president of the Hawaii Veterans Cannabis Alliance. She is a divorced mother of four and has an advanced degree in criminal justice. She served in the U.S. Army for over four years and graduated second in her class as a counterintelligence agent.
"As a candidate, I am most focused toward ensuring the laws of Hawaii reflect the desires of the people. I am personally committed to the fact that a democratic government is meant to do exactly that, be a reflection of the community's desires and beliefs," said Tippens in an interview with the Honolulu Star-Advertiser.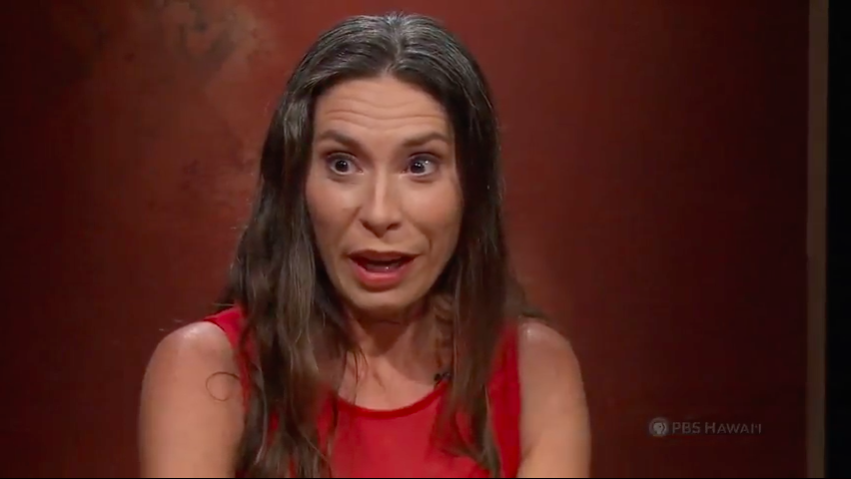 Scott Howard, U.S. House of Representatives, First District
Scott Howard's priorities, if elected, include term limits for members of Congress, removing any legislation that restricts gun sales, and "removing unnecessary government."
Indiana
Lucy Brenton, U.S. Senate
Lucy Brenton is expected to make things harder for the race between Democrat and incumbent Sen. Joe Donnelly and Republican Mike Braun.
Braun and Donnelly are currently locked in a dead heat. The mother of 10 kids hopes to bring to Congress "a message of hope." "As a Libertarian, I want the Constitution to be recognized for what it is, the ruling document of this country," Brenton said in an interview with the Indianapolis Star. "…I just want us all to be free."
Tom Ferkinhoff, U.S. House of Representatives, 6th District
Tom Ferkinhoff is a CPA who has worked in public accounting for over 30 years. He promises to donate at least 20 percent of his congressional salary to local charities.
Iowa
Charles Aldrich, U.S. House of Representatives, 4th District
Charles Aldrich is a 62-year old Marine veteran and industrial engineer from Clarion, Iowa. He hopes to legalize marijuana, shift the U.S. military's posture from an offensive one to a defensive one, and change current policies governing herbicides and pesticides.
Bryan Holder, U.S. House of Representatives, 3rd District
Bryan Holder is from Council Bluffs, Iowa. He graduated from Creighton Law School in 1998. He has run for the U.S. House on three separate occasions, in 2014, 2016, and 2018.
Mark Strauss, U.S. House of Representatives, 2nd District
Mark Strauss is a resident of Bettendorf, Iowa. He wants to change regulations on drug legalization, reform the criminal justice system, and legalize marijuana.
Kansas
Chris Clemmons, U.S. House of Representatives, 3rd District
Chris Clemmons is from Shawnee, Kansas and is a 2011 graduate of the University of Kansas. He is a teacher in Kansas City, Kansas public schools.
Kelly Standley, U.S. House of Representatives, Kansas 2nd District
Kelly Standley is a 5th generation Kansan from Erie. He owns three companies which focus on working with the homeless. He says his biggest priorities if elected will be to work with both sides of the aisle and balance the budget.
Kentucky
Frank Harris, U.S. House of Representatives, Kentucky 2nd District
Frank Harris has lived in Lexington, Kentucky his entire life, excluding one year he spent in college in Pennsylvania. He graduated from the University of Kentucky with degrees in math and science. He is currently retired after years spent working as a computer programmer.
Louisiana
Aaron Andrus, U.S. House of Representatives, Louisiana 3rd District
Aaron Andrus was born and raised in Southwest Louisiana and is currently the Operations Manager for Seabulk Towing.
According to his website, Andrus has chosen to run for Congress because he is tired.
"I'm tired of how things never change no matter who we vote in. I'm tired of the government wasting my money on things that are against my values. I'm tired of deficits. I'm tired of the expansion of the state and the erosion of civil liberties. I'm tired of big corporations getting bailouts and the average taxpayer having to pick up the tab. When I looked at the field of candidates all I saw was more—more of the same. Red or Blue, we vote them in and they sell us out. I'm not them. I'm not Red or Blue. I'm you," writes Andrus.
Howard Kearney,  U.S. House of Representatives, Louisiana 1st District
Howard Kearney is a computer programmer who has worked for IBM since 1996. He currently lives in Mandeville, Louisiana.
Kyle Randol, U.S. House of Representatives, Louisiana 5th District
Kyle Randol of Monroe, Louisiana promises to downsize the federal government and focus on freedom.
He is opposed to the idea of building a border wall.
"I believe that ALL PEOPLE are created with certain inalienable rights to life, LIBERTY, and ownership of property. Let's stop treating the people crossing the border as guilty until proven innocent. The "violent criminals" supposedly being stopped doesn't justify the violence being brought upon peaceful people crossing the border," wrote Monroe on his Facebook page.
Maryland
David Bishop, U.S. House of Representatives, Maryland 4th District
David Bishop is a U.S. Marine Corps veteran and a small business manager. He graduated with a bachelors of science from Campbell University and has lived in the Arnold, Maryland area for most of his life.
Kevin Caldwell, U.S. House of Representatives, Maryland 6th District
Kevin Caldwell is a former U.S. Army sergeant. If elected, he hopes to give citizens the choice of directing their taxes to a Universal Charitable Tax Credit and require a 2-3 year referendum on any policy passed in Congress.
David Griggs, U.S. House of Representatives, Maryland 7th District
David Griggs has lived in Howard County for over 20 years. Prior to working at Applied Physics Laboratory, he worked at the Department of Defense and NASA as a contractor. Griggs has been a Libertarian since the early 70s.
"I have found that the philosophical basis of libertarianism—the belief in the basic universal right to control how we live our own lives without interfering with how others live theirs—gives me the ability that could effectively address many issues that are of current concern and have not and cannot be successfully addressed by the generally unprincipled major political parties," wrote Griggs on his website.
Jenica Martin, U.S. House of Representatives, Maryland 1st District
Jenica Martin is from Elkton, Maryland. She's worked as a residential counselor for the Department of Persons with Disabilities and at Discover Financial Services. She holds a bachelor's degree in linguistics from Montclair State University and a master's in public policy from Liberty University.
Jasen Wunder, U.S. House of Representatives. Maryland 8th District
Jasen Wunder is from Sykesville, Maryland. If elected, he promises to vote to limit the surveillance power of the CIA and NSA, accept a salary of only $56,000 a year, and vote against any bill that tries to limit the rights of the LGBT and minorities.
Mississippi
Danny Bedwell, U.S. Senate
Danny Bedwell is a former Navy diving instructor who is retired after 20 years of service. He served as Chairman of the Libertarian Party of Mississippi for many years. He currently lives in Columbus, Mississippi with his wife and daughter.
Missouri
Japheth Campbell, U.S. Senate
Japheth Campbell was born in the Ozarks and relocated to Springfield, Missouri to attend Central Bible College. He is a minister who contracted with the U.S. Army chaplaincy.
Nebraska
Jim Schultz, U.S. Senate
Jim Schultz has lived in Lincoln, Nebraska since he was six years old. After years of voting Democrat and supporting the likes of Barack Obama and Bernie Sanders, Schultz turned to Libertarianism.
Nevada
Tim Hagan, U.S. Senate
Tim Hagan has been the treasurer of the Libertarian National Committee since 2012, and also serves as treasurer of the Libertarian Party of Nevada. He has lived in Nevada for more than 20 years. He was born and raised in Kansas City, Missouri. He is currently an electrical engineer with JT4 in the testing of radar systems.
New Mexico
Gary Johnson, U.S. Senate
Former governor of New Mexico and 2016 presidential candidate Gary Johnson is running for Senate. Johnson is known as being one of the first mainstream politicians to call for the legalization of marijuana.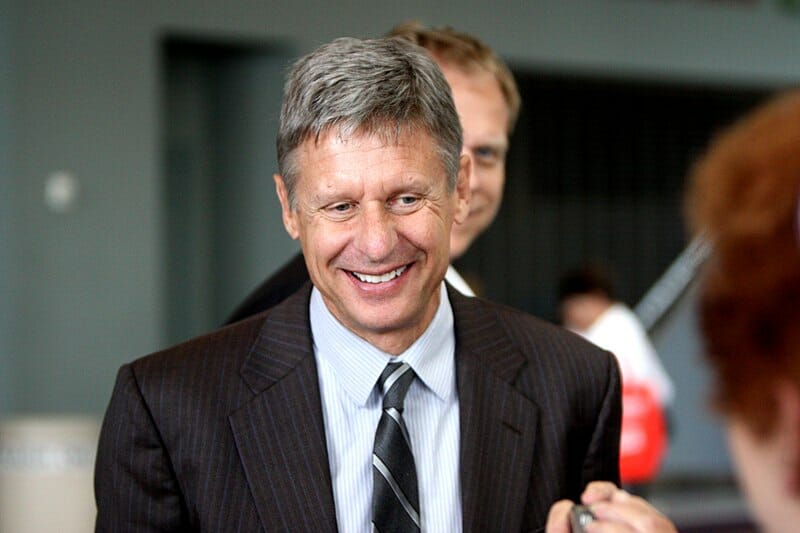 Bruce Jaynes, U.S. Senate
Bruce Jaynes ran for president as a write-in candidate in 2016. He is the founder of a technology called Collaborism, Inc. that is intended to reduce costs and improve services nationally.
Utah
Craig Bowden, U.S. Senate
Craig Bowden is a small business owner and Marine Corps veteran. He has been Chairman of Weber County's Libertarian Party since 2015.
Virginia
Matt Waters, U.S. Senate
Matt Waters has lived in Virginia his entire life. He is a graduate of George Mason University. He states on his website that he is running for office in order to address the federal government's "out of control spending."
Stevan Porter, U.S. House of Representatives, Virginia 11th District
Stevan Porter was raised in the Seattle area and has lived in Northern Virginia since 1995. He is currently a senior technical support engineer at Oracle. If elected, Porter wants to address gerrymander, impose term limits, and cut the national debt.
Joe Walton, U.S. House of Representatives, Virginia 7th District
Joseph Walton was born and raised in central Virginia and currently lives in Powhatan. He served a term in the County of Powhatan Board of Supervisors from 2008 to 2011. He graduated from Virginia Commonwealth University.
Washington
Brian Luke, U.S. House of Representatives, Washington 2nd District
Brian Luke holds a master's degree in international studies with a focus on the Middle East. He has worked in the grocery business for over 20 years. He wishes to limit U.S. foreign intervention abroad, cut taxes and spending, and reduce funding for the U.S. military.
READ MORE:
West Virginia
Rusty Hollen, U.S. Senate
Rusty Hollen was born and raised in Buckhannon and currently resides in Clarksburg. He spent six years in the Army National Guard as a member of the Military Police Corps. He strongly opposes the state income tax and vows to fight for term limits in Congress if elected.
Wyoming
Richard Brubaker, U.S. House of Representatives, Wyoming At-Large
Richard Brubaker is a truck driver who graduated from Wind River High School and Berks Technological Institute. He has run as the Libertarian candidate for the same seat since 2012.  
Joseph Parambo, U.S. Senate
Joe Parambo, a 54-year old registered Republican and cook, made the decision to run as a Libertarian earlier this year when he realized he wouldn't be able to get the signatures needed to run as an independent.