New York Senator Kirsten Gillibrand became a household name in December 2017 when she stumbled onto the receiving end of one of the president's Twitter punches.
In one of his more controversial messages, Trump suggested that Gillibrand peddled sexual favors for campaign cash, writing: "Lightweight Senator Kirsten Gillibrand, a total flunky for Chuck Schumer and someone who would come to my office "begging" for campaign contributions not so long ago (and would do anything for them), is now in the ring fighting against Trump. Very disloyal to Bill & Crooked-USED!"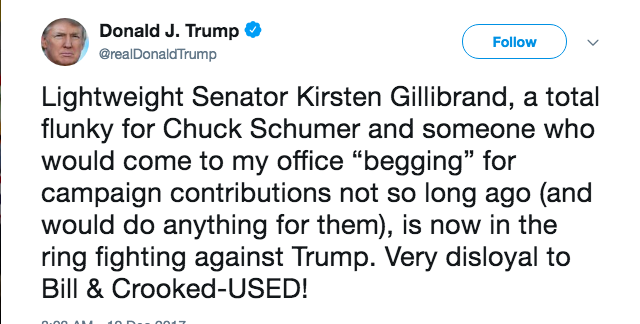 In response, Gillibrand shot back. "You cannot silence me or the millions of women who have gotten off the sidelines to speak out about the unfitness and shame you have brought to the Oval Office," she replied. And, like any good politician, she immediately began fundraising off the Twitter battle:
Inbox: Gillibrand fundraising off Trump's sexually suggestive tweet. pic.twitter.com/XBkXMRKmc3

— Matt Katz (@mattkatz00) December 12, 2017
READ MORE:
Who is Kirsten Gillibrand?
Like fellow 2020 hopeful, Kamala Harris, New York Senator Gillibrand is young—only 51 years old. That has to make her attractive in a field that includes silver-haired possible candidates Joe Biden (75) and Bernie Sanders (76). And she holds an important seat—her Empire State colleague, Sen. Chuck Schumer, is the most powerful Democrat in the upper chamber.
Gillibrand's seat actually belonged to Hillary Clinton. When Obama tapped Clinton to be his secretary of state, Gillibrand was ushered in and won a special election in 2010 to retain the post. She was re-elected in 2012 with an astounding 71.9 percent of the vote. President Obama only carried the state by 62.6 percent. Prior to her Senate run, Gillibrand enjoyed a brief two-year-long stint in the House.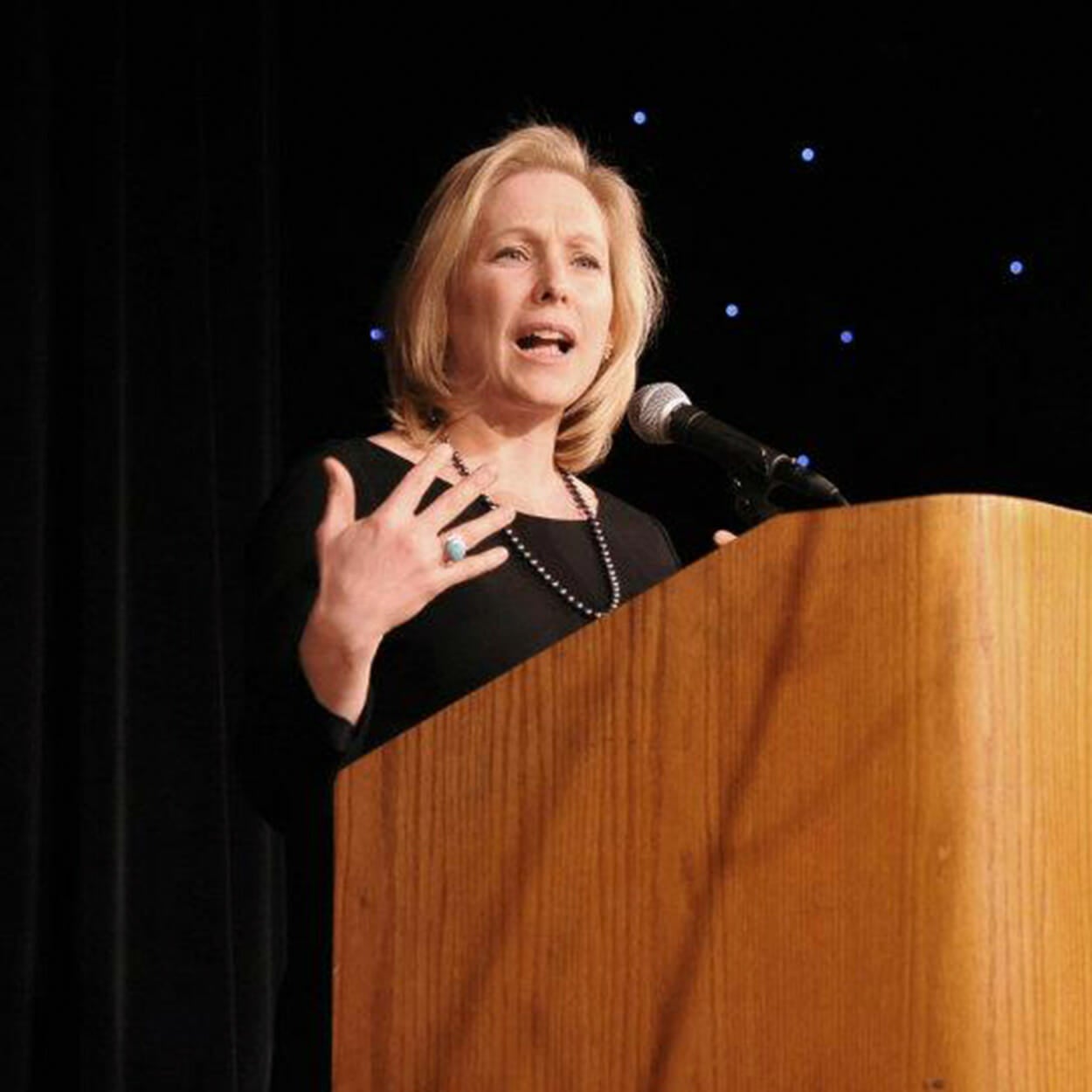 Kirsten Gillibrand: The #MeToo Senator
Gillibrand has been a leading voice in the #MeToo movement. The attack that Trump lobbed at her last December was in response to a CNN appearance in which the New York senator called on the president to vacate his office, saying "President Trump has committed assault, according to these women, and those are very credible allegations of misconduct and criminal activity, and he should be fully investigated and he should resign."
Additionally, she was one of the leading speakers at the Women's March in 2017 where she declared "we want to be counted, we want to be heard and we are going to fight for what we believe in." And, perhaps most notably, she was the first Democratic senator to call to on Al Franken—a suspected 2020 candidate—to resign.
Gillibrand has called Hillary Clinton her "greatest role model" and written that Hillary Clinton inspired her to get into politics. She has leveraged her newfound visibility as the #MeToo senator to raise impressive money. This year, Gillibrand has appeared on the View, the Late Show with Stephen Colbert and the Daily Show. Countless magazines and websites have profiled her. 
Kirsten Gillibrand 2020: Will the Senator run for president?
Kirsten Gillibrand is almost certainly eyeing a 2020 race, making all the moves of an early contender. She was among the speakers at the recent "We The People" summit and has sworn off PAC money—a move that is becoming a necessary step for moderate Democrats hoping to swing progressive voters.
The Washington Post periodically ranks their top 2020 contenders and Gillibrand has been in the top 10 in nearly every ranking. In the last piece, from March, she sat at 6 in a pack led by Bernie Sanders and Elizabeth Warren.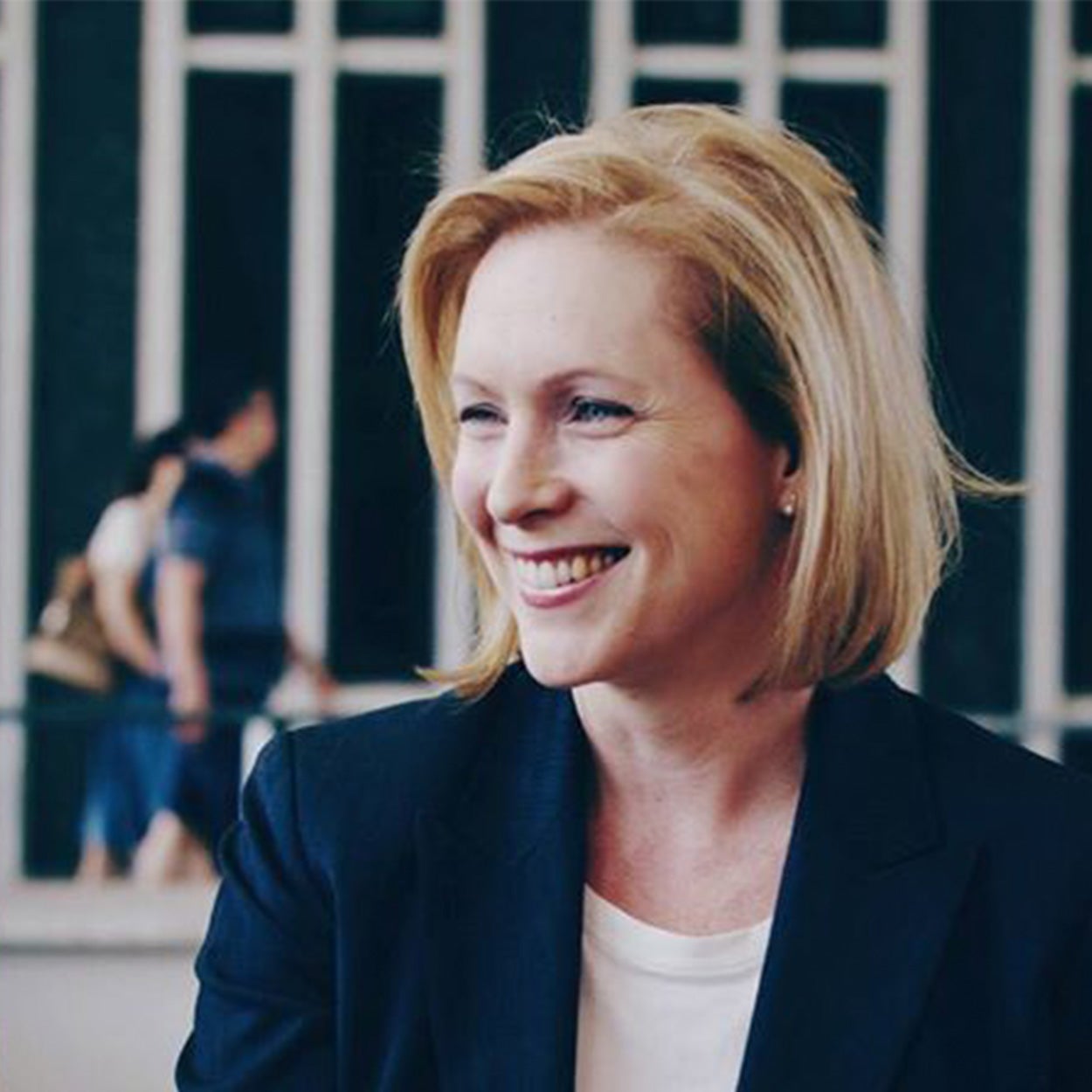 What could stop Kirsten Gillibrand from running?
There are some unfortunate skeletons in the Senator's closet. As a young lawyer, she defended tobacco giant Philip Morris as they allegedly shuffled away evidence of the harmful effects of smoking. She's been eager to downplay that role. However, in a 2009 New York Times piece, her former co-workers said that Gillibrand was a major part of Philip Morris' defense. One co-worker said "she was a full partner in everything we did."
When the Times asked Gillibrand about her work with the cigarette manufacturer, she canceled the interview and refused to comment, citing attorney-client privilege.
Like many opportunistic politicians, Kirsten Gillibrand has shifted her views to suit the electorate. Still, her changing positions are arguably some of the most drastic in politics.
Early in her political career, she was a conservative Democrat, holding pro-gun, anti-immigration views. She even boasted an "A rating" from the NRA after co-authoring a bill that would make it difficult for the government to track gun owners. In an astounding 60 Minutes segment, she was confronted with her past stances and basically plead ignorance:
Is she likely to run for president? As of now, the Senator has yet to confirm. But if Gillibrand does throw her hat in, one thing is certain: She'll identify herself as a champion of women. And she'll be in no hurry to talk about her past.
Editor's note: This article is regularly updated for relevance.