While President Donald Trump has yet to make any public statements regarding former FBI Director James Comey's testimony on Thursday morning, his personal lawyer Marc Kasowitz feels as if it painted his client in a favorable light—and made several mistakes throughout a released statement.
In the very first sentence, Kasowitz wrote: "I am Marc Kasowitz, Predisent [sic] Trump's personal lawyer."
Kasowitz's response touched on several points of Comey's hours-long testimony and seemed to feel as if it clear Trump of any wrongdoing.
"Mr. Comey has now finally confirmed publicly what he repeatedly told the President privately:  The President was not under investigation as part of any probe into Russian interference," Trump's lawyer said in the statement. "He also admitted that there is no evidence that a single vote changed as a result of any Russian interference."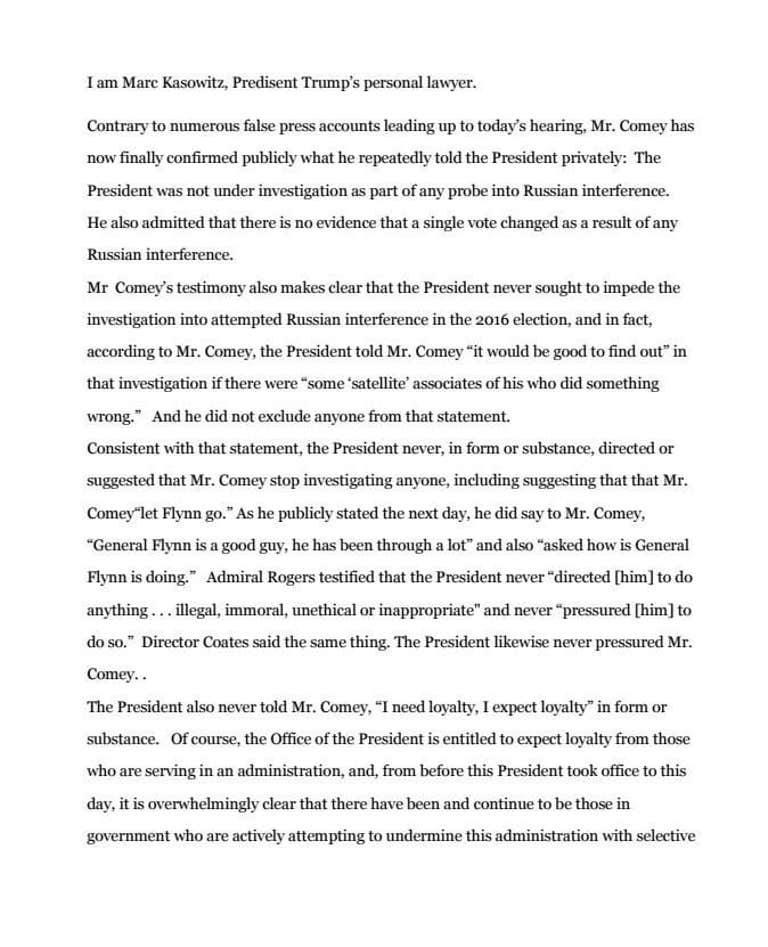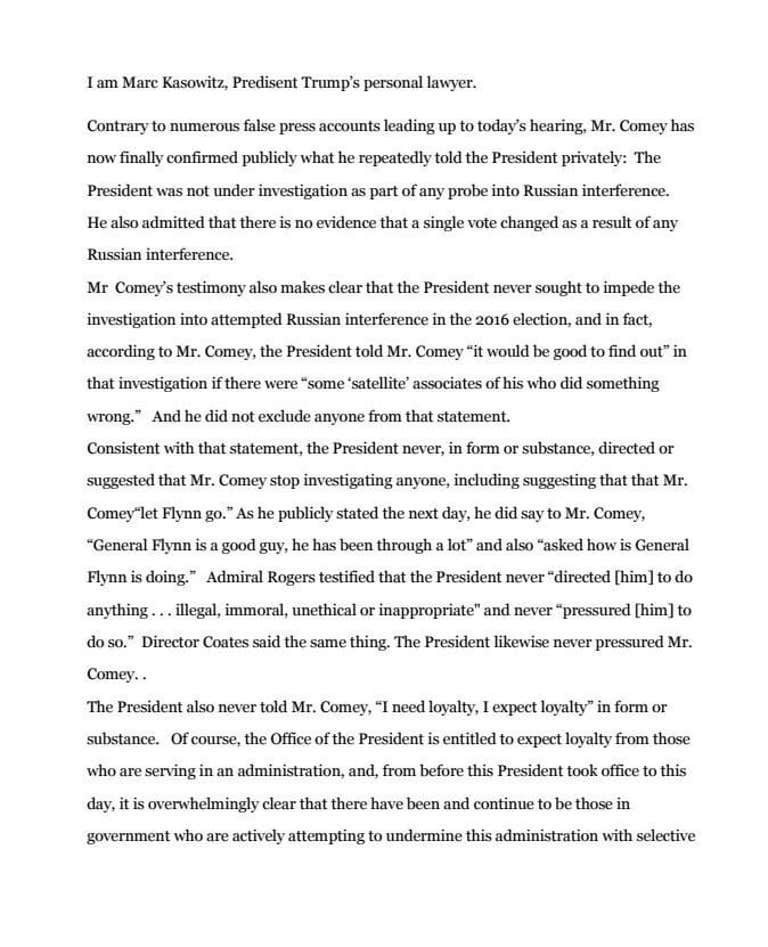 Kasowitz also highlighted Comey's testimony where he told the Senate Intelligence Committee that he authorized a Columbia Law School professor to leak the content of memos he took regarding discussions he had with Trump to the New York Times.
The orchestrated leak was made "unilaterally and surreptitiously," Kasowitz said.
"Mr. Comey admitted that he leaked to friends his purported memos of these privileged conversations, one of which he testified was classified," he wrote. "He also testified that immediately after he was terminated he authorized his friends to leak the contents of these memos to the press in order to 'prompt the appointment of a special counsel.'"
However, Kasowitz falsely claims that the New York Times quoted from the memos before Trump tweeted a threat to Comey about having "tapes" of conversations between them. White House Correspondent Julie Davis pointed out that the Times "never quoted memos prior to Trump's 5/12 tweet re rapes."
Kasowitz is mistaken re NYT stories on Comey memos. We never quoted memos prior to Trump's 5/12 tweet re tapes; 1st story doing so was 5/16

— Julie Davis (@juliehdavis) June 8, 2017
Kasowitz alluded to a possible investigation of Comey asking his friend to speak with a reporter about the memos: "We will leave it [to] the appropriate authorities to determine whether this [sic] leaks should be investigated along with all those others being investigated."
The statement concluded by claiming Trump felt "vindicated" after Comey's testimony.
Watch Kasowitz's full statement (sans typos) below: