Earlier this week, a graphic video uploaded to YouTube showed a West Virginia man being violently held to the ground and arrested by a team of uniformed police officers.
Jeffery Bane, 39, was taken into police custody on Sept. 6 for allegedly being intoxicated in public. However, his family insists that Bane was completely sober at the time. Instead, he suffers from Huntington's Disease, a genetic disorder that causes those afflicted by it to lose some control of their motor functions and appear either drunk or on drugs. (Warning: The video is graphic.)
In the video, which gained significant attention on Reddit's anti-police brutality forum r/bad_cop_no_donut, Bane can be heard screaming for help and yelling in pain.
Videographer Sara Bostonia, who sounds like she is fighting back tears while taping the scene with a cellphone camera from a parking lot across the street, is eventually approached by a police officer who asks her what she's doing.
"I just was driving by. This is insane," Bostonia can be heard saying, imploring the officer to leave her alone becuase she was well within her righs to film police officers in the line of duty. "I cannot believe you are doing this to him… I saw him pinned to the ground screaming and gurgling at the mouth because he's bleeding at the head. You will not handcuff him and let him up. He is choking on his own blood; I could hear it from my car. This is wrong"
The officer informed Bostonia that she was was free to continue filming, but he threatened to arrest her for obstruction of justice if she made any further loud outbursts.
The Dominion Post noted that police said they received a call from a citizen about someone abusing children. After arriving on the scene, they encountered Bane with his two kids. The cops said Bane was handling his children roughly and then kicked and spit at officers as they confronted him about it.
Bane was booked on counts of obstruction of justice, disorderly conduct, and battery on an officer.
However, in a statement given to the blog Free Thought Project, Bane's nephew, Josh, tells a much different story. Josh insisted that his uncle was walking to a nearby park when the stroller he was pushing became stuck on the curb just as he was crossing an intersection. "In this moment someone mistook my uncle's actions to keep his kids safe as child abuse," Josh insisted.
He continued:
The police were then called and approached him down the street and began to question him. Assuming because of his appearance he was high on narcotics with out reason they began to sub due him, macing and beating him in the head as he fell to his face were he was then held with a great amount of force by two officers double his size as a third one landed on his torso. [sic]

For the the next ten minutes as my cousins watch unattended, my uncle pleads and cries out in pain for the lack of breath and agony being applied to him.
Bane's family has created a Justice for Jeffrey Bane Facebook page to support an effort to get the charges dropped. A number of photos depicting the injuries Bane suffered during the arrest are posted to the page: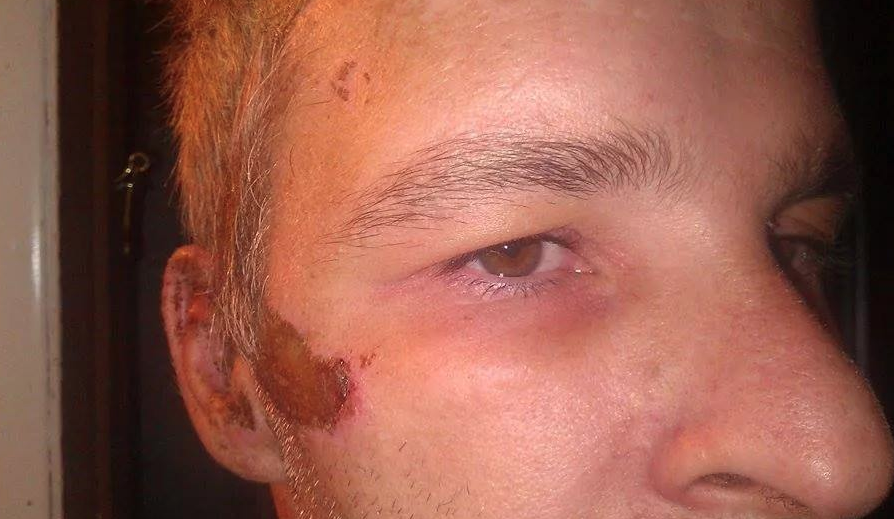 While the patrol car in the video belongs to the Granville Police Department, GPD Chief Craig Corkern told the Daily Dot that the arrest was initiated by officers from the Westover Police Department. Granville police were later called in to assist after the fact and arrived on the scene about 10 minutes later.
Officials from the Westover Police Department did not respond to a request for comment.
If Bane was arrested due to police officers' mistaking the symptoms of his medical condition for intoxication, it would not be the first time that someone with Huntington's had to deal with a similar issue. Last year, a doctor in Pittsburgh, Penn., was refused a ride in a cab because the driver believed he was drunk.
Screencap via Sara Bostonia/YouTube