Notorious far-right hoaxer Jacob Wohl is affiliated with at least five current and former purported "intelligence" companies, some of which have not been previously reported on.
In a series of tweets on April 30, threat intel researcher Kyle Ehmke said that Wohl was "most likely" behind the domain names for Bolt Intelligence, Bolt Intel, and Potomac Intelligence.
"The domains boltintel[.]com and boltintelligence[.]com, email [email protected][.]com, and the twitter handle @BoltIntel are most likely more of Jacob Wohl's machinations. An ad taken out for Potomac Intelligence shows the phone number used on the Bolt Intel website," Ehmke wrote.
The domains boltintel[.]com and boltintelligence[.]com, email [email protected][.]com, and the twitter handle @BoltIntel are most likely more of Jacob Wohl's machinations. An ad taken out for Potomac Intelligence shows the phone number used on the Bolt Intel website. pic.twitter.com/5J6PAHug28

— Kyle Ehmke (@kyleehmke) April 30, 2019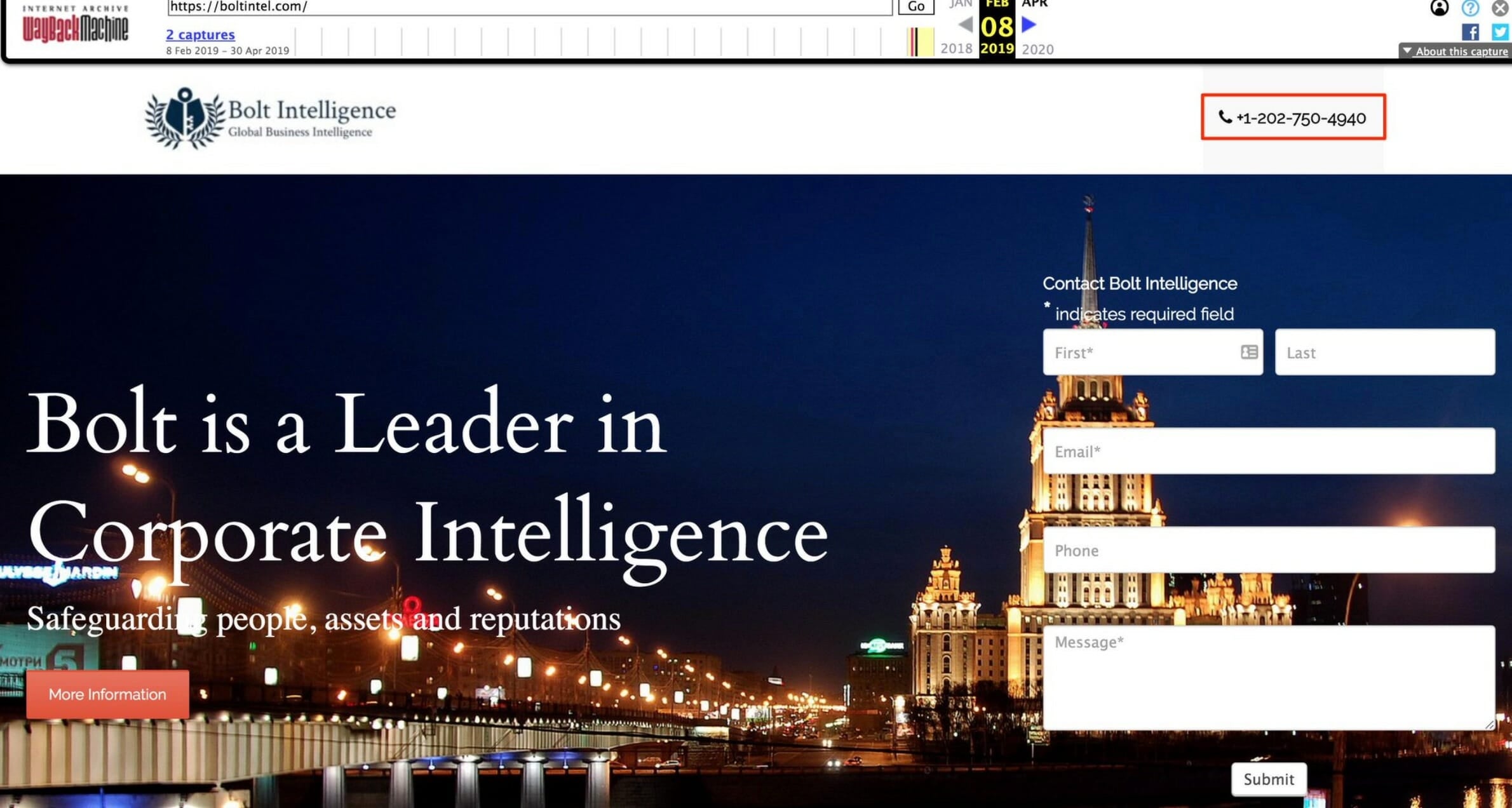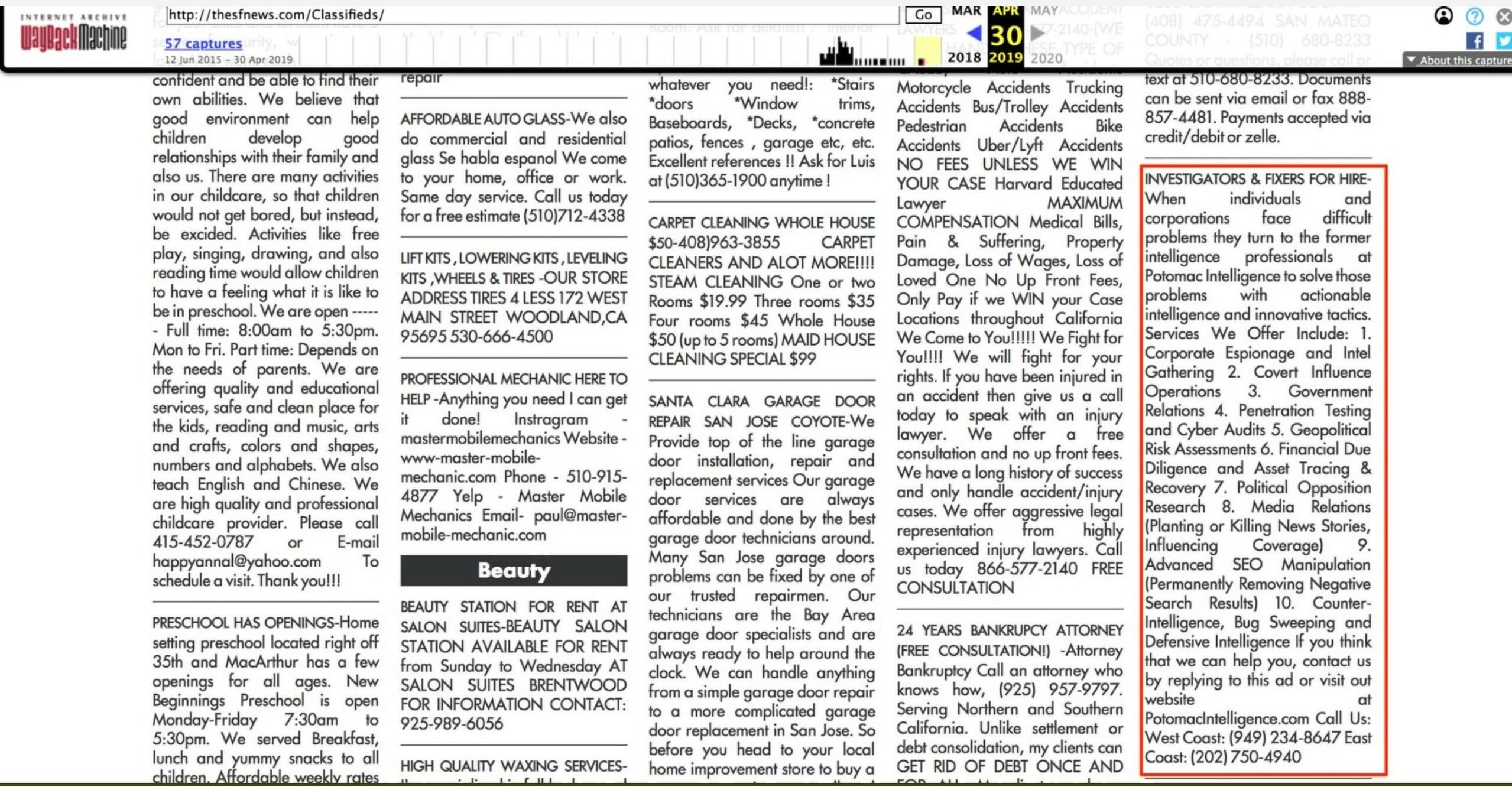 The same phone number, Ehmke added, was used on the Potomac Intelligence website.
It was previously known that Wohl was affiliated with three fake intelligence companies—Potomac Intelligence, SureFire Intelligence, and Arlington Center for Political Intelligence. Bolt Intel and Bolt Intelligence, which may be synonymous, are new.
The Twitter account for Bolt Intel, which was launched in November 2018, just after the first of Wohl's fake intelligence companies were outed, appears to exclusively tweet links to news articles.
The Full Story of Trump's Russia Ties Will Come Out—But It'll Take Time https://t.co/W3olgbvqZC

— Bolt Intelligence (@BoltIntel) April 30, 2019
The website linked in the bio is no longer valid.
The Daily Dot reached out to Wohl for comment via three of his known email addresses, one of which was no longer valid, and called three phone numbers associated with the companies, all of which had been disconnected. He did not respond as of press time.
Wohl, who rose to pseudo-prominence when he became the youngest person permanently banned from trading futures, is well-known in the fake intelligence company world, if such a thing exists. Last year, the first of his known fake intelligence companies, SureFire Intelligence, was exposed when he reportedly used it to attempt to sabotage the Trump/Russia investigation by manufacturing false sexual assault allegations against Robert Mueller.
Of course, in the grand tradition of all things Wohl, the bizarre plot blew up in his face when it came out that the company's phone number was registered to his mom, and scads of reporters revealed that they'd been contacted by someone from SureFire Intelligence who claimed to have information about a plot to pay women to make the allegations against Mueller, a charge Wohl has denied.
Several reporters, including pundits Brian and Ed Krassenstein, said that these tips traced back to Wohl. The matter was referred to the FBI.
It seems that Wohl wasn't satisfied with just the one taste of the glory of running a fake intelligence company, attempting to defame a public figure with sexual assault allegations, and getting caught due to his own incompetence and ineptitude. Earlier this week, a sexual assault allegation against Democratic presidential candidate Pete Buttigieg quickly circulated on the far right internet and just as quickly was outed as false.
Within hours of Wohl's father blasting the story on Twitter, the purported author of the Medium article, Hunter Kelly, came forward and said it was not true, he didn't write it, and accused Wohl and Republican lobbyist Jack Burkman of stealing his identity and writing the post under his name after he refused to be involved in their idiotic scheme.
Kelly also claimed that Wohl called him from a number listed for Potomac Intelligence Group.
Earlier today, the Daily Beast revealed that Wohl had spawned yet another fake intelligence company, Arlington Center for Political Intelligence, and had obtained a twelve-page brief in which he attempted to lure investors to give big bucks to help him "affect political outcomes and … reap rewards betting on those outcomes."
To do so, he promised to "make shit up," infiltrate all the Democratic presidential campaigns, and generate media coverage and fake news, among other inanities.
The confidential brief, dated January 2019 and marked "Priviledged [sic] and Confidential" on all but the cover page, is a treasure trove of juicy nuggets like "Find Hungry Bloggers," "Leak something sensational, extreme, sexual, scandalous, trending or hate triggering," and includes a section giving major props to right-wing activist Laura Loomer for her signature move: chaining herself to the Twitter headquarters, finding out that no one really cares, and going home.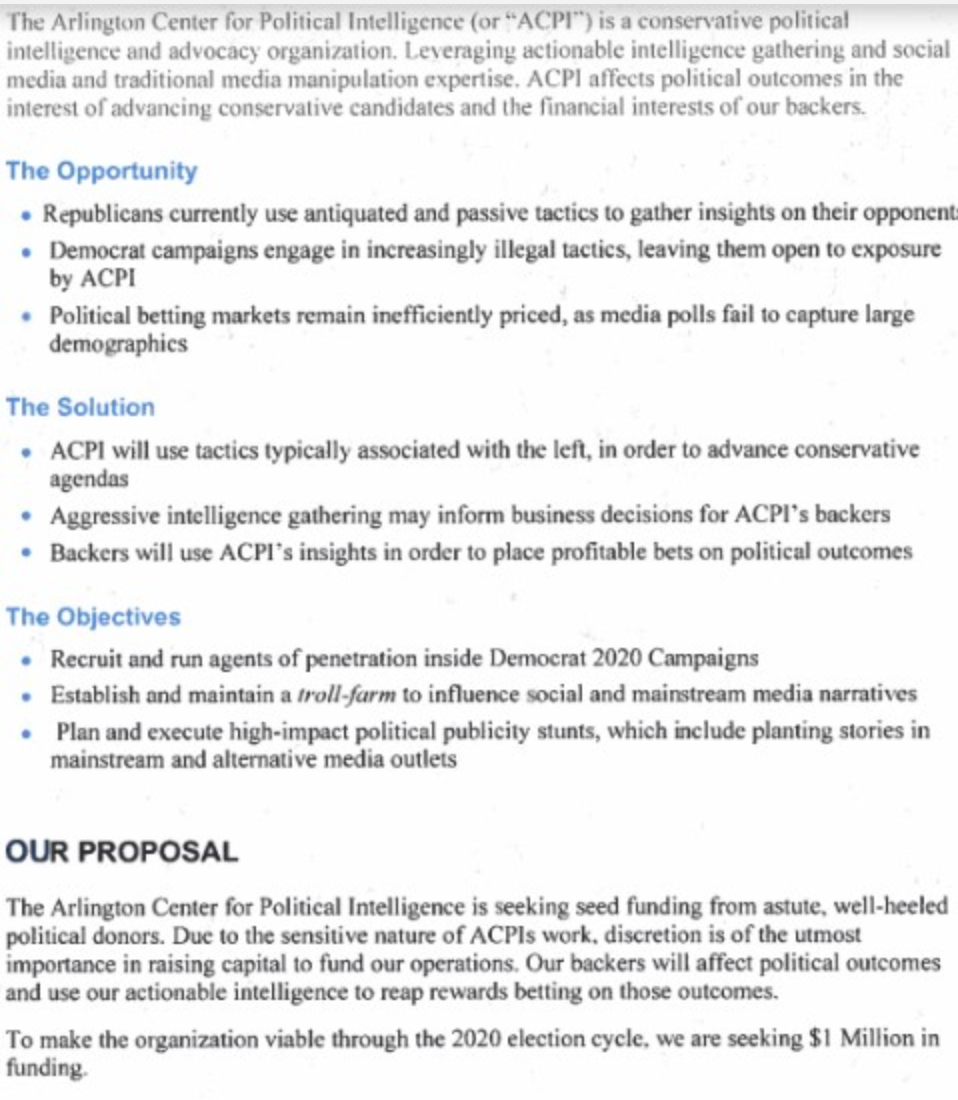 Arlington Center's fundraising goal: $1 million dollars, which is impossible to read without hearing the voice of Dr. Evil from Austin Powers.
As is always the case with stories about Wohl, the tale of his fake intelligence companies includes even more oddly complicated entanglements.
As Ehmke noted on Twitter, the domain names for Bolt Intel were listed in several SSL certificates alongside other domains, including that of Trader of Futures, which is owned and run by Ernie Varitimos, formerly a regular on Wohl's Washington Reporter podcast.
Varitimos also appears to be behind another of the domains listed there, that of Junto Coin. The company's profile on Trading View lists Trader of Futures and links to Varitimos' Twitter handle.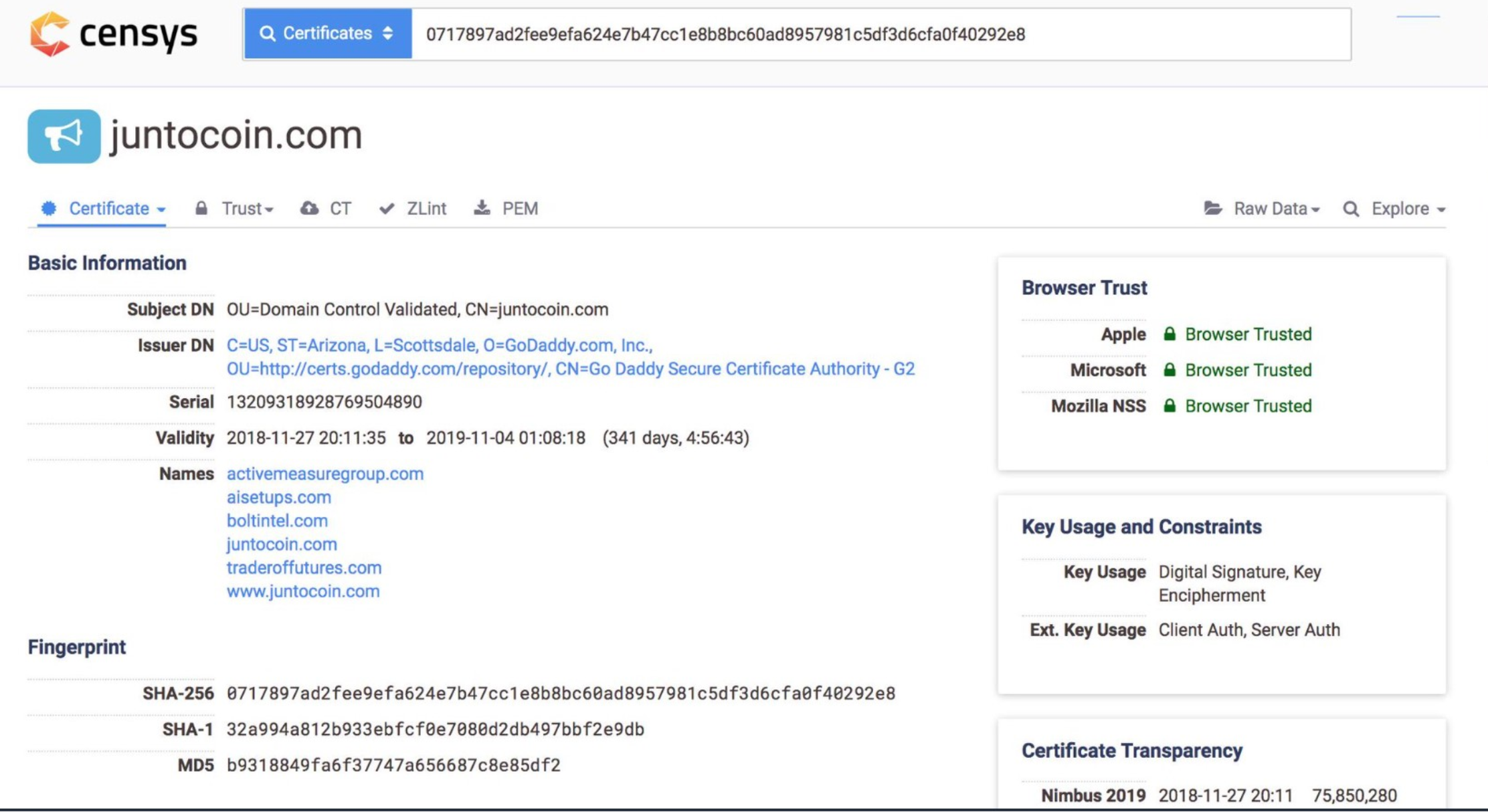 Asked about his affiliation with Bolt Intel via Twitter messenger, Varitimos told The Daily Dot, "With regard to Bolt Intel, I have an NDA in place with Jacob Wohl and I'm not at liberty to comment further. There's no affiliation with the other domains."
What will Wohl get up to next? The mind reels.
READ MORE: