A group that describes itself as "even more extreme" than Iron March is using data from the defunct forum for recruitment.
On Wednesday, news broke that someone had posted the entire archive from the Iron March forum on the Internet Archive.
Email and IP addresses, messages, posts and more were in a trove of 99 Excel spreadsheets from the site that was one of the largest, longest-running online havens for white supremacists and nationalists before it shuttered in 2017. Several murders have been linked to people who used the forum; it also gave rise to at least two violent extremist terrorist groups, National Action and Atomwaffen Division.
The Daily Dot has learned that a group called Amerika has begun emailing former members of Iron March soliciting them to join its mailing list. This has been separately confirmed by two former Iron March users who received the email and Amerika's editor Brett Stevens.
"I can confirm that we are soliciting members from the Iron March forum, and that we are more extreme than the Iron March," Stevens told the Dot via email.
"If you liked the Iron March forum, you might find Amerika.org to be even more extreme," the email solicitation begins. "We are Nietzschean, pro-Western, and anti-egalitarian. While our approach is more traditionalist than National Socialist, it is uncompromising."
Beyond the email's vague, sanitized description of its dogma, Amerika's platform is every bit as extreme as promised. According to its website, it advocates for removing people from their home countries based on bloodline, returning to the caste system, canceling immigration and international trade, and instilling power in small pool of elites in a "new hierarchy" where these lucky few would control "all of the money, power, and social prestige/status, so that they can guide us with their greater ability."
There would be no voting in this new order, which it believes necessary because the current society has failed.
The long-winded, often nonsensical website calls its platform "ult-right."
Race unsurprisingly preoccupies much of Amerika's ideology.
On Gab, Stevens, speaking on behalf of Amerika, repeatedly writes about "the Other."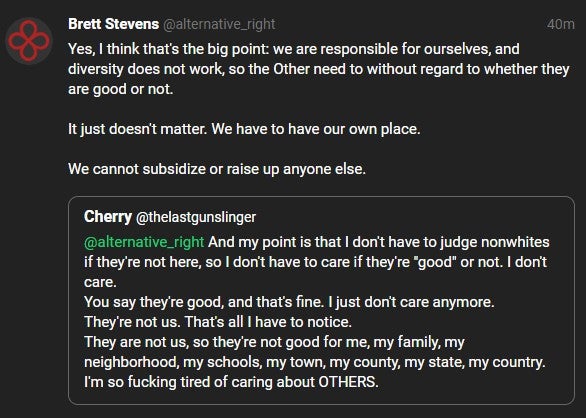 Via email, he explained that "the Other" is anyone who isn't part of the founding ethnic group. According to Amerika, in the U.S. that exclusively consists of Western Europeans, which is obviously just a way of saying whites only.
Via email, Stevens, who described himself as a supporter of Anders Breivik, referring to the Nazi terrorist who killed 77 people in Norway in 2011, said that Amerika believes that people should be repatriated (with reparations "to keep this fair and decent") to the countries from whence they trace their genetic ancestry—except Western Europeans who settled America; they can stay.
READ MORE: