Apple has announced the latest iteration of the iPhone with three new versions: the iPhone 11, iPhone 11 Pro, and the iPhone 11 Pro Max. Between the various models and the huge array of new features, it's easy to get lost in all the excitement. Here are the most important and exciting iPhone announcements from today's event. 
Three new iPhones 
The iPhone 11 comes in six different colors — grey, yellow, green, black, white, and red — and features a 6.1-inch display. The iPhone 11 starts at $699 for the 64GB model. The 128GB will set you back $749, while the 256GB model will cost $849. (We'll get to Pro pricing later.)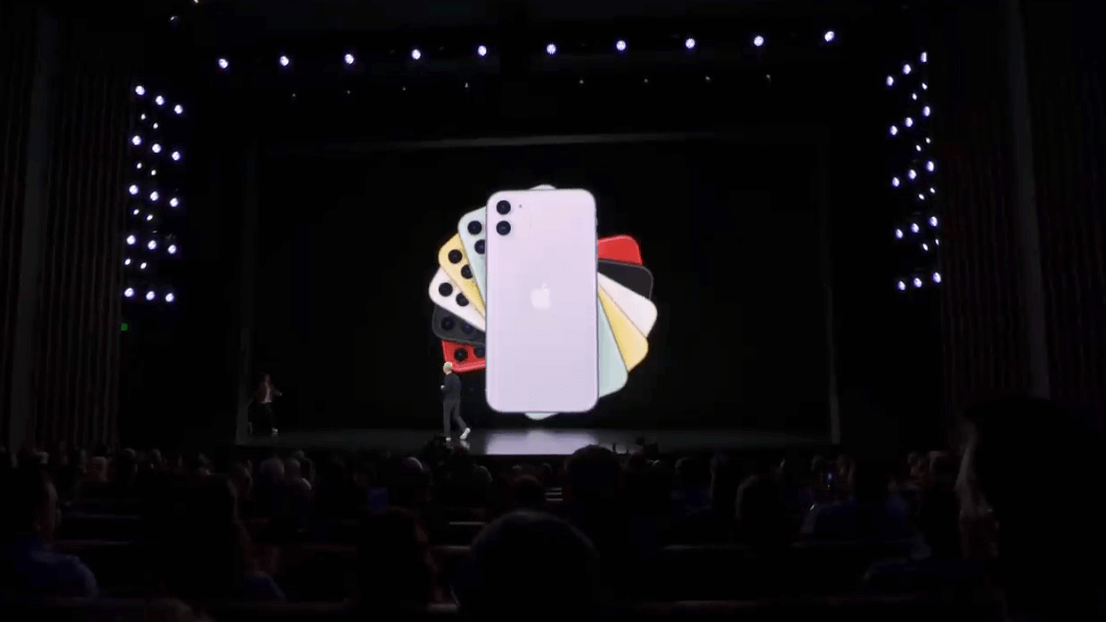 The iPhone 11 Pro is 5.8-inches and the Pro Max has a 6.5-inch display.
Both the iPhone 11 and the Pro versions are available for pre-order Sept. 13 and will hit stores on Sept. 20, 2019.
Camera 
The camera is always the most exciting part of a new iPhone, and this time around is no exception. The iPhone 11 now boasts a dual-lens camera, and the redesigned interface combines a Wide and Ultra Wide camera to allow you to quickly see whats happening just outside of your current frame and switch to a new perspective if needed. Never miss a shot on the periphery, just check the sides of your photo frame. (We'll talk about all the camera improvements in the iPhone 11 Pro later.)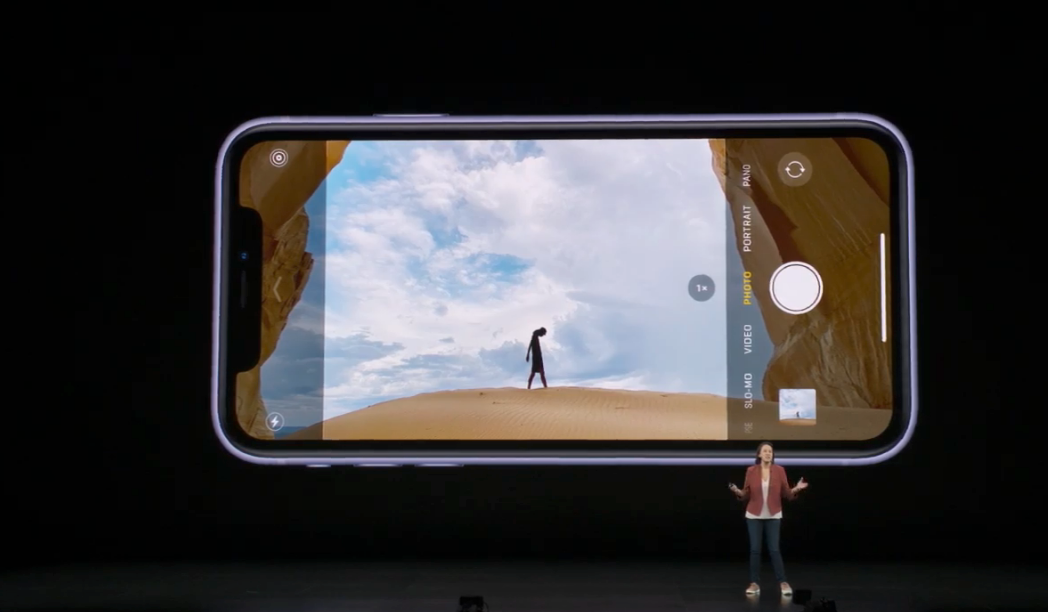 Video is also dramatically improved. It supports shooting in stunning 4K at 60fps (which is also available for the front-facing camera) and includes an audio zoom. That means when you're shooting a video and zoom in on your subject, the mic will focus on the sound they're making as well. You won't have to wait until you get home to edit either, thanks to simple video editing tools that have been added to the Photos app. You can even shoot video without selecting the video function in Camera: Just hold down the shutter button and it will start to take a quick video for you. 
Shooting in low light on the iPhone just got better too thanks to Night Mode. This feature automatically adjusts your camera for low-light photography, reducing the need for flash and helping obtain more natural looking colors. Portrait Mode has also been improved with new lighting controls, a high-key light mono effect for gorgeous black and white portraits, and more.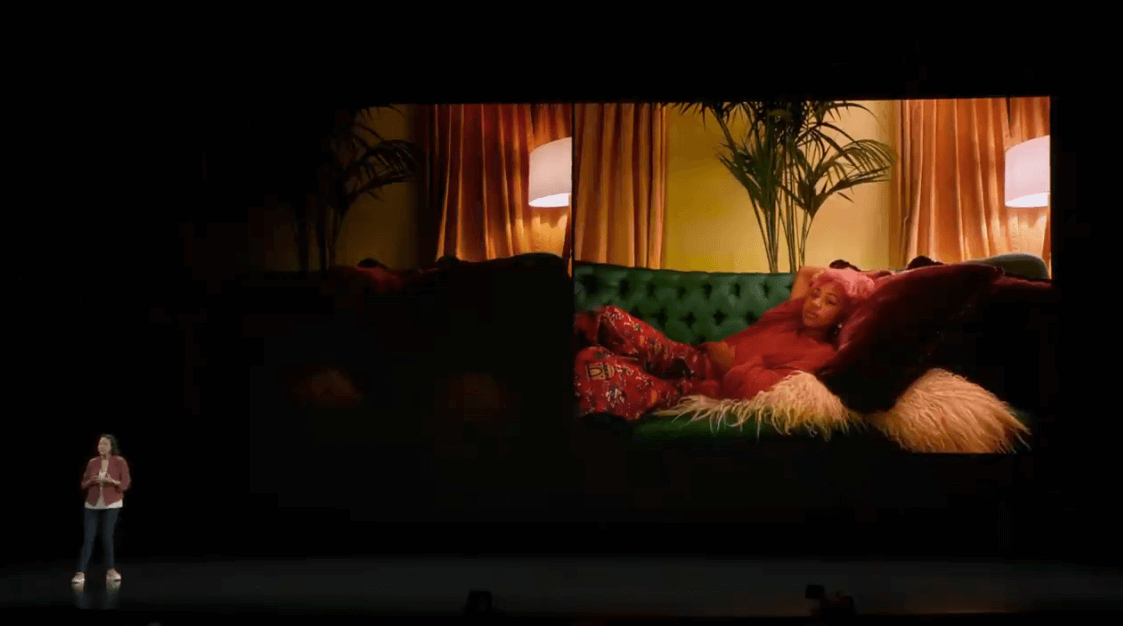 Apple is also introducing a new smart HDR feature for the iPhone camera that accentuates important aspects of your photos like people's faces, highlights, shadows, and skin tones. For selfie lovers, the front-facing camera has been improved on both the iPhone 11 and iPhone 11 Pro models. 
Design and hardware
The basic iPhone 11 has been designed to hold up against bumps and scrapes thanks to even tougher front and back glass that has been strengthened through an ion-exchange process. It can even get wet, thanks to water resistance that lasts up to 30 minutes in two meters of water. Don't dump your phone in the ocean — just know you can. 
The iPhone 11 has an incredible liquid Retina LCD display, with true tone that adjusts the white balance of your screen to match the light around you. It also includes Haptic touch for quicker shortcuts and contextual menus. 
Both the 11 and the 11 Pro feature the A13 Bionic chip, which combines absurd power with energy efficiency to help you get the most out of your battery. Sound has been improved on the devices, utilizing spatial audio to simulate a surround sound experience on your phone. They support wireless charging and speedier downloads thanks to the Wi-Fi 6 integration, which can get download speeds up to 38 percent faster than before. Finally, the iPhone 11 supports dual SIM cards, letting you have a number for business and a number for your personal life on one device.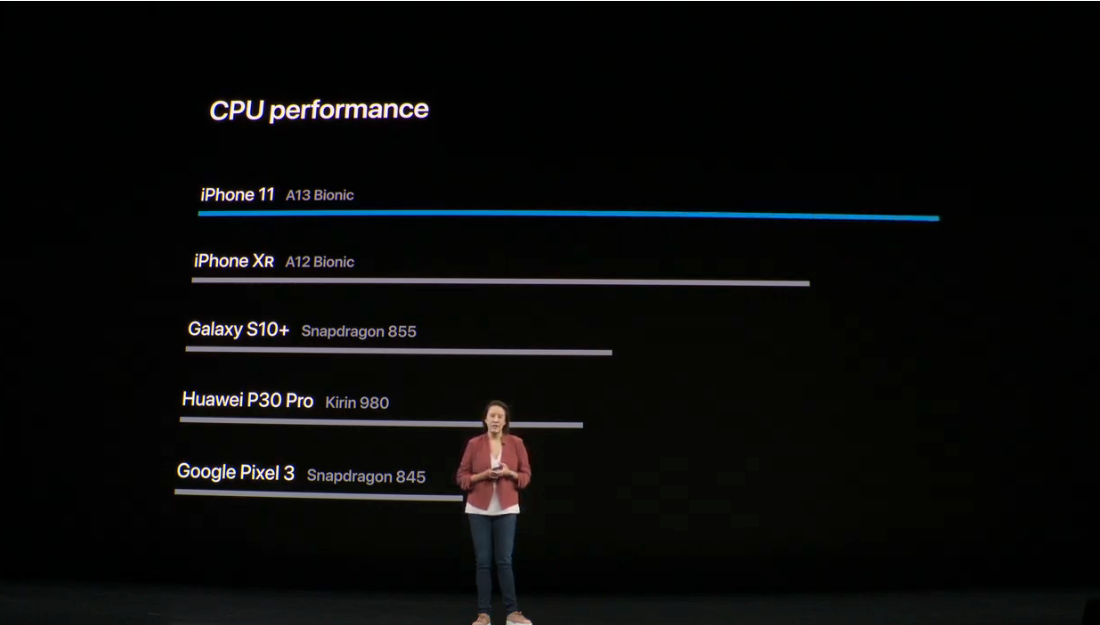 iPhone 11 Pro 
The real star of the iPhone presentation was the iPhone Pro. It starts at $999 for the 64GB model, $1149 for the 256GB, and $1349 for the 512GB models — so these devices aren't cheap. However, you get a ton of bang for your buck: The biggest upgrade is the triple lens camera. Pro models come with three lenses; a telephoto camera, a wide-angle camera, and an ultra-wide camera, that provide a 4x optical zoom range for the device. Coupled with the new camera features across all of the iPhone 11 line, this phone is a photography beast with a minimum aperture of f/1.8.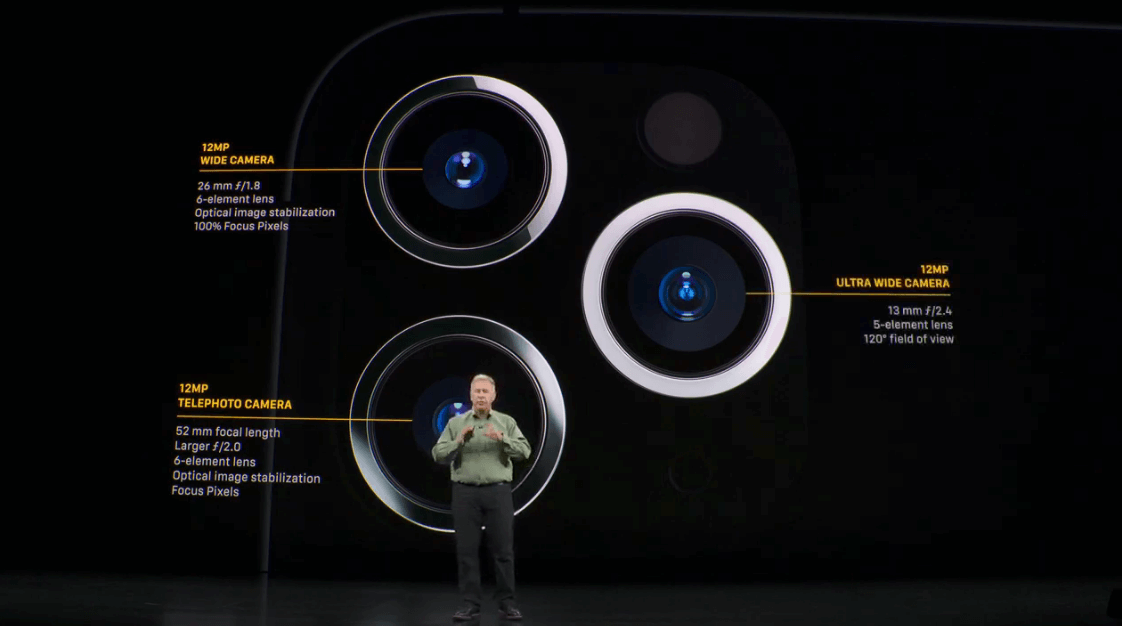 Using next-gen Smart HDR, the camera can take information from all three lenses and use machine learning to automatically enhance images, focusing on skin tones and lighting without an extra step. With the telephoto lens, users will be able to capture 40 percent more light than before. Now including a 12MP TrueDepth camera, the front-facing camera can also take slo-mo selfies and even shoot in 4K. 
Apple says the iPhone 11 Pro and Pro Max are the most powerful phones it's ever created. They also have Apple's best screen to date. It's the brightest display in Apple history and a 2,000,000:1 contrast ratio The OLED panel, called the Super Retina XDR display, is 15 percent more energy efficient than the iPhone X. The screen has 458 pixels per inch, and true tone white balance that optimizes for the color temperature of your current surroundings. To help keep that beautiful screen safe, Apple claims the device will have the toughest glass ever included on a smartphone. 
All these new advances somehow come with a more powerful battery, with the 11 Pro getting four more hours than the iPhone X, and the 11 Pro Max getting five more hours. In addition, you can fast-charge the device, giving you 50 percent charge in just 30 minutes. 
Pros can even get their phones wetter longer, thanks to water resistance up to four meters for 30 minutes. They're also spill-resistant and have improved dust-resistance.