Instagram announced a roster of creative tools today, giving users the ability to adjust saturation, brightness, contrast, and other elements of their photos. Users will be able to customize exactly how thoroughly X Pro II, or whatever filter you prefer, gets applied to shots.
To use the new features, people can tap on the wrench icon, which opens up a tray of the tools.
Apple and Android users can download Instagram 6.0 today, which provides the updated editing suite.
This is a win for Instagram users who use third-party tools to do this type of basic photo editing, and it may incentivize people to take their photos with the Instagram photo button instead of using their phone camera and importing photos later. That'll up the amount of time users spend in the app, which is good for the Facebook-owned photo-sharing service. Of course that's bad for the third-party photo editing apps Instagram users were downloading to perfect their shots.
Most of these editing tools are basic, the kind you expect from any photo editing software. The most interesting innovation is the tool that lets users decide the level of filter they'll use on a photo. Without debuting any new filters by name, Instagram just exponentially increased the filter variety they offer. This should decrease the number of same-same looking artfully photographed barn furniture, since users will have more options when it comes to how they make things look tastefully vintage.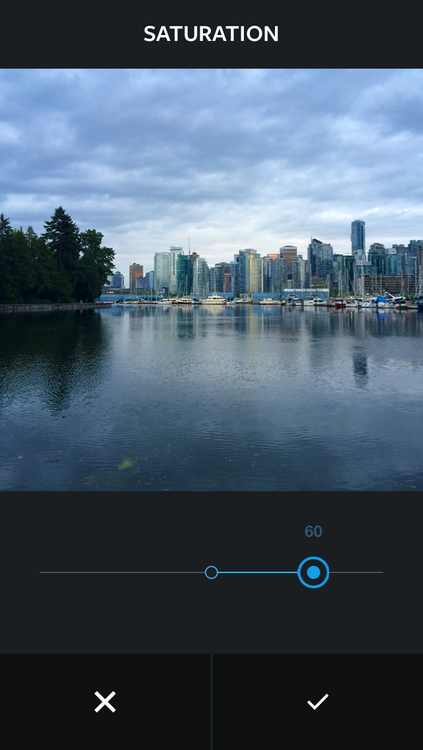 The biggest update Instagram released prior to this was a change it made to its Explore tab, showing photos liked or posted by followers instead of just the most popular photos. This made social discovery within a user's immediate group of friends better, but these new creative tools could provide an opportunity for Instagram to get experimental with its approach to discovery. It'd be interesting if users could pull up photos based on filter or style, and sorting media based on which tools were used could foster connections among Instagram users with a genuine interest in photography.
Whatever's next, this recent update is sure to once again inspire that old debate over whether Instagram can produce real art. 
Photo via Duchamp/Flickr (CC BY 2.0)