What's the first word that comes to mind when you think of President Donald Trump?
If "idiot," "incompetent," "liar," or "leader" were your first thoughts, you have company.
Quinnipiac University released its latest round of polling results regarding Trump on Wednesday that painted a dismal picture in terms of his job approval and support among independent voters and his base.
But one question as part of Quinnipiac's poll asked people what the first words that came to mind were when they thought of the president—and the results were not glowing.
"Idiot" was the clear favorite word to describe Trump, with 39 people describing the president that way. "Incompetent" came in second among those polled, with 31 responses.
The first positive term describing Trump was "leader," which 25 people thought was the best way to describe him, followed by "strong," with 21 responses.
Some other responses included: "unqualified," "ignorant," "businessman," "stupid," "asshole," "bully," "disgusting," "clown," "racist," "money," "trying," and very simply "good."
More out-there words people thought of were "blowhard," "evil," "mental," "buffoon," "con-man" and "patriotism."
"President" only clocked in 22 responses.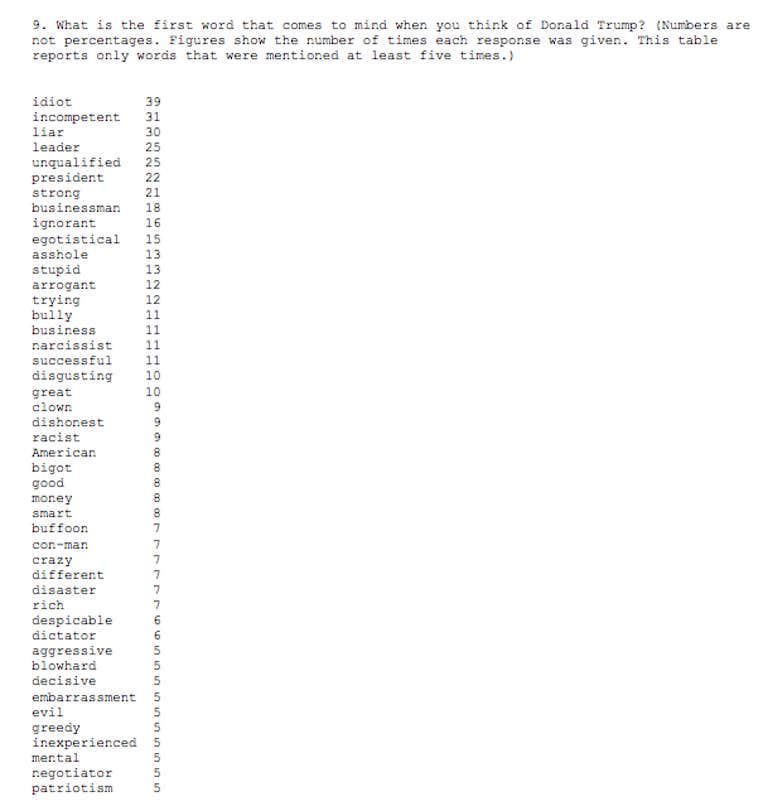 Only words that came up at least 5 times were counted in the results, Quinnipiac said.
The rest of Quinnipiac's poll was not rosy for Trump.
Among the more than 1,000 people surveyed, 58 percent disapproved of the president, with 54 percent of people hoping the Democratic Party can win control of the House of Representatives in 2018. Trump's approval rating fell to 36 percent, down from 40 percent in the Quinnipiac poll conducted in mid-April. The president's average approval rating is just above 42 percent, according to Real Clear Politics.
#PresidentDonaldTrump's job approval pic.twitter.com/rxAW2RIEWN

— Quinnipiac University Poll (@QuinnipiacPoll) May 10, 2017
Trump is also losing support among independent voters and white voters without a college degree, Quinnipiac found.
"There is no way to spin or sugarcoat these sagging numbers," said Tim Malloy, assistant director of the Quinnipiac University Poll said in a statement. "The erosion of white men, white voters without college degrees, and independent voters, the declaration by voters that President Donald Trump's first 100 days were mainly a failure and deepening concerns about Trump's honesty, intelligence, and level-headedness are red flags that the administration simply can't brush away."
Quinnipiac conducted opinion surveys with 1,078 voters in Pennsylvania, New York, New Jersey, Connecticut, Florida, Ohio, Virginia, Iowa and Colorado. The polls have a margin of error of plus-or-minus three percentage points. The poll was conducted from May 4 to May 9.