With Instagram, users have the ability to beautify and enhance a single moment. But with Hyperlapse, the company's newest app, users can now speed up and slow down time.
The company released Hyperlapse today, its first standalone app outside of Instagram. The free app has one purpose: to easily create time lapse videos with the press of a button.
"Traditionally, time lapse videos depend on holding your phone or camera still while you film," the company wrote on its blog. "Hyperlapse from Instagram features built-in stabilization technology that lets you create moving, handheld time lapses that result in a cinematic look, quality and feel—a feat that has previously only been possible with expensive equipment."
The result is a captivating spectacle of everyday events sped up—a kid riding on a scooter, a dog digging a hole, a plane taking off for flight—without the nauseating feeling that happens when the person filming has a shaky hand.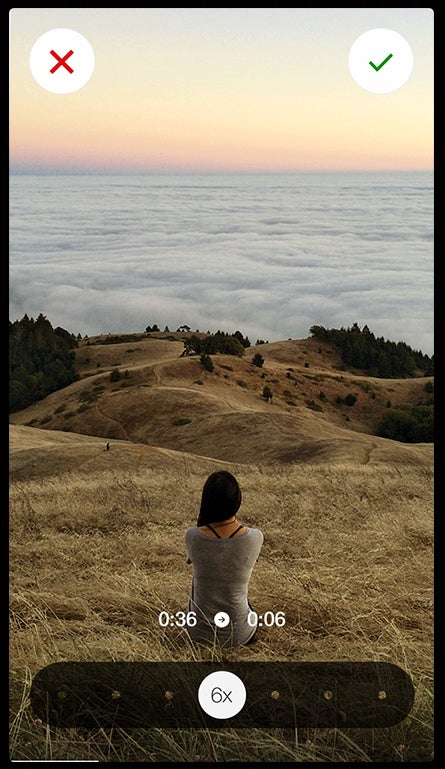 The app does not require a user to sign up, and it's simple in design. When using Hyperlapse, a user taps the screen once to begin recording, then taps the screen again to stop the recording. Then a slider—much like the one you can use to control brightness, contrast, and filters on Instagram—allows you to choose the playback speed of the video from 1x to 12x. From there, clicking on a green check mark will save the video to your camera roll, making it easy to share on Instagram. 
Mike Krieger, Instagram cofounder and CTO, told Wired that the company opted to make Hyperlapse its own standalone app so that it wouldn't get lost amid the numerous features already present in Instagram.
The idea began with Alex Karpenko, a friend of Instagram employee Thomas Dimson. After the release of the iPhone 4, Karpenko took interest in the new HD video feature but noticed that the videos were often shaky, according to Wired. Realizing that it would be impractical to fit video editing technology onto such a small device, Karpenko instead found a simpler way to achieve image stabilization. 
Dimson and Karpenko built a prototype app based off of Karpenko's simple algorithm. The app gained a nod of approval from Instagram cofounder and CEO Kevin Systrom—"This is cool"—and employees began to use the app as well. "Honestly," Instagram spokesperson Gabe Madaway told Wired, "we're really surprised this thing didn't leak out, given how obsessed people were with using it."
The app is currently only for iOS with no announced plans on when an Android version might become available.