Picture this: You're living with someone. Maybe it's your boyfriend or girlfriend. Maybe it's just a buddy or acquaintance. But you need toilet paper, bad. And you're stuck doing something and can't make it to the store. What are you going to do? Talk to them about it? Ask them to pick it up?
No. That method takes effort and conversation. It requires you being social with the one with whom you share a roof. Can't have that, no sir. In fact, we need an app for that—an app that allows for us to stock up our pantries and pay our bills without talking to the one with whom we share that responsibility whatsoever. 
That app now exists on your iPhone and Android. It's called Homeslice, and just yesterday it turned two weeks old.
Founded by Jeremy Moyers and Patrick Montenjano, Homeslice is "a comprehensive technology that allows roommates to create a private social network equipped with all the tools necessary to stay on top of household supplies, chores, and bills." It offers a white board, a supply chart, and a chore grid. You flip tasks over to green when they're completed, and hit red when they're needed.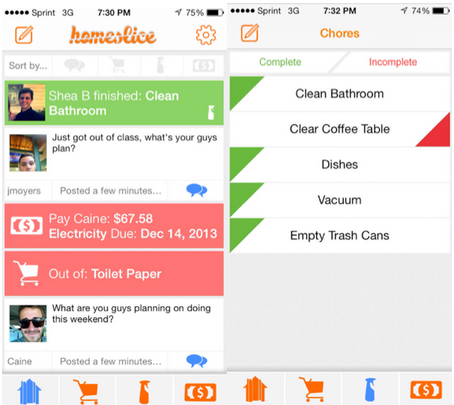 It's like an active line of communication, but not. Let's hope no childless couples end up buying into this. 
"It reduces the tension within the home," Montenjano told The Standard. "It allows roommates to communicate in a non-confrontational manner and keeps everyone in the loop on the daily activities and news of their household."
Yeah, but it still doesn't account for laziness. 
Photo via Steven Depolo/Flickr (CC BY 2.0)