Over the weekend, a 25-year-old graphic designer named Justine posted an account of sexual assault to her blog. She details the chain of events that led her to a job in the Ruby programming community and, eventually, to a convention called CodeMash.
There, liquor was consumed, body shots occurred, and—according to her and two other witnesses—her hiring manager, Joe O'Brien, assaulted her. "I was a deer in headlights staring into the eyes of the two male bartenders hoping someone would help me," she writes. Eventually, her coworker stepped in. 
Justine prefaces her account by saying, "I just wanted to prove myself as one of the gang. Someone who was up for anything. I cannot explain to men how hard it is being a woman trying to play it cool in an industry of men."
Justine isn't the only one speaking up about the incident. Matt Darby, the developer who separated Justine and O'Brien, wrote to corroborate her story:
He was really rubbing on her, and it got to the point where I felt uncomfortable for both of them. This lasted for about two minutes. His hands were admittedly all over her.
So did Zach Briggs, a CodeMash attendee:
The woman was at least 15 years younger, at least 100 pounds lighter, and at least 2 tiers lower than him on the corporate hierarchy at the same company.
O'Brien was eventually let go, but the assault stayed with Justine, and affected her career and personal life:
I'll always worry about what I wear to conferences now, if my ripped up metal tee is too suggestive for the male audience, if my red lipstick is too much, if the jokes everyone else is making are too risqué for me to make. I live in fear and depression and worry every day.
Hacker News, the venture-capitalist discussion board for Silicon Valley startup culture, buried the actual link to the post, but the thread that followed was colored with victim-blaming and revisions of what exactly constitutes rape and consent. Via a commenter named pearjuice:
So you regularly see body shots in a non-sexual content? When could she expect it, then? What would have made the difference between this body shot and a "normal" body shot? I am not saying it was an invitation. It might not be but she cannot possibly do a body shot without expecting a fully grown alpha male to take his chances. Even if she didn't, she could have easily denied him the opportunity when things started getting too close.
The sentiment is echoed in a number of comments on Justine's blog:
You shouldn't have done it in the first place. Why put yourself in any situation that you will be objectified in, if you don't expect it to happen?
A Hacker News post by Y Combinator head Paul Graham apologizes for the way the issue was handled on his site:
I apologize to the world for this thread. There are clearly topics that an open forum, or at least this one, can't be trusted with, and this seems to be one of them. We have some ideas for new moderation features that we hope will make comment threads more civil. I don't know if they would have helped in this case though. The one thing that did work here is the flamewar detector. This story dropped off the frontpage extra fast, after which the only people seeing this discussion were people who sought it out.
Yes, the site's flamewar detector made the story disappear "extra fast," rather than allowing a discussion to happen around a very important issue. Granted, there were commenters with more empathy for Justine, but the leading conversation was an attempt to define her assault. Graham even admits that this open forum "can't be trusted" with topics like rape.
This isn't the first time the site has tried to shut down critical discourse about sexism and misogyny in tech. Last month, after two Australian developers presented their "Titstare" app at TechCrunch's hackathon, the Hacker News community didn't see what everyone was so upset about, and said so in a thread, which later disappeared. In other threads, the it's-just-a-joke mentality trickles out of the well-funded tech bubble.
Same goes for this discussion of Adria Richards earlier this year.
"Why can't the tech community talk about Richards like grown-ups?" asked Kelly Faircloth on Betabeat. "We … expect more from Hacker News. … The site is directly tied to one of the most powerful forces in Silicon Valley." Writer Anil Dash tweeted at Paul Graham, "Why does Y Combinator prefer a violently misogynist Hacker News community that violates its own guidelines?" He got no response.
So why all the deleting and disappearing? Is Hacker News trying to prevent bad press by silencing controversial discussions before its community can bungle them? Are Paul Graham and his community doing their readers a disservice by censoring any posts that might lead to critical discourse? (An email to Hacker News was not returned.)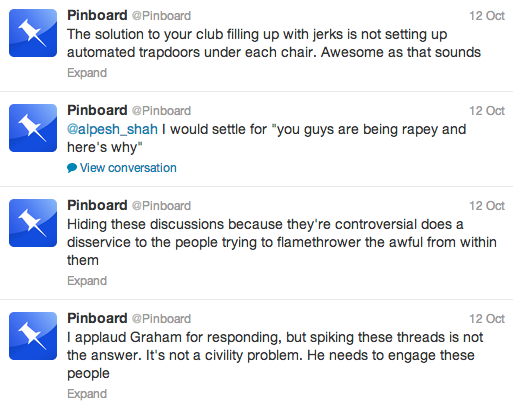 Either way, this approach essentially reinforces why women in tech often feel unwelcome or invisible. The commenters on Justine's post, on HN and her own blog, have tried to explain her experience to her, and this is part of the problem. If Hacker News is attempting to shift tech culture in a different direction, they can't just push the edited version. As Justine says at the end of her post:
Just remember, it doesn't end that night. I am fairly certain that the events that Monday in January ruined me for the rest of my life. All I can do is keep on working on myself and moving forward.
Illustration by Jason Reed