Of all the things our sophisticated drone technology is capable of doing—fighting wars, spying on people, delivering your discreetly packaged erotic yoga DVD via Amazon.com—the last thing you'd probably expect is a drone being used to prevent geese from spraying poop on beaches. Yet that's exactly what the "Goosebuster" does.
Created by ex-IBM employee Steve Wambolt, the Goosebuster was designed to ward off the geese population of Ottawa's Petrie Island, which has exploded in recent years. Over the past few years, the increasing geese population has also led to increased levels of E. Coli in the water, which has led local politicians to deem them a health risk.
Prior to the invention of the Goosebuster, Ottawa officials tried to rid the beaches of the geese by using dogs and fertilizer to shoo them away. But nothing worked until Wambolt created his Goosebuster, a hexicopter system that swoops into the water every morning to scare off geese with flashing lights and loud predator noises.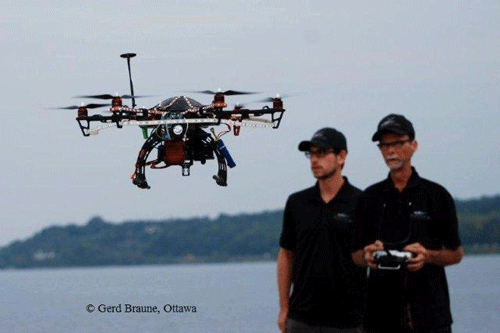 Via Aerial Perspective/Gerd Braune
"The Goosebuster drone appears as a predator," Wambolt told Motherboard. "We have the advantage of being able to fly and chase the geese a short distance."
Since Ottawa officials started using the Goosebuster, the terrified geese have been fleeing the beaches en masse. The drone is a win for Ottawa city officials, who have pumped more than a million dollars into beach rejuvenation efforts, but probably not so much for the geese themselves, who now have to find a whole new Canadian body of water to use as their toilet.
H/T Motherboard | Photo by Lisa Plymell/Flickr (CC BY 2.0)