This Thursday was my friend Anna's birthday. In the morning, we were chatting over coffee when the conversation turned to the murder trial of South African sprinter Oscar Pistorius. She opened the Google search page to look up how long the legal proceedings had been going on.
?That's weird," she said ?I think Google got me a birthday cake."
In place of the standard Google doodle, or one of its many variants, she saw this: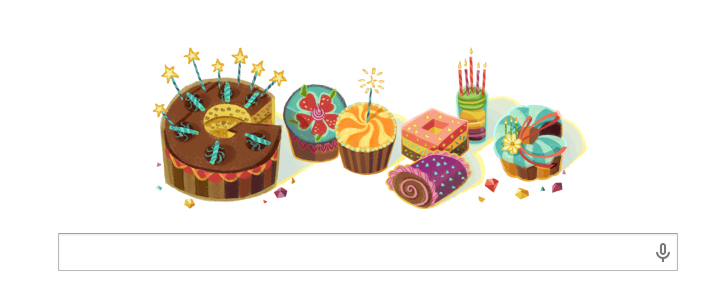 ?Click on it, see if anything happens," I suggested.
Clicking on the doodle brought Anna to an unfamiliar page, one she had never seen before. ?What the heck is this?" she asked, holding up her laptop screen for me to see.
?That's your Google+ page," I replied.
Anna then asked the next logical question, ?What's Google+?"
•••
According to a post on Google's official company blog, the personalized Google birthday doodle has been around since at least 2010:
Because doodles are such a fun part of the search experience, we thought we'd share a fun little way Google will help celebrate your birthday. When you include your date of birth on your Google profile, you may notice a special treat on the Google homepage on your birthday (be sure to sign in). Click on the doodle for another birthday surprise!
Meaning that, in order for Anna to have gotten the alert she had to have signed up for Google+ at some point in the past. However, signing up for Google+ and then immediately forgetting it ever existed, is a common experience.
Launched in 2011, Google+ was the Silicon Valley tech behemoth's attempt to compete with Facebook in the social networking space.
In a sense, it's been exremely successful.
The network has over 540 million active users, and it serves as a single central repository for Google to store information about a single individual across the company's myriad of online services. The data Google gathers about you—from scanning the contents of the your emails, tracking every place you visit with the help of Google Maps, logging every news article you read through Google News, snooping on every site you visit through Google's omnipresent network of traffic cookies subtly embedded in sites across the Web—is all connected to your real-world identity through your Google+ profile.
Not only does this centralized trove of information allow Google to personalize services like its search engine results to better suit each individual user, but it also allows the company to draw from a richer collection of data points when deciding which ads to show.
At the same time, Google+ has likely fallen well short of the company's original expectations for the product, which was initially pushed as a Facebook-killer. Instead, Google+ has largely become an afterthought—something people sign up for because, at least for a while, they were required to do so before posting any content to YouTube. The New York Times once called it a ?ghost town," although the service does have its devotees in the photography world and among SEO experts.
By early this year, the majority of the Google employees who were working on Google+ had been moved to other projects.
Yet, for Anna, who doesn't care all that much about Google+ either way, the birthday reminder just made her declare that, ?Google is creepy."
Google's birthday reminder felt more than a little bit like an invasion of her personal privacy. She didn't remember explicitly telling Google her birthday, so, when it spit that piece of information back to her, it felt like a violation.
However, Google does this sort of thing all the time. The most notable examples come from Google Now scanning the text of your emails and calendar events to inform you that, if you want to make your dinner reservation, you're going to have to leave your house in the next five minutes.
The difference between the driving time notifications and the birthday doodle is that the birthday doodle doesn't really give people any extra utility. If the online data collection revolution has taught us anything, it's that people are willing to exchange their own personal privacy for an added bit of convenience.
Google Now is actually, when you stop to think about it, far creepier then the Google birthday doodle. Except the latter only serves to remind you that's it's your birthday, which you probably already know, and that Google+ is still exists, which probably isn't going to make your life any better.
Photo by Joey Gannon/Wikimedia Commons