Do you already have a second email address to give out when it's obvious that whoever wants it will be spamming you later that day? Then you're going to love fakena.me.
With a single click, the site will "generate a random fake name, address, username, password, and (usable) email address for use with online message boards, social media, or whatever else." Each profile can be bookmarked for up to 30 days before automatic deletion. In theory, this should help to prevent anyone from building a history of your online behavior.
For me, fakena.me came up with "Ryann Aguirre"—a name that leads to Instagram and YouTube accounts mantained by a real person. But while Livingston Manor, N.Y., and Kentucky Avenue are both real places, the latter doesn't exist in the former. The phone number, meanwhile, directs to an office in another part of New York.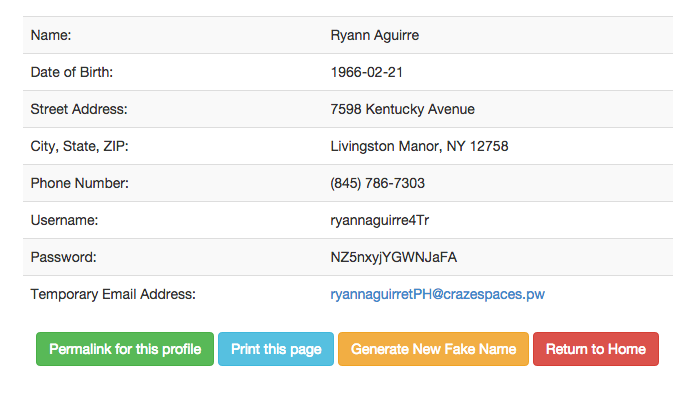 The site itself promises to neither record your IP address, retain log files for more than a day, nor track you via tools like Google Analytics—and even links to an explainer on how to opt out of data surveillance programs including PRISM, XKeyscore, and Tempora.
Now comes the hard part: figuring out what to do with all that privacy.
Photo by photophilde/Flickr (CC BY-SA 2.0)