If you've ever known the terror of a lost pet, then you will know why John Polimeno came up with Finding Rover. The app uses facial recognition technology enabling users to identify a missing dog and reunite it with its owner.
Polimeno thought of the idea after seeing a lost dog poster that reminded him of his previous labrador, Harley, who was once lost. "We found him four days later," Polimeno told SFGate. "But those were four days of hell for my wife and me and our two kids. There wasn't a dry eye in the house."
Having experienced that anxiety hands on, Polimeno wanted to help fellow dog owners of by making the "lost dog" poster virtual, and smarter. After raising money to fund his research, he partnered up with the Software Development Center at the University of Utah.  The programmers there helped him develop an algorithm called Pet Match: This technology picks up on the distinct features of dogs that differentiate them from other breeds.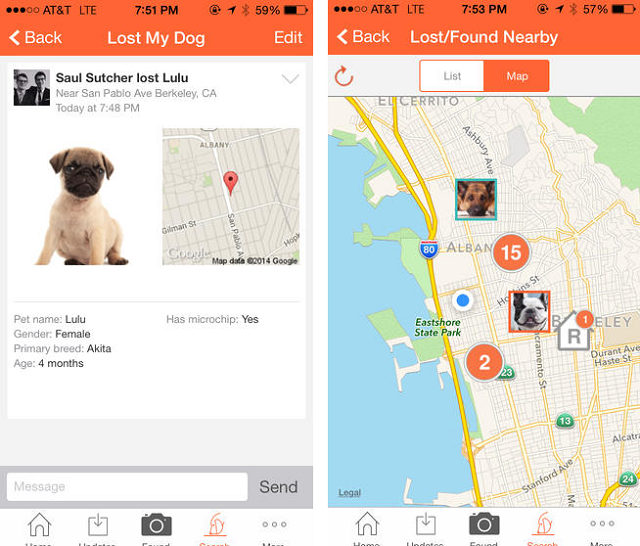 With Finding Rover, users take a photo of their dog, which is then uploaded into the app's database along with their own personal information. Then if the dog is ever lost, when someone finds it the respective owner is notified via email. Users will also be notified of any lost dogs within a 10 mile radius of their location.
The biggest challenge Polimeno and his team faced was getting dogs to sit still and look at a camera. The solution? A "bark button" that emits a puppy bark, causing any dog to immediately stop and tilt their head in interest.
Although Finding Rover is still fairly new, Palimeno believe the app will be instrumental for pet owners. His isn't the only technology targeted this market: Whistle is a connected device and entire network for pets and their owners, and Bistro is a cat feeder that has facial recognition technology so you can monitor specific cats' eating. In our Quantified Self-obsessed times, it's almost refreshing to focus so intensely on another being.
H/T SFGate | Photo via Diana Parkhouse/Flickr (CC BY 2.0)