Facebook just overhauled its privacy policy, which, like most documents addressing privacy, liability, and user rights, was totally impenetrable. The new policy, not yet ratified by we the people, is now a sprawling collection of policies centered around the core Terms of Service (ToS) that Facebook and its users adhere to. 
While the Wall Street Journal lauds Facebook's new privacy guide for being "70 percent shorter," really things have just been moved around and made more visually appealing and more difficult to find. The core ToS has undergone some big changes this round, but you should mainline a redbull and give Facebook's other policy agreements a read, too. We've listed them below.
Reviewing Facebook's new rules
Facebook's ToS has a long, controversial history. The EFF has catalogued the social network's wildly evolving policy throughout the years, if you'd like to take a glance back to simpler days. Looking at its evolving use policy, the evolution of Facebook from a consumer product to an ad business is crystal clear. 
Here are the main changes buried in Facebook's new "proposed" November 2014 ToS agreement. As a note, we consulted a lawyer with some experience in drafting contracts and terms agreements to clarify the denser bits of Facebook's new policy.
You can see the two terms agreements in full, in a side by side comparison document we created here. Left is the old agreement, right is the new one, and changes are highlighted.


First up, Facebook changes the naming of its "Data Use Policy," which is now just called the "Data Policy." The benefits of Facebook users forgetting their data is being collected and used are obvious. The change is reflected throughout.
The company also overhauled the Data Use Policy in a big way, dividing its contents into sections and adding some language to accomodate upcoming plans, like a "Buy" button that allows you to shop directly from Facebook and a Yelp-like collection of local businesses called the Places Directory. 
Facebook's ToS, also known as the Statement of Rights and Responsibilities (SRR), has been reduced from 4,427 words to 3,405 words by removing language like this amazing chunk of text, in which Facebook defends its copyright for the words "Face," "Book," and "Wall."


As you can see, the Terms of Service for Payments has been whisked away to a separate Payments Terms section, making the main ToS less objectionable and the former even less likely to be read at all. A section around advertiser policy has also been made into a separate page called "Self-Serve Ad Terms."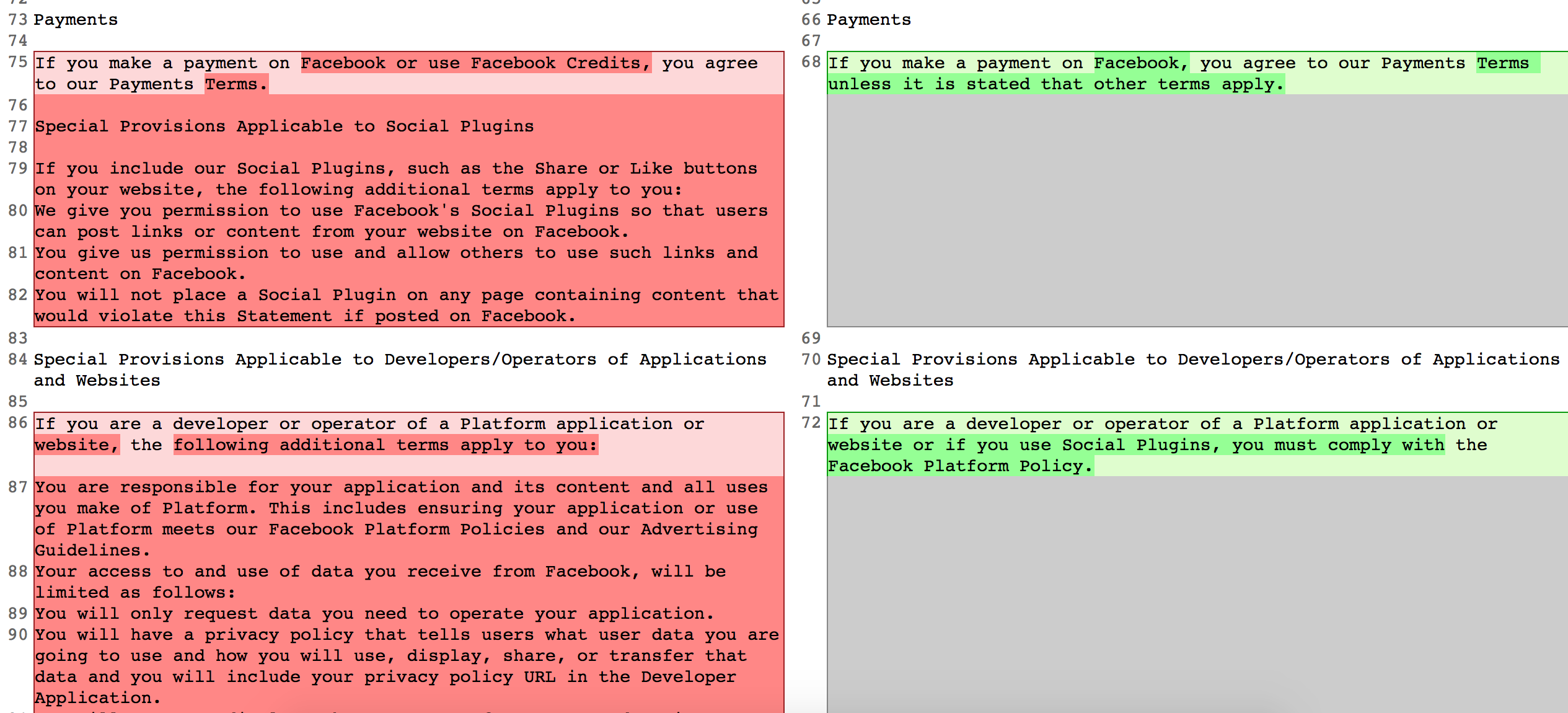 Facebook is now Facebook Services
Now we get to the meat of the ToS changes. The company has introduced new language that sweeps its expanding properties (WhatsApp, Instagram, Messenger, Rooms) together under the umbrella of "Facebook Services—"Facebook brands, products and services." This both accommodates Facebook's move toward an army of standalone mobile apps and allows its main policy to govern the policies of all of its other properties, which exist and in some instances function as separate companies.
The new language creates more permeable boundaries among the many manifestations of Facebook, which can share data as Facebook's sees fit. Under the Facebook Services umbrella, it's not likely that a warning from the FTC will be enough to keep Facebook from bending the privacy promises made by WhatsApp, for example. 
The other noteworthy part of the Amendments section, pictured above, is that Facebook shifts from describing how users will be notified of future terms changes to tersely stating "We'll notify you before we make changes…" Some of this is simplified around the failure of Facebook's farcical Site Governance voting system, which required a completely impossible 30 percent turnout from Facebook's billion-plus user base to create any binding changes to policy.
It's still a bit unsettling that Facebook doesn't provide more information about where or how users will be notified of changes: "we may provide notice on the Site Governance Page" (emphasis ours). Future policy updates could sneak in even more undetectably than they already do. Unsurprising by today's software standards yet still unsettling is that users don't need to agree to any future terms, wherever they may appear—continued use of any Facebook product or service "constitutes your acceptance of our amended terms, policies, or guidelines."
The next notable change is more language around how Facebook "reserves the right to designate" which of its products must abide by their own terms agreements and which ones fall under the umbrella of Facebook's main ToS. Even if you think Instagram or a different Facebook-owned product functions under its own set of rules, this bit leaves a wide berth for future ambiguity around privacy scuffles.

The updates come under the guise of empowering users to make more informed decisions as they navigate the sprawling billion-citizen social city it's constructed over the last 10 years. Do they succeed? Who knows—we certainly wouldn't wish reading the thing on anyone. No, just kidding. We read it all and you should too. Apathy isn't cool and neither are cigarettes.
Want to give Facebook your two cents? Type up your thoughts here or send some snail mail to Facebook Inc., 1601 Willow Road, Menlo Park, CA 94025 before it's too late.
Illustration by Max Fleishman