The buzz might have quieted down some, but the team behind Ello is committed to improving their social network for the users who stick around. Since it blew up, detractors have slammed Ello for being a half-baked social network devoid of many of the niceties they've come to expect elsewhere. While it's certainly not a fully fleshed out social experiment, Ello is still in beta, so it's not really supposed to be.
Ello's team is quickly making up the difference, by ironing out technical kinks, stabilizing things server-side, and adding in new tools that make the unlikely viral social network into something far more usable.
This week, Ello rolled out a handful of new features, as announced on Ello developer @cacheflow's account. Now, next to the friends and noise buttons, Ello users will find a notification center, marked by a little lightning bolt icon, where all updates about followers and @ mentions will live.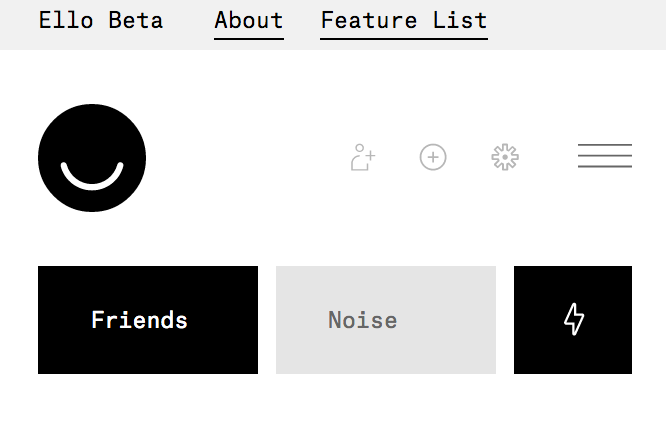 Previously, they were mixed into the main feed, which distracted from more substantial content posts (we mean GIFs, naturally) and made following and replying to mentions pretty much impossible. Unfortunately, interacting with a mention requires clicking a tiny, tiny bit of text to open a thread which is a bit tedious.
Ello also added a few keyboard shortcuts (a total list can be found in this comment thread): F whisks you to your friends stream, N to your noise stream and R refreshes and pulls up notifications. Earlier this week, Ello gave users additional invites, added image copy and paste functionality for users running Chrome or Firefox, and boosted the resolution for avatars.
The not-quite-anti-Facebook has steadily been adding new features since it exploded in popularity in the wake of unrest over on Facebook. The new additions are nice and do make Ello more usable, but its support for GIFs, big photos, and a huge array of emoji are probably what keeps us coming back.
Photo via Wikipedia (CC BY-SA 3.0) | Remix by Fernando Alfonso III