Your dream of bidding for one of the first pair of Google Glass eyewear has been shattered.
A popular eBay listing for a pair of Google's futuristic glasses has been removed from the auction site after fetching more than $15,000 in 36 bids.
eBay user bla7kcat, who posted the auction, claimed to be picking up a pair of Google Glass frames at one of two launch events sometime over the next few weeks.
"I've been selected as an early adapter for Google's upcoming release," bla7kcat wrote in the item description. "You are buying a brand new unopened pair of Google's Project Glass glasses. I will be personally attending and picking up my pair in either Los Angeles, or New York at Google's Project Glass launch event, which will take place some time after Feburary 27th. As for what colors will actually be available, will vary, if I am offered a choice, I will choose the color of your choice…"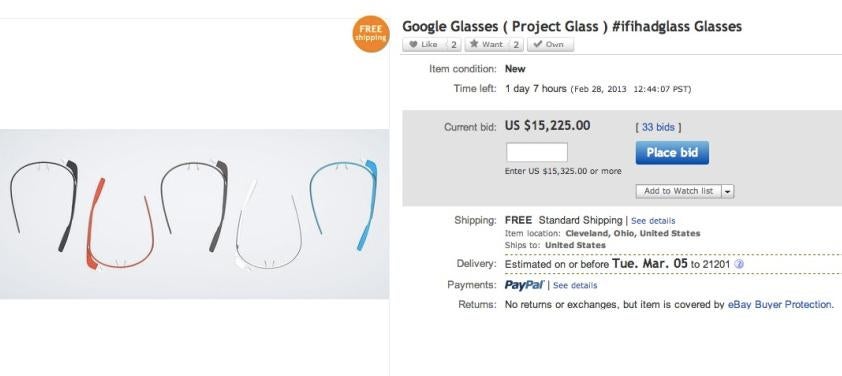 Google Glass has been the buzz of the Web community after the company released a video a week ago showing off its features. Google is reportedly partnering with eyewear maker Warby Parker to help make the awkward-looking glasses more appealing. Original pairs of Google Glass are set to retail at $1,500.  
It is unclear why bla7kcat's listing was removed from eBay (or by the user) but chances are it violated the company's presale listing policy, which requires:
Guarantee that the item will be available for shipping within 30 days from the purchase date. Be sure to clearly state this information in your listing.
Clearly indicate in the listing that the item is a presale item.
The handling time specified in your listing should reflect the time from the end of the listing until the item is shipped to the buyer—not the time the item is in your possession. Be sure to specify the correct handling time in your listing.
Photo by mariachily/Flickr