If you've ever seen the Netflix movie A Talking Cat?!?!, (if not, I HIGHLY recommend you do so immediately if not sooner), you know that a pet acquiring the ability to speak is a fantasy shared by many. In a few months, it appears that fantasy will come true, thanks to a bunch of enterprising Scandinavian scientists who are developing a headset that will translate your dog's thoughts into human speech.
Yahoo News reports that the folks at the Nordic Society for Invention and Discovery are currently perfecting a model for No More Woof, a device that will scan your dog's brain patterns and translate his thoughts into short human sentences, via a microphone. Sentences like "I am hungry," "I am bored," or "I am curious who's at the door" will be programmed into the headset in advance, and then broadcasted through the speaker.
The website for No More Woof says the device will use a combination of "EEG (electroencephalography) sensoring, micro computing and special [brain-computer interface] software" to "open up a vast new era of communication between dogs and humans, or animals in general and humans." They're also developing different voices to suit your pet's personality, such as the "Harley" (for snooty, patrician pug types, according to the sketch on the NSID's website) and the "Mandy" (for snooty, patrician poodles. Actually, all of the dogs on the website look snooty and patrician, so maybe Scandivanian canines are way more class-conscious than American dogs are).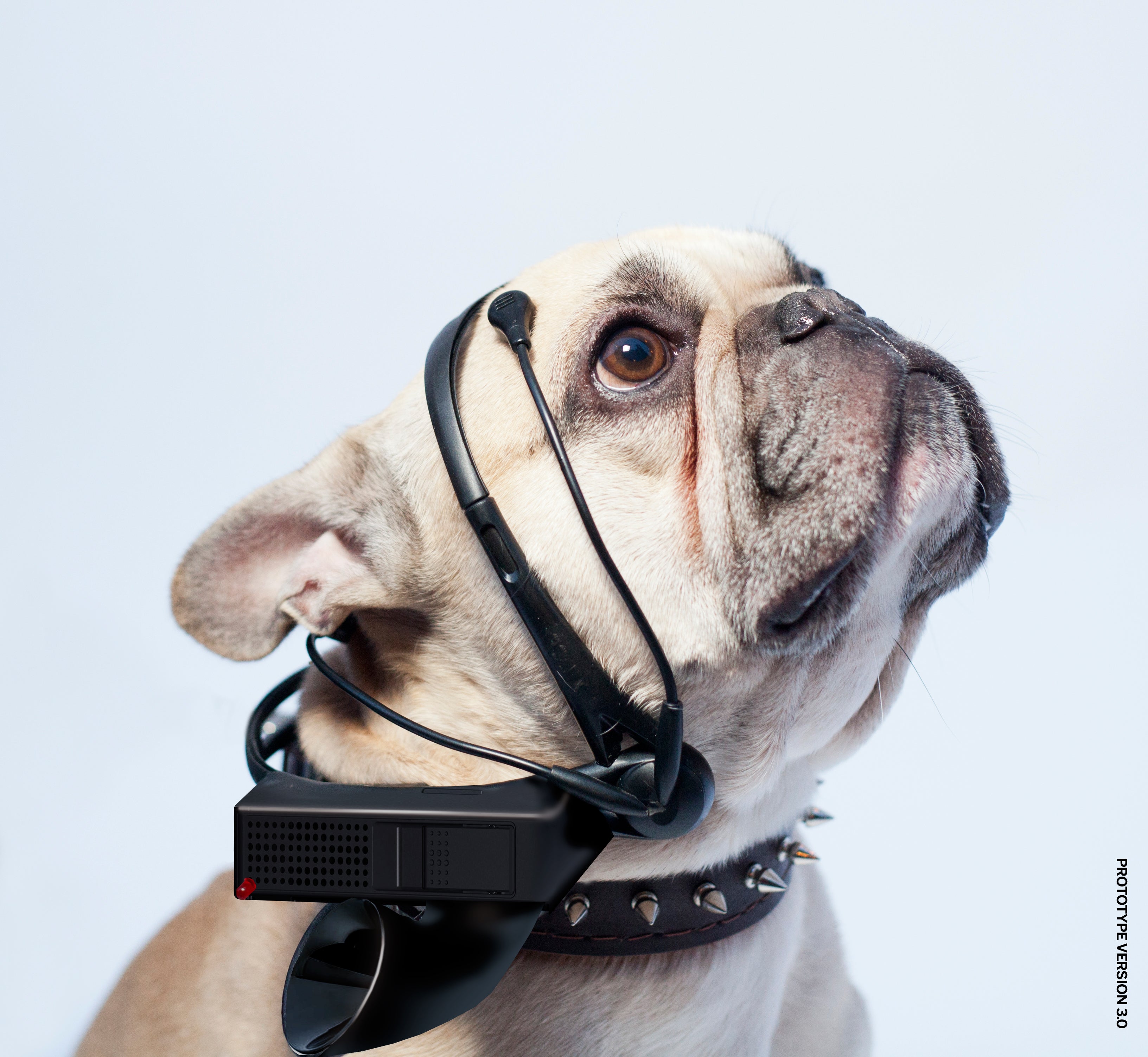 Photo via No More Woof/IndieGoGo
If this sounds a little familiar to you, that's because it is: No More Woof is similar to the collar worn by Dug, the dog from the 2009 Pixar movie Up, which allowed him to communicate with humans. But despite its parallels to the children's cartoon, the science behind No More Woof appears to be furreal (see what I did there?): the headset will use sensors to detect electric signals in dogs' brains, and then analyze the signals to determine if they represent sleepiness, hunger, anger, or boredom.
Although a lot more research is required before the device is put on the market (and we haven't even gone over the ethical implications of forcibly strapping a cumbersome electronic device on Fido's noggin), there are versions of the headset available for pre-purchase on IndieGogo, ranging in price from $300 to $1,200. The pricer version comes with an engraved dog tag. That might sound steep, but it's a small price to pay for answering the eternal question of what's running through your dog's mind.
H/T Yahoo News | Screengrab via No More Woof/YouTube