Dexta Robotics made waves earlier this month on Reddit when it revealed Dexmo, a newly developed glove that uses force feedback so users can touch objects in virtual reality environments. Now, the company has launched a Kickstarter campaign, bringing their technology one step closer to consumers.
The glove connects to each finger to track a person's movements; when touching something, the glove allows the hand to feel pressure rather than a vibration to interpret the size and shape of an object. It won't, however, allow a user to feel softness—at least for now. Aler Gu, founder and CEO of Dexta Robitics, says that Dexmo is still in development.
The Dexmo project began in September 2013 and since then, the company has created 17 prototypes, with force feedback being one of the last elements added to the glove.
"Having the exoskeleton linkage to transmits one's finger movement onto the inexpensive but reliable rotational sensors, Dexmo avoids the use of expensive sensors like the IMUs and flex sensors," Gu said in an email to the Daily Dot. "Along with injection molded plastic parts and small metal parts, the cost of the device can be greatly reduced."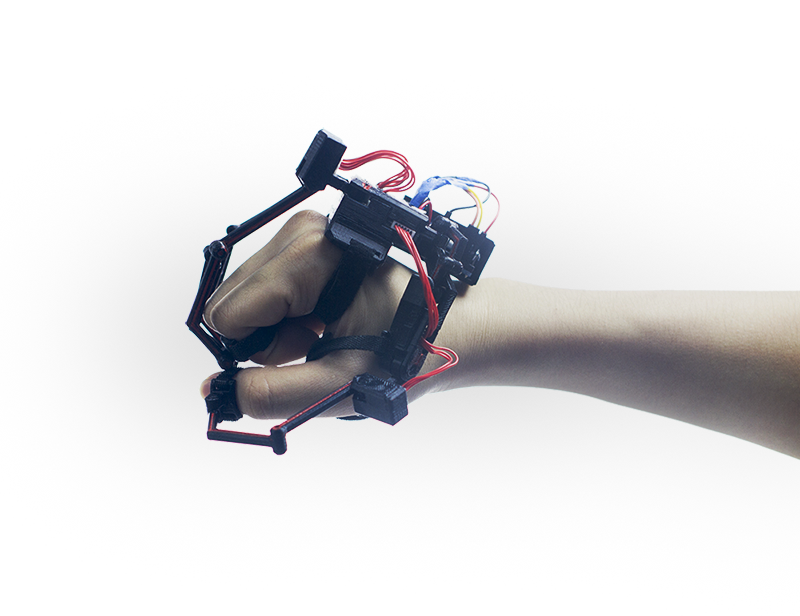 The iteration, however, is far from the model that the company plans to release. Gu explained that the model made for development purposes was produced with a 3D printer, which wouldn't provide enough durability. He said the company will produce the gloves using metal gear disks. They'll also come in two sizes to accommodate different hand sizes, and the team will work to improve the overall aesthetic of the product.
"We got a lot of invoices saying that Dexmo F2 looks like a giant robot spider," Gu said. "Don't worry, we are working with some very talented industrial designers to make the look of Dexmo more acceptable.
"Also gloves are just too normal, personally," he added. "I like the look of exoskeletons a lot more. We couldn't make it small, so we made it cool and different."
Gu said that the funds raised through the company's Kickstarter campaign will go toward further developing and designing the gloves, testing, and packaging. The Dexmo team has been working with manufacturers to ensure that they'll be able to receive everything they'll need to make a cohesive product.
While the uses for Dexmo gloves could be applied simply to VR games, Gu says that those wanting to use the gloves for other applications can do so by using the software development kit that will come with the product.
So far, Gu said that feedback from users who've actually gotten to see the device has been optimistic. Though the company has a ways to go before launching the final product, Gu feels that he and the Dexta Robotics team have created something that could help shape the future of VR.
Screengrab via Dexmo/Kickstarter