Considering the number of pervos, creeps, and all-around weirdos on online dating apps like Tinder, sometimes it's easier to just assume the person you're corresponding with is a sex offender and ignore their messages, rather than end up with your skin being worn as a contempo casuals pantsuit.
But what if there was a way for Tinder users to screen their matches, so you could tell if the guy you were flirting with was more interested in having you over for dinner, or, y'know, having you over for dinner? Thankfully, now there's Creep Shield, a sex offender facial recognition website that allows you to compare a photo of your online crush against those of hundreds of thousands of sex offenders in their database.
Basically, here's how Creep Shield works: you right-click on an image of your online paramour, select "Copy Image URL," and enter it into the website (you can also directly upload a photo from your desktop). Creep Shield then runs the image against 475,000 mugshots of sex offenders in their database.
If your crush shares any facial characteristics with any of the sex offenders in the database, Creep Shield will pull up a list of potential matches (in this respect, it's a bit similar to NameTag, a facial recognition app for Google Glass we reported on a few months ago). Here's what happens when you plug in a photo of Debra Jean Beasley, a.k.a. Debra LaFave, a former middle school teacher who made headlines in 2004 for sleeping with a 14-year-old student:
Creep Shield's technology is by no means infallible: The site's FAQ says its database does not contain images of every sex offender in the United States, and the facial recognition technology works best with well-lit, full-frontal close-up shots (so if you plug in a dimly-lit bathroom mirror selfie of a guy showing off his abs, you're probably out of luck).
Even high-profile former sex offenders don't necessarily show up in the database, as evidenced by what showed up when I plugged in a photo of Jeffrey Jones, the actor who played Principal Rooney in Ferris Bueller's Day Off, who was arrested for possession of child pornography in 2003 and required to register as a sex offender: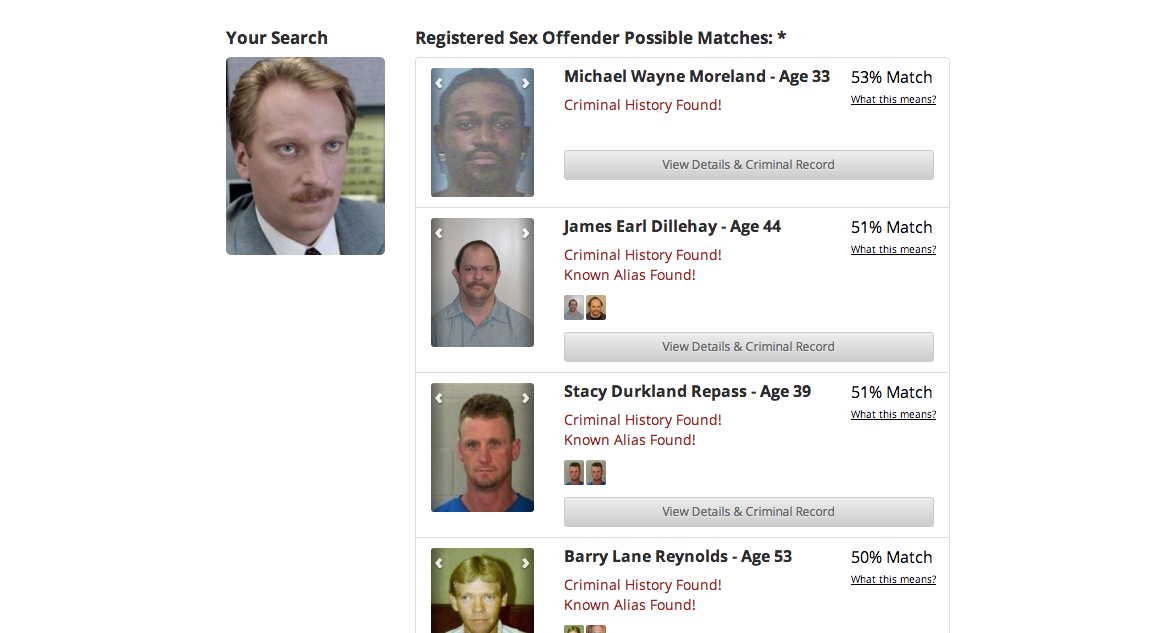 Whatever the site's limitations, however, knowing that technology like Creep Shield exists should, at the very least, should give online daters some peace of mind. Now if only we had an app that could identify tiny penis-havers, or people with lower back tattoos…
H/T Betabeat | Photo by Connor Tarter/Flickr (CC BY SA 2.0)