With more and more of the White House press briefings restricting the use of TV cameras, CNN had a unique idea for how to cover Sean Spicer's media availability on Friday.
The news network sent a sketch artist to record the day's event. And it very literally looks like a work of art.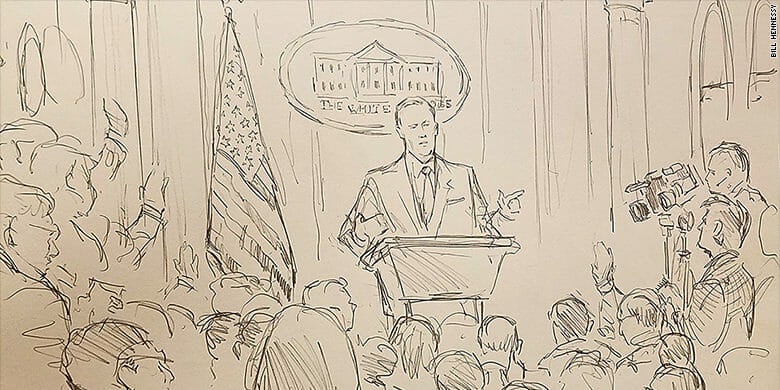 That's the work of Bill Hennessy, who normally sketches Supreme Court hearings for the network. But on Friday, with no on-camera availability for the White House reporters, CNN sent Hennessy to the White House, where he stood in the back of the briefing room and sketched away.
As the network notes, Spicer and Deputy Press Secretary Sarah Huckabee Sanders have held only four on-camera briefings in June.
"Some days we'll do it" on camera, Spicer said Friday. "I think it's great for us to come out here and have a substantive discussion about policies. I don't think that the be all and end all is whether it's on television or not."
Not everybody thought CNN's idea was clever, though.
.@CNN is looking even more pathetic here. Look for a halo over Jim Acosta's head and horns over Spicer's https://t.co/a9Nj7uftfq

— Curtis Houck (@CurtisHouck) June 23, 2017
It's not reporting the news at all. People know what Spicer looks like. CNN's making a scene and promoting themselves through this charade

— Curtis Houck (@CurtisHouck) June 23, 2017
Lapdogs. Use your phone. Live stream. // With cameras banned, CNN sends sketch artist to White House briefing https://t.co/AkL8h9nkOP

— Andy Sternberg (@andysternberg) June 24, 2017
Hey @CNN, cut the cute sketch artist crap and just bring your cameras. Then film the free press getting thrown out of the Whitehouse.#resist

— John Kinnear (@askdadblog) June 24, 2017
Still, even with the sketch artist, Friday's briefing was a victory for Spicer. At least the Tom Brady sketch artist wasn't in attendance.
The Tom Brady sketch artist is fighting fire with fire. https://t.co/LWLY8yUU4h pic.twitter.com/cnMnljqW8P

— NESN (@NESN) September 8, 2015