Chase Giunta is a 25-year-old Dallas graphic designer who, for the past five years, used the Twitter handle @Chase. However, another entity suddenly wanted that handle: J.P. Morgan Chase.
Giunta's account was originally a personal account, and claimed no association with the bank, but once Giunta started receiving misdirected complaints from bank customers, he sometimes retweeted them, and rebranded the account "Chase Retweets." The banking behemoth took notice, and was not content to just use @ChaseNews as their Twitter identity. So began a crusade to wrest Giunta's handle away from him.
"I'll admit that I did occasionally retweet negative stuff about Chase Bank, but only because it was hilarious," Giunta tells the Daily Dot. "The things people would say, that's what cracked me up. I made the account as I did, on the contingency that if I ever received any sort of complaint from anyone, that I would just change it back to my personal account. And that's what I did."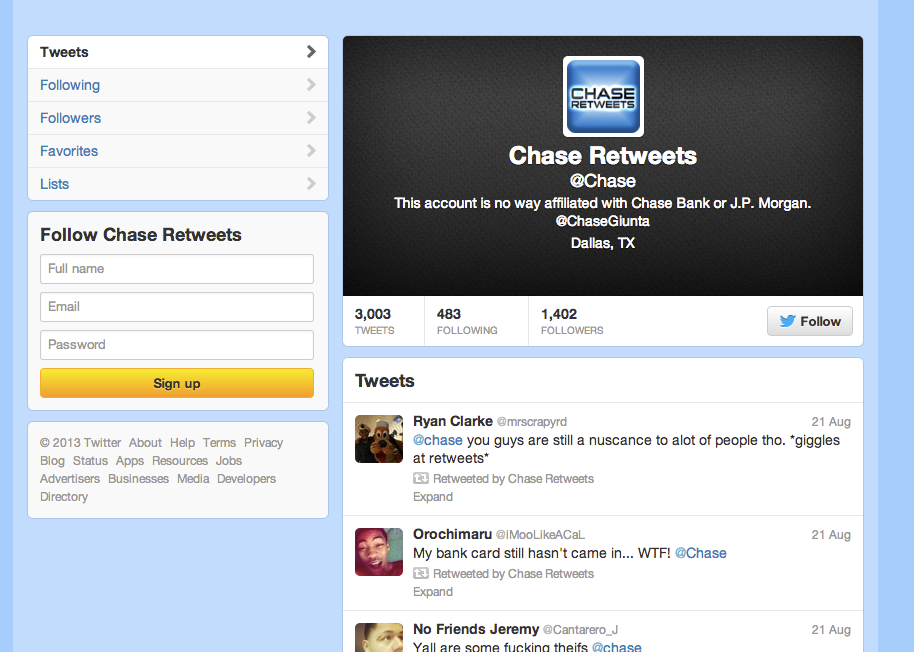 Last month, the bank finally succeeded in its mission, and Giunta now uses the handle @ChaseGiunta. Twitter alleged that Giunta's account was impersonating the bank, thus violating its parody/commentary/fan policy, even though Giunta made it clear he had no association with Chase or J.P. Morgan. Giunta claims right before the handover, he was contacted by a broker and offered $20,000 for the name, which is "strictly against Twitter rules." He declined the offer, and less than a day later, Twitter sent him the first trademark infringement complaint.
"When I received this first trademark complaint from Twitter, I immediately changed everything back to my own personal information," he explained:
My first and last name, personal URL, photo of myself, etc. I replied back to Twitter's complaint email asking for any further advice, help, and if I was clear in the situation. They replied back a couple days later saying that all my personal information was infringing upon trademarks, which makes absolutely no sense. I replied back with emails, to which I received no response. A couple days later, they suspended the account, then transferred the handle over to JP Morgan Chase.
He says that his previous retweeting of customer complaints was, oddly, reinforced by the impersonal handling of this situation. He also has a different view of Twitter now:
The experience of Twitter in the beginning was new and fresh, because it placed a personal connection between you and those people/celebrities you followed. Not your bank. Twitter really catered to JP Morgan so they could polish up their image before their IPO. Because, y'know, everyone gets on Twitter to follow their bank. I think the larger they get, the more out of touch with their users they will become.
Still, Giunta seems to have a sense of humor about this appropriation. His friends do too.
Screengrab via FoxDFW