Finding the right bra isn't as easy as going into Victoria's Secret and dealing with an overly-perfumed sales associate vigorously wrapping measuring tape around your ribcage and yelling about how you've lived your whole life as a 34B but you're really a 32C. The vagaries of our mammaries don't neatly abide with the current sizing system. That's what True&Co wants to correct.
The e-commerce startup is attempting to build a better bra by gathering data from over 500,000 women over the last two years, using 7 million data points to identify 6,000 different types of boobs. The company's scientists created a color-coded breast diagram called the True Spectrum to highlight their discoveries.
Visitors to the website can take a detailed quiz that's supposed to reveal where they fall on the True Spectrum; the most commonly reported shape is Citrine, with 28 percent of women describing their breasts as full and round.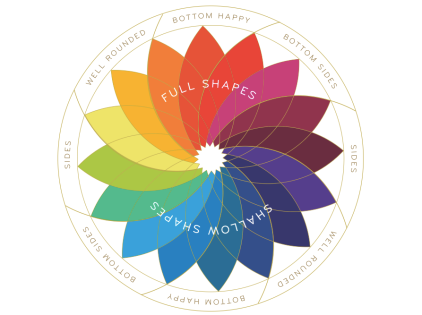 True&Co's bra quiz leaves 8 out of 10 customers happy, according to CEO Michelle Lam. The company's data-driven strategy is getting mimicked by Victoria's Secret, and Lam told TechCrunch she believes it's a successful choice because its algorithm relies on customers knowing how their bodies work. The trickle-down design approach for over the shoulder boulder holders didn't take asymmetrical breasts or unusual curvatures into account, something this new system does.
An algorithm based on customer feedback is certainly nothing new, but True&Co's decision to poll people throughout the process of initially developing their products meant that their bras are designed to reflect what women report needing. The start-to-finish emphasis on women describing their own shape as the organizing design principle made it clear there was a market for a larger number of bra styles, since the standard sizing formula left big groups of women uncomfortable.
True&Co aren't the only online retailers dabbling in crowdsourced design; popular women's clothing site Modcloth solicits customer opinions with its "Be The Buyer" program, while eShakti allows customers to customize every order based on their exact height and measurements. Considering other retailers are moving to a small-medium-large sizing scale instead of more precise numbered measurements, this counter-trend towards more custom fits is a relief.
H/T TechCrunch | Photo via Flickr/Aaron Stidwell (CC BY 2.0)