On Thursday, the Washington Post published the latest leak from former National Security Agency contractor Edward Snowden, a "black budget" revealing how much the NSA and other U.S. intelligence agencies spent on data collection, storage, analysis, and exploitation in 2013.
The NSA's budget is currently $10.8 billion, second only to the Central Intelligence Agency . This figure represents a 53 percent increase from 2004. Its spending is divided into four major categories: 
Management, Facilities and Support: $5.3 billion. Almost half of the agency's funding this year, this figure presumably includes funding for the agency's Utah Data Center, set to be completed this fall.
Data Collection Expenses: $2.5 billion. This figure likely includes the agency's controversial Internet surveillance programs leaked by Snowden earlier this summer. The budget report indicates that the CIA Intelligence Agency spends almost five times as much as the NSA on data collection.
Data Processing and Exploitation: $1.6 billion. No agency spends more on data processing than the NSA. This is reflected in the amount of its annual budget spent on its facilities.
Data Analysis: $1.5 billion. Similar to data processing, no agency spends more on analysis than the NSA.
Here's how those categories fit together to make up the agency's 2013 budget: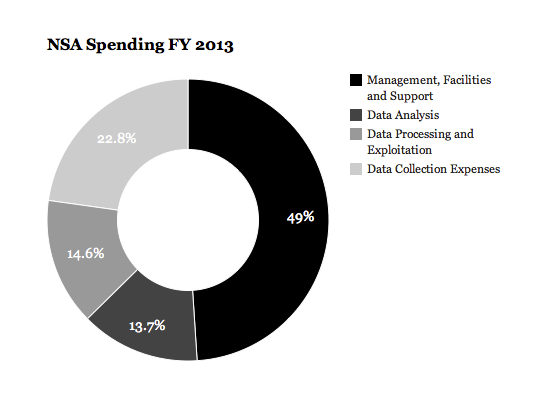 Chart by Joe Kloc
Photo by 401k 2012/Flickr