Humanity has been gazing at the stars since the dawn of civilization, finding points of navigation and dreaming of what lay beyond. Previous generations could only learn about the specifics of the skies through star maps, books, and planetariums. Today, everyone is walking around with the ability to study the cosmos in their pockets thanks to astronomy apps.
Modern astronomy apps use all the technology packed in your mobile devices — a compass, GPS, gyroscope, time, and dates — to give stunningly accurate maps of the stars. Many don't even require you to have a data signal to use, allowing you to see the majesty of the stars even while hiking in rural areas. 
Best astronomy apps
Night Sky (Free, premium upgrades)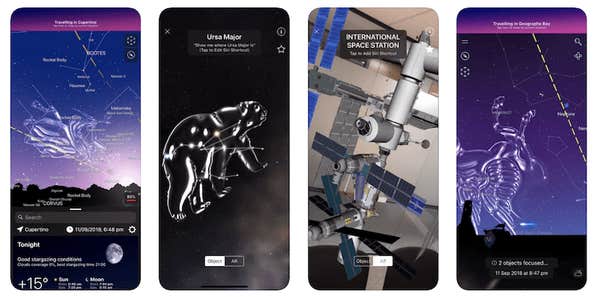 In the world of astronomy apps, one name reigns supreme: Nightsky. This freemium app offers a jaw-dropping amount of features without ever asking for a dime, but if you're willing to pay the options are seemingly endless. Free users get one of the largest collection of star maps on earth, featuring millions of stars. An augmented reality feature uses your camera to map the stars in the sky above exactly as you see it. Whether you want to see stylized constellations or traditional outlines, Nightsky has you covered. Users get access to powerful filters, from a light pollution indicator to x-rays to let you see beyond the standard visual spectrums. There are quizzes to test your knowledge and educational functions that teach you about the internal structures of planets throughout the solar system. Premium users also get the ability to map the closest Aurora to your location. You can even add the time you spend stargazing to your mindfulness minutes in your Apple Health app. The only downside of the app is how overwhelming its sheer number of options can be for new users. 
Overwhelmed by Nightsky? Try Skyview. This simple point and view astronomy app make it easy to quickly identify galaxies, stars, constellations, and planets. You can even track satellites that might be above you at any moment, including the international space station. Scheduling features make sure you never miss a major celestial event that comes in handy for those one-in-a-lifetime planetary moments. Skyview has a wonderfully simple augmented reality feature that takes images from your camera and overlays constellations directly where they naturally occur in the sky. There's even a time jump option, letting you see what the stars would look like at your location during different time periods. Skyview offers a ton of options for one low cost.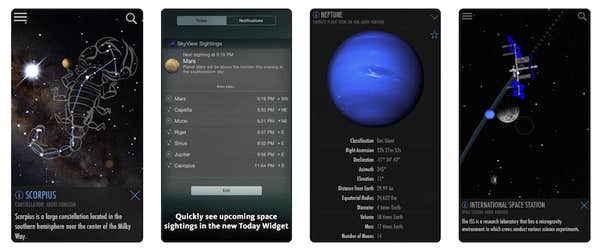 While many apps have features that empower you to learn, SkySafari actually teaches you. Included in the cost of the app are a series of audio tours through the stars and planets. A recent update has expanded the educational options even further with histories and models of the entire Apollo Lunar Missions, including a guided tour of the Apollo 11 mission. Like most other astronomy apps it also features augmented reality options and a pocket planetarium, but the educational features are truly the highlight of SkySafari. For young astronomers looking to learn more about the sky, SkySafari is worth signing up for.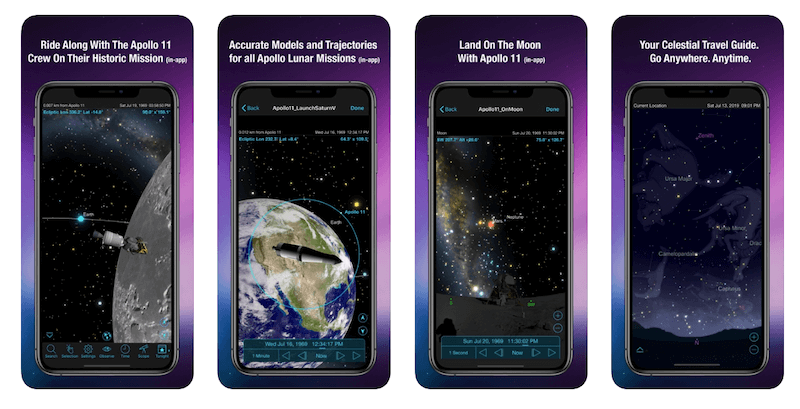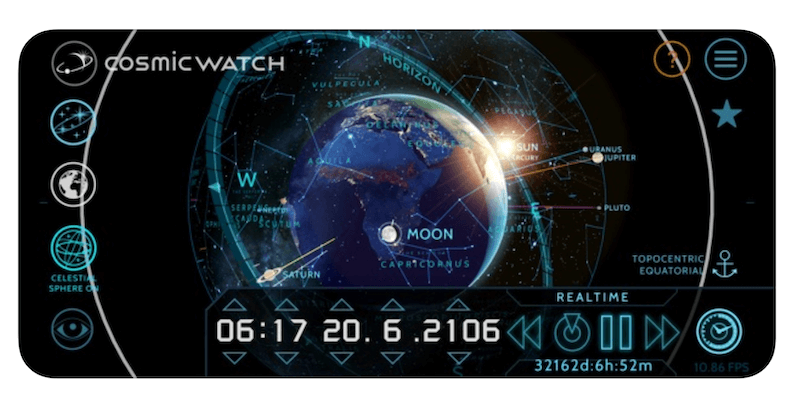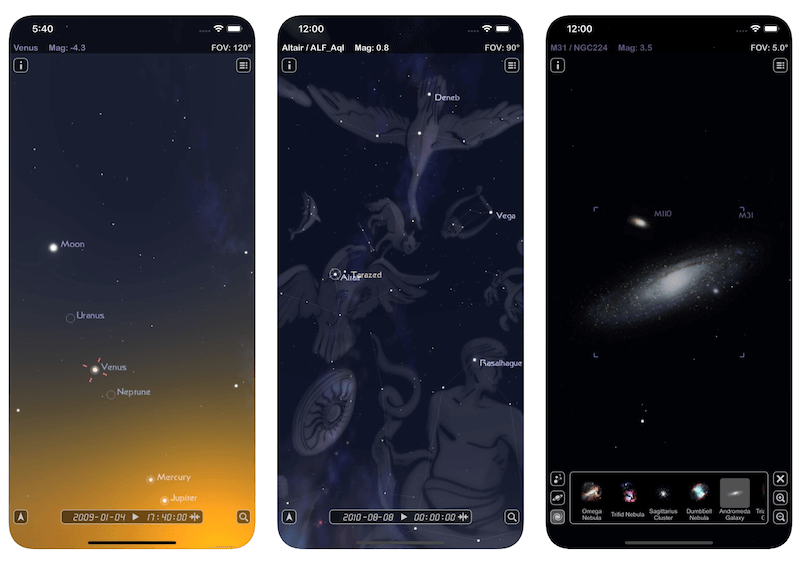 Star Rover is designed as a mobile virtual planetarium, showing a stylized map of the stars anywhere in the world. In its standard mode users simply point their device to the location in the sky they want to see the stars. Star Rover brings up a beautiful virtual map of the sky, displaying the constellations, planets, stars, and moon exactly where they appear in real life. Users can also manually select their location, allowing you to see what the stars look like at any moment, anywhere in the world. The app even includes details about specific constellations and planetary bodies, empowering you to easily learn more about the stars you spot.   Never let a cloudy night keep you from seeing the stars above thanks to this virtual planetarium experience. With 120,000 stars, Star Rover isn't the most comprehensive experience, but it's a visual treat for kids and adults alike.