Anonymous is waging war on the Westboro Baptist Church.
The loosely organized hacker collective announced on Saturday via video that it was targeting the WBC. Earlier that day, the church had announced via Twitter that it would picket Sandy Hook Elementary in Newtown, Conn.
The WBC, based in Topeka, Kan., believes that God is responsible for Friday's tragic event—which resulted in the death of 26 teachers and students—because America has embraced homosexuality. The 100-member organization has made a name for itself by protesting and picketing outside of military funerals and other high-profile events, holding signs reading "God Hates Fags."
"We will not allow you to corrupt the minds of America with your seeds of hatred," declared the automated voice in the video. "We will not allow you to inspire aggression to the social factions which you deem inferior. We will render you obsolete. We will destroy you. We are coming."
True to its word, Anonymous released a link to a Pastebin document containing the personal information of multiple church members as part of #OPWestboro.
Anonymous has also endorsed a petition on WhiteHouse.gov's We the People asking that the federal government recognize the Westboro Baptist Church as a hate group. The nonprofit civil rights organization Southern Law Poverty Center has already qualified them as such. The petition currently has more than 101,000 signatures, far more than the 25,000 needed for the White House to officially review.
In addition to the doxing, the Twitter account belonging to church member Shirley Phelps-Roper was hacked. Cosmo the God, a 15-year-old prodigy hacker who was arrested by the FBI in June for stealing thousands of credit card numbers, is taking credit.
"This account is now being ran [sic] by@CosmoTheGod #UGNazi #oops," tweeted @DearShirley. The comment was also retweeted by the hacker's personal account.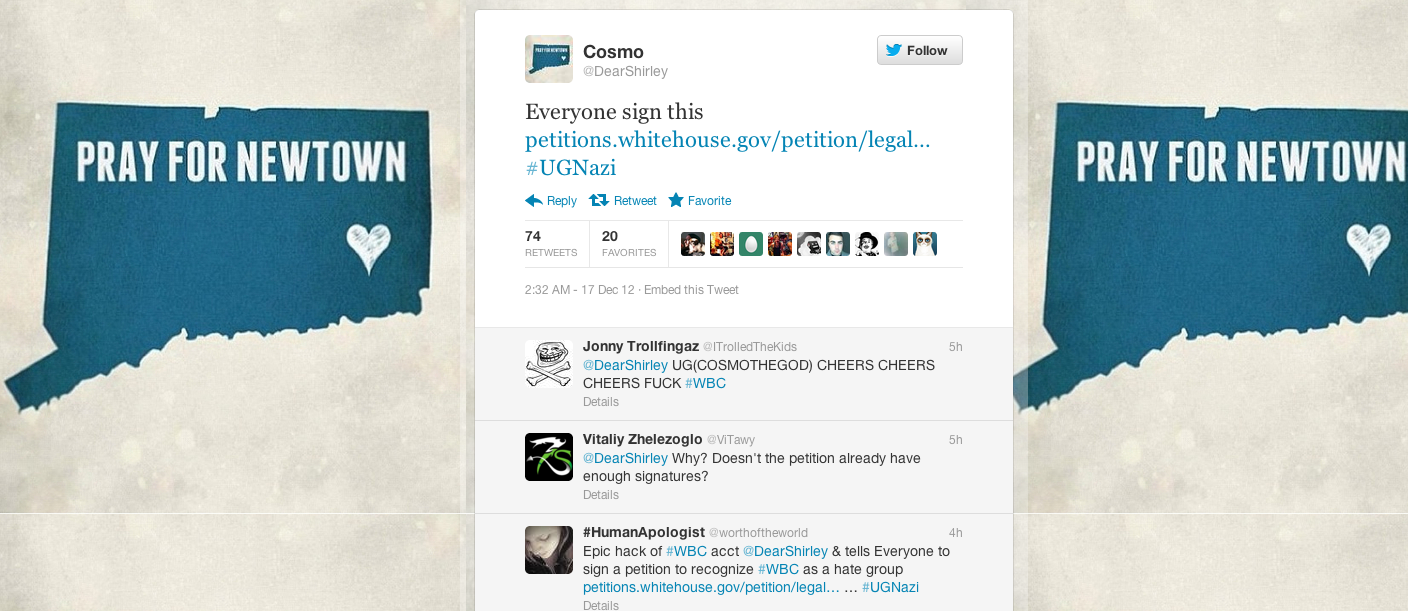 Photo via @DearShirley/Twitter
The hack might be in violation of the juvenile Cosmo's parole, which dictated that he be banned from using the Internet for six years. The defaced account also contains an image of the state of Connecticut in the background with the words "Pray for Newtown" written on it.
The church, for its part, has responded by taunting Anonymous, tweeting an image from @WBCPhotos displaying two men with face paint and tape over their mouths that read "God h8s bad" and "God h8s hackers."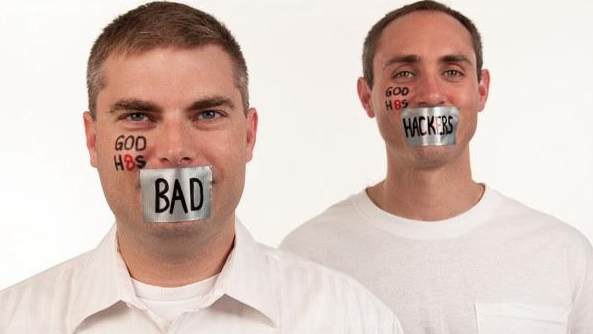 Photo via @WBCPhotos/Twitter
The church has also taken to popular social news site Reddit, conducting an "Ask Me Anything" (AMA) session, a popular question-and-answer format where users can ask questions about anything. The AMA has been confirmed via Twitter by Margie Phelps, daughter of church founder Fred Phelps. Predictably, the AMA has received more than 2,000 downvotes and more than 1,300 comments.

Photo via HyperVocal
The Daily Dot reached out to Margie Phelps—whom we interviewed in July 2012—seeking a comment. Here's her response:
God sent the shooter to Connecticut. That is a warm up. Many more shooters and much worse mayhem are coming. The criminals called Anonymous are known to God, and we'll let Him and the criminal authorities deal with them. We'll meanwhile stay on message. The God of Glory doesn't rely on Anonymous—or us—for His message to get to His creatures. These words are going to go forth by one means or the other, praise God. Meanwhile, those children died a horrible death for the great sins of this nation, one of the worst being the fevered pursuit of same-sex marriage. Connecticut was one of the first states to come out with same-sex marriage, and now God is dealing with them. The blood of those children is on the hands of Beast President Barack Obama, who should have hung his head in shame last evening. God is not going to have same-sex marriage. The cowards called Anonymous can't fix that.
Photo via westborobaptistchurchphotos/Instagram