At an event on Wednesday at Seattle's Fremont Studio, Amazon officially announced a long-rumored project: its very own smartphone. Called the Fire Phone, the device's defining feature is undoubtedly four front-facing infrared cameras that track users' head movements to create a display that automatically adjusts to wherever the user is looking. This system makes the screen's flat surface appear to show a three-dimensional image—not one that pops out of the screen, but rather something that appears to give the image a real sense of depth behind it.
The Fire's 3D interface works by flashing infrared light off the users' pupils to determine the precise location of their gaze. This technique allows the phone to create a 3D effect without the aid of 3D glasses or other hardware.
"What if there were 1,000 artists standing by to redraw the picture every time you moved your head? What if they could do it 60 times a second?" asked Amazon CEO Jeff Bezos during his presentation annoucing the phone—the effect is something like that.
The phone's motion-tracking features aren't limited to controlling the 3D. It also has a gesture-control system that will allow users to control applications and play games without having to physically interact with the device itself.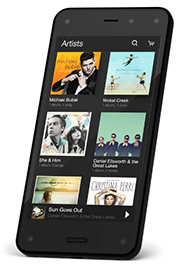 The phone is powered by a quad-core 2.2.GHz processor with a 4.7-inch HD display and runs a modified version of Google's Android mobile operating system. In addition to the litany of front-facing cameras, the Fire also boasts a 13 megapixel rear camera with unlimited cloud photo storage.
It has dual stereo speakers with Dolby virtual surround sound and comes standard with headphones with magnetic earbuds and flat cables that are supposedly resistant to tangles.
The Fire Phone also incorporates elements from other Amazon products. It has Fire TV's ability to predict what shows you're likely to want to stream and the Kindle Fire's Mayday feature, which instantly connects users having technical difficultues to video chats with customer service reps at the touch of a button. Since Amazon has worked closely with AT&T (where it will be exclusively carried upon release), Fire users who hit Mayday for problems with the service side of the things will be seamlessly transferred from Amazon's tech support to AT&T's.
According to searches conducted on AT&T's website, a 32GB Fire Phone will retail for $199 (with an AT&T contract), and a version with twice that amount of storage will go for $299. The company started taking preorders on its website today. The phones start shipping on July 25 and come with a complimentary year's subscription to Amazon Prime.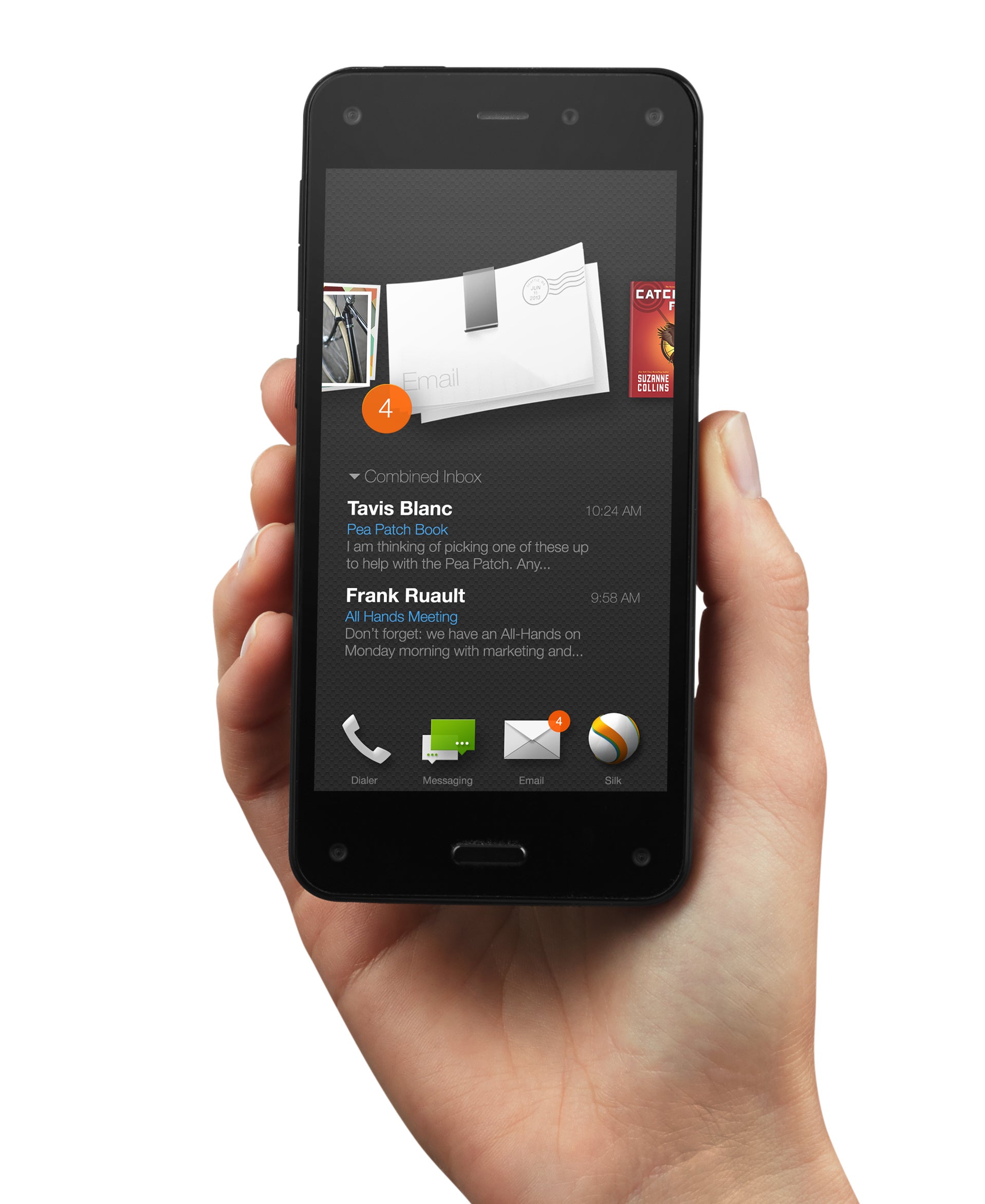 For Amazon, a company with a core business of selling actual goods online, the ability to allow its customers to really see the physicality of a given product in three dimensions all from their phones could revolutionize the home-shopping experience.
"We're going to see a smartphone optimized for shopping," International Data Corporation analyst Ramon Llamas insisted to VentureBeat. "If Amazon is good at one thing, it's getting its members to buy more stuff."
A key element of that is something called Firefly—a feature that allows users to take pictures of a product with a Fire device and then instantly order that project from Amazon. For brick-and-mortar retailers worried about "showrooming," a practice where consumers try out a product in a physical store and then go home and purchase it for a reduced price on Amazon, Firefly may not be particularly welcome news.
Firefly isn't just for physical goods; it also works to identify works of art, TV shows, and music. Yes, Firefly also lets you buy or instantly stream copies of those things, as the case may be. The Fire Phone has a dedicated Firefly button located on the side of the device.
Just like when Apple first launched the iPhone, AT&T will be the device's exclusive wireless carrier—a move that reportedly infuriated T-Mobile CEO John Legere. The Motley Fool notes an AT&T partnership makes sense for Amazon because AT&T's Sponsored Data program would give Amazon the ability to cover the data cost of customers' use of its proprietary bandwidth-heavy products like Amazon Prime Instant Video and its recently launched music streaming service.
According to a story in Bloomberg Businessweek by Brad Stone, the author of The Everything Store: Jeff Bezos and the Age of Amazon, the company began working on the 3D phone project all the way back in 2009.
The inspiration was apparently a popular YouTube video showing how a Nintendo Wii remote and sensor bar could be used to convert a standard TV into a 3D virtual reality display:
Fire isn't the smartphone industry's first attempt at popularizing a device with 3D capabilities. In 2011, HTC released the Evo 3D, which used a stereoscopic screen to play 3D games without the need for any headgear. Around the same time, LG put out the Thrill 4G phone and T-Mobile G-Slate tablet. The 3D implementation wasn't particularly mind-blowing on any of these devices, and they all quickly faded into obscurity.
Earlier this month Amazon posted a video to YouTube showing people tilting their heads back and forth while playing with an unseen device held just below the camera's frame:
The video's description contained a link to a page where people could register to attend the device's launch event held this morning in Seattle. Over 60,000 people applied to attend the event, but only about 300 made the cut. Those who successfully RSVP'd later received a book and a note from Bezos in the mail:
For Amazon, Fire may be the last step it needs to achieve a state of ubiquity where its customers can order products in an instant, from virtually wherever they are, and then have those products delivered through its increasingly robust distribution channels—often in a matter of hours.
Even so, getting into the smartphone business is dangerous. Google may have done well with its Android operating system, but the Mountain View behemoth's attempt to get into the branded hardware market, with the Nexus One, wasn't exactly a resounding success. And the less that's said about the HTC First, aka the ?Facebook phone," the better.
One immediate drawback for the Fire is the privacy issue. Technically, the device has an active camera trained on the face of its user at all times, which is undeniably creepy. Although, for the ability to take a picture of a bottle of wine at a restruant and then have that wine automatically delivered to your house a few days later, trading the creepy factor for added convenience may be a sacrifice many people are willing to make.
However, the rewards for the company could be considerable.
"Mobile is asserting not just its utility but its supremacy," said James McQuivey, an analyst with Forrester Research told the New York Times. "If you're Amazon, you're worried you're going to be cut out of the next big interface. So you jump in and make yourself relevant, whether your customer is in the bathroom, the kitchen or the car. You go for broke."
Photo by James Duncan Davidson/Wikimedia Commons