Rep. Alexandria Ocasio-Cortez (D-N.Y.) isn't afraid to get her hands dirty. Like, literally.
In April, the freshman congresswoman announced in a pair of tweets that she was planting a garden. Now she's being attacked for it by the right.
https://twitter.com/AOC/status/1114865929152794624
A few weeks later, her efforts began bearing fruit. True to form, Ocasio-Cortez shared a very dirty, very enthusiastic video.
She also posted on Twitter that she was "nervous checking up on it" because she'd been in New York City for two weeks.
In the video, Ocasio-Cortez says she's "shook" by the sight of the growing plants, which include collard greens, spinach, swiss chard, and dahlia planted without any discernible concern for spacing recommendations.
"Like, honestly, gardening, food that comes out of dirt. Like, it's magic!" she says, as a caption reads, "This is magic (and science and botany, but that is magical too!!)"
There's also what looks to be rosemary, a shrubby perennial that can grow as large as four feet by four feet, the precise size of her garden plot.
After her absence, Ocasio-Cortez expected the plants to be in a "sad state." Instead, they were actually growing and appeared suspiciously healthy—likely thanks to a major assist from other gardeners, one of whom she concedes replaced the plastic bottle full of water that she'd stuck in the dirt before flying the coop for 14 days.
"Thank you kind stranger for putting the community in community garden," a caption reads. (Hopefully next time that kind stranger also applies mulch.)
Though most of the feedback was positive, the gardening video did plant seeds of discord in the right-wing, who love digging on Ocasio-Cortez for even her most benign activities.
"Wow. Did you guys know that water is wet?!?!? Like.., 😲 OMG," one commented on a repost of the video. "Honey, that 'Flyover Country' you and your elitist ilk so despise is abundant with such miraculous verdant goodness. You should get out more," another added.
An Ocasio-Cortez parody account on Twitter dug even deeper for a joke, tweeting a picture of her growing a "tomato" that is actually a red apple.
https://twitter.com/AOCoffice/status/1125815069735096327
Others muddied things up with gardening critiques and observations. A redditor observed that the beds were miraculously weed-free and much further along in their growth cycle than their neighbors, plus unnaturally large for early May in the D.C. area.
Although the video included a before photo from two weeks prior, more than one surmised that the garden was staged and that the plants came straight from the nursery.
"She ain't gardening them plants," one sage soul wrote on Reddit. "I imagine she had someone else care for the plants after she planted. She seemed pretty surprised by the size of them."
A few pointed out the hypocrisy of conservatives attacking Ocasio-Cortez for planting a garden: "This is the perfect encapsulation of Republican (not conservative) Doublethink: 'we love being independent, salt of the earth people that grow their own shit, we don't need no gubmint to tell us how to grow 'em plants!' AOC does it: "HA! FUCKING MORON! IDIOT FUCKER WHY WOULD SHE GROW PLANTS????"
Armed with her brand new green thumb, the co-sponsor of the Green New Deal recently posted a video from a community garden in an urban neighborhood. In it, she points at some screened-in bins that she surmises are for composting, which she curiously believes is "really hard to do in a neighborhood like this."
"We just don't have the pickups and the ease of it that other neighborhoods have," she says, which anyone who has composted will probably struggle to understand.
But it was Ocasio-Cortez's well-meaning, but ill-informed waxing about the importance of growing culturally familiar plants that really took root with her haters. Specifically, she said that some communities will resist environmental initiatives like being told what to plant without taking their culture into account, such as telling folks who eat a lot of yucca that they should grow cauliflower.
This, she says, is a colonial attitude about environmentalism.
(Gardeners would probably add that it could also be because, unlike cauliflower, most yucca species don't grow well in more northern climates.)
"If I went to a predominantly white community and said, 'OK you guys are going to be growing plantains and yucca and all these things that you don't know how to cook, and that your palate isn't accustomed to,'" she says. "It's going to be like cute for a little bit. But it's not easy. You need to make it as easy as possible to flow into these communities and make it work."
This is a true statement. It's also true that it's easier to grow things that thrive in the climate you're in. And it is further true that people can learn to cook, and even enjoy, new foods.
Conservatives didn't waste time making a meal of the video, with Fox News, the  American Mirror, Daily Caller, and others doing segments like iHeart Chris Baker's amusing, if misleadingly, titled bit, "Did AOC just call cauliflower racist?"
Elsewhere online, the jokes kept cropping up.
"It's too white," a redditor quipped.
"Oh, and you think its just a coincidence that cauliflower rhymes with White Power?" said another.
Not that Ocasio-Cortez is letting the haters rain on her parade (though her garden would probably appreciate a little). This week, she tweeted triumphantly about consuming the fruits of her—or someone's—labors.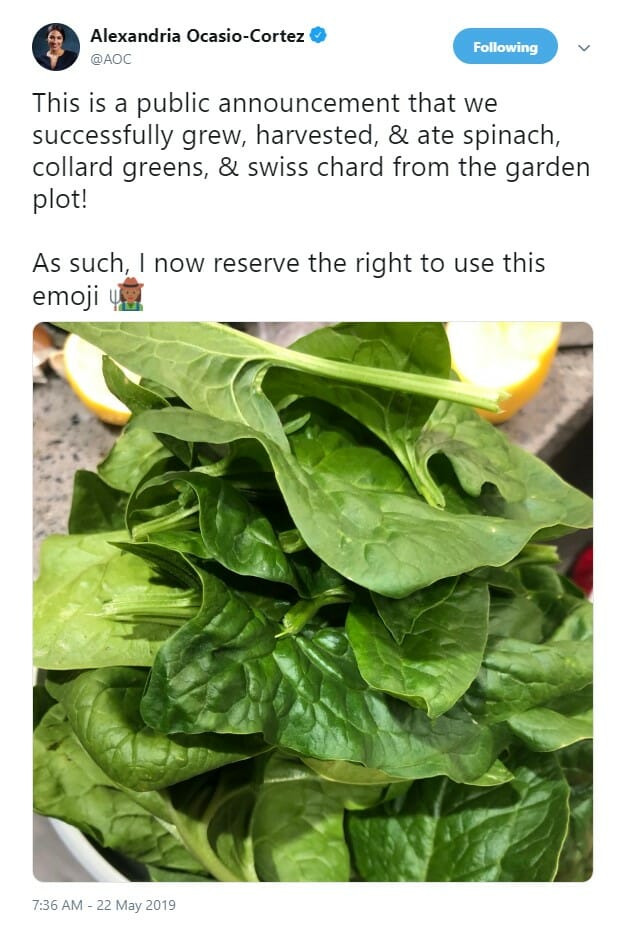 Still, it's probably a good idea to complete your first season as a gardener before you start handing out advice.
READ MORE: