Beth Cook is a personal coach and writer. Want advice? Have advice? Send her an email.
I often say that dating is a game of numbers.
You have to go on a lot of bad, so-so, and even pretty good dates before you meet Mr. or Ms. Right—especially if you live in a big city.
Now I've got proof that this is true. It turns out that most people reject the first 37% of their relationship candidates before they pick someone to settle down with. The bigger the dating pool (e.g., NYC), the more people you will have to reject before picking a mate.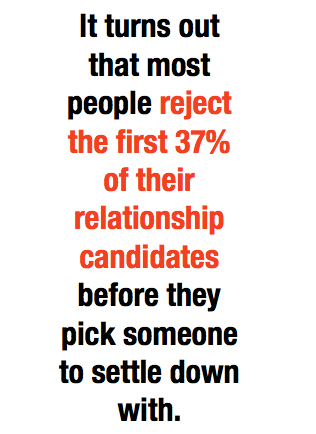 If there ever were a reason to go rural, this is it! In a small town, you might only have to reject four people to find your dreamboat. A smaller city = fewer options = finding love quicker. It's gonna take you a little more than a minute to reject 37 percent of your options in NYC or San Francisco.
What's even more interesting about this study is that we reject about 30% of people regardless of where we are. Then we start evaluating people as having real potential—yet rejecting them still. We finally pick the best person of anyone we've previously encountered after cycling through 37% of our options.
What jerks we all are! What if Mr. Right clocked in at 27%? One hopes that better candidates keep coming down the pipeline…
And don't worry. Thanks to online dating, they probably will. Just think how much quicker you'll be able to reject people and get to the real meat of dating (which apparently happens post 30%).
This study also makes me feel a bit better about rejection—about those that I have rejected and those who have rejected me. Clearly, our percentages weren't aligned. It wasn't your fault or mine; it was faulty math.
Now though, it's time for me to find someone who is reaching rejection exhaustion, because I've reached it myself. What I suggest for you is to get out there and reject people by the handful! Just kidding. Sort of.
Seriously though, use this theorem as your inspiration to go on a dating bonanza. Pursue as many online dates as you can, join a Meetup group, attend cultural events, and say 'yes' to any birthday party, networking event, or co-worker happy hour invitation you receive. 
You never know who you'll meet, though chances are you'll have to meet about 37% before you find your person.
Image by larsgrefer