This week, rumor hit that Twitter was set to release an Edit button. Just as quickly as the typo-plagued masses rejoiced and the tweeting purists cursed the network, a "not so fast" was issued by tech reporter Mathew Ingram. Apparently, the original report from Matthew Keys might not have had all the facts straight. 
While Twitter may—eventually—introduce the ability to edit a tweet, Ingram says the feature isn't exactly forthcoming. "I don't know where Matthew [Keys] got his information, but I do know that my own sources (as I noted in an update to my post at Gigaom) said that Twitter isn't working on any such feature at the moment, although they wouldn't rule out the chance that they might investigate such a feature in the future," Ingram told me via email. 
Now that our respective hopes and hates have been crushed, we can reflect on the possibility of this idea: Do we want a Twitter edit button?
Of course we do! 
Case in point, this: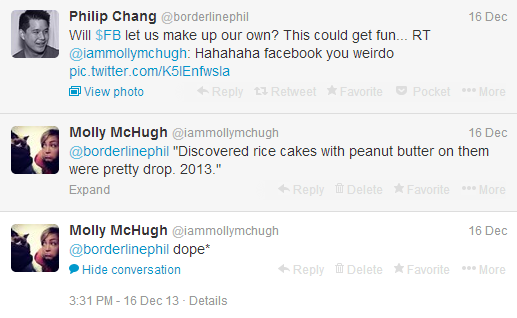 I was proud of this quippy, off-the-cuff comeback. Of course, I was not so proud of my typo. I issued a lame asterisk follow-up tweet, but it's all wrong. The tweet itself is ruined; the recipient has to look at my mistake and then my correction, and the flow of what would have been moderately enjoyable repartee is all off.
Facebook introduced an edit button back in September of this year, and for the most part it's alleviating the pain we feel at missteps. Sure, you can hit the "Edited" link that accompanies rewritten status and see what exactly someone changed, but the embarrassment and hassle is still addressed. 
A lot of the people who voraciously use Twitter are the type that recoil at the thought of a grammatical error or a typo. And to address the elephant in the room, there is a way to make sure that people don't slide anything major past us with the feature: the aforementioned edit history, which Facebook uses. With a quick click, you can see everything someone tweeted. This way, a journalist can't cover up a sketchy source's link they retweeted and a politician can't edit out the homophobic slur from an otherwise P.C. message.
We should all have the power to correct, while still being called out for self-censoring. 
Absolutely not. No way, no how.
The idea of being able to keep Twitter and add an edit button is a fallacy. Twitter is about real-time, stream-of-consciousness conversation. It's about throwing out your thoughts as they happen, about finding something interesting and immediately blurting it out. 
Being able to go back and fix and tweak would be like turning Twitter inside out and upside down—it'd be like, you know… blogging. 
Everyone arguing that Twitter needs an edit function to protect it as a journalistic and reporting resource seems to forget that Twitter isn't just another media platform—it's the face of new media. The world of information is changing at an incredible pace, and Twitter is one of the only things that's able to keep up with this, and arguably even fast-track it along. 
Twitter isn't irresponsible for not giving us an edit button. We're the irresponsible ones for tweeting out faulty links or information. If anything, being accountable for what we send into the Twitter ether is good; this place is already full of "wars" and gossip and misinformation. Not being able to alter what we said—edit history or no—will perhaps raise the bar for online conversation. Yes, tweets can be deleted, but they can also be screenshot. If you tweeted something wrong, inappropriate, or horrible, you might wait until the heat dies down and then edit to make things look just legitimate enough. The uproar surrounding your tweet might be calmed—unless of course, there was a screenshot. 
Then the he-said, she-said would begin. 
So let's just leave well enough alone. Don't fix what ain't broken. 
And just deal with the momentary shame of "your" instead of "you're." The greater good is at stake here.
Illustration by Jason Reed