While other children were busy dreaming of faraway lands and mystical adventures, Zac Gorman was making his dreams a reality.
During childhood sleepovers, he jammed Mario Paint into the Super Nintendo, grabbed the faded gray mouse and spent hours creating animations while his friends slept.
"There was something magical about creating art on a screen that just clicked with me," said Gorman in an exclusive interview with the Daily Dot.
Now decades later, Gorman is still using his mouse to create animated pieces of art, though they're now inspired by a lifetime of video-game play.
One of Gorman's most popular pieces is "Everything Was Perfect," inspired by the legendary SNES game EarthBound. The artwork features Ness, the game's main character, and his merry crew running through the streets at night without a care in the world.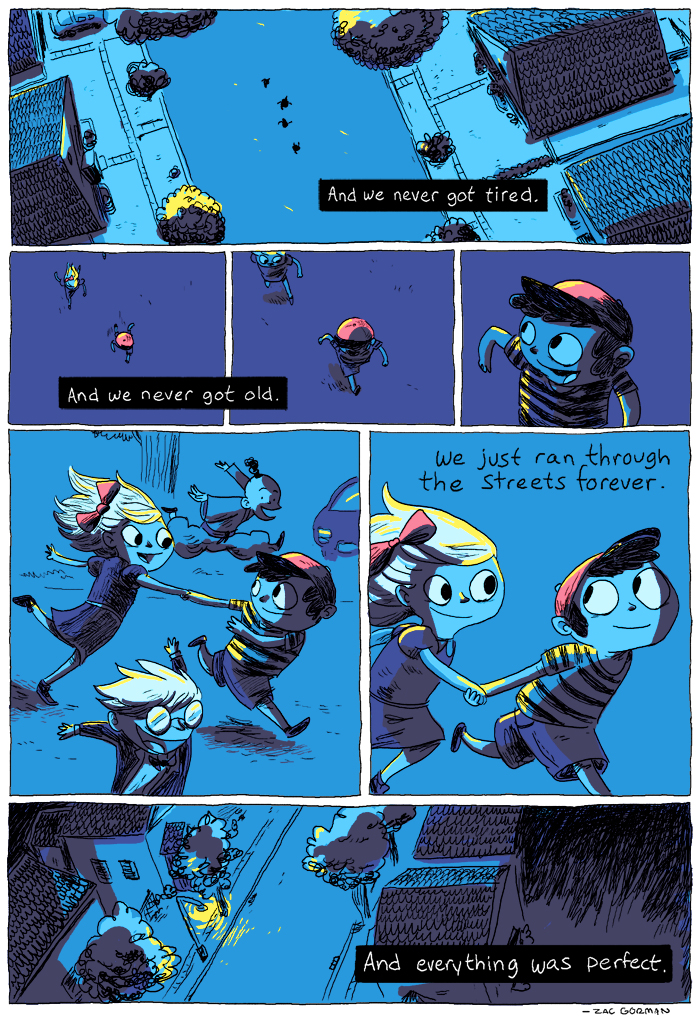 "With a comic like that, it's really about just finding that sensation that you felt when you played that game for the first time and just holding onto it for long enough to draw the comic," Gorman said. "These feelings are there for everybody who loves these games, it's why we love them."
This love was certainly felt by hundreds of redditors who helped shoot the image to the top of the social news site's front page about a month ago.
"I love this comic and yet for some reason it made me really sad," wrote SirCrow42. "I think it's because I'm never going to be that young again (but I resolve to always be that childish (sometimes)."
"I've never been so emotionally attached to a video game such as Earthbound—this comic reminds me of that," wrote lifeinaraindrop.
Gorman was first exposed video games when he was a child growing up in Dearborn, Mich., in the 1980s.
"I always loved games of all kinds, not just video games, but when we got the NES though, that's when my life changed forever," Gorman said. "It was actually a gift for my older brother, although I was the one who ended up falling in love with it."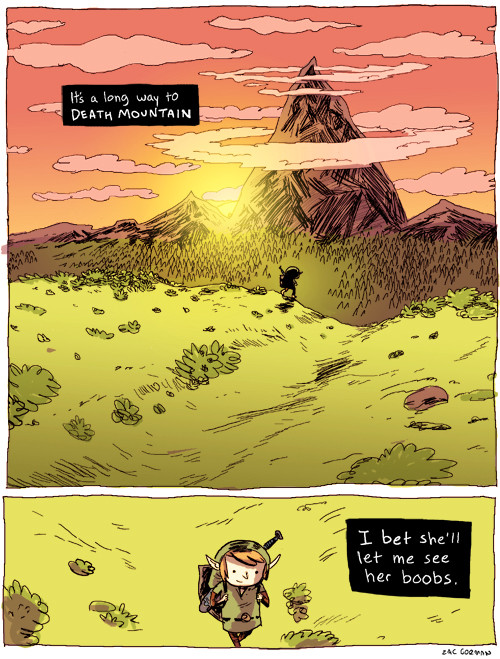 One video-game character that Gorman really related with, and who has influenced pieces like "The Glass Half Full," was Link from the Legend of Zelda series.
"I'd always want to be Link (with an occasional Mega Man thrown in)," Gorman said. "Maybe it was because the earlier versions of Link depicted him as a little kid. At that point in my life, I was just a little kid faced with this big, impossible world and I think there was a connection there."
Gorman attended Kendall College of Art and Design in Grand Rapids, where he honed his artistic talent and bumped elbows with other artists. There, he said, he learned the importance of getting your work up on the Web even if it means not getting credit for it.
"You'd be amazed at how much better your 'luck' is when you go out of your way to be a decent, cool, honest person to everybody you meet either online or face to face," Gorman said. "The truth is that getting credit for your work isn't always as important as it might seem; the people who want to find you, will find you, and the people who just want to look at it, enjoy it for a second or two and then move on with their lives."
For now, Gorman is content with making animated pieces for his army of fans on Magical Game Time, his personal website.
"For me, it's always been about just making good comics. Whether they're about video games or not, I just plan on making comics for as long as I can," Gorman said. "If I had my way, the rest of my life would be spent splitting time between drawing comics and playing video games, with occasional Mountain Dew breaks."