This week in Sochi, figure skating fans witnessed the return of their sport's most infamous tradition: Accusations of corruption in the judging system.
2010 Olympic champion Kim Yuna was the favorite to win gold this year, so the fact that she ended up with silver already has fans up in arms — and not just in her home country of South Korea. Nicknamed "Yuna Queen," she is widely regarded to be one of the greatest figure skaters ever, and her defeat by 17-year-old Russian champion Adelina Sotnikova was so shocking as to be almost unbelievable. 
Which is probably why so many people don't actually believe it.
The figure skating judgement system is so famously subjective and obscure that accusations of inflated results were among our top predictions for things to look out for during the Sochi Olympics. In this case, Sotnikova's win set off alarm bells not just because of comparisons between her performance and Kim's during the competition, but because the judging panel seemed weighted in favor of Russia.
The anonymous nature of the scoring system makes it easy for fans and commentators to suspect corruption among the judging panel, particularly when the seemingly random selection of judges appears to be biased towards a certain country. From a pool of 13 judges, 9 are chosen to judge each competition, and in this case, the judges from South Korea, Great Britain, Sweden and the U.S. were excluded from the second half of the women's event. Of the remaining judges, one was married to the president of the Russian skating federation, the Ukrainian representative had previously been given a one-year suspension after being caught trying to fix the results at the 1998 Winter Olympics, and two others were from former Eastern Bloc countries.
This all adds up to a plausible starting point for conspiracy theories about their judgments, particularly since both of Russia's top female skaters received scores that looked overly generous to people watching from home. 
Yuna Kim was robbed of the gold medal. #corrupt russian figure skating judges.

— Sheattle (@rubbernecker12) February 21, 2014
Were the Russian judges corrupt in their decision in last nights figure skating program? It's all the buzz in Sochi this morning.

— Ali Ehrlich (@ehrlichABC) February 21, 2014
Russia may have given a gold medal to Sotnikova but the rest of the world has given it to Yuna Kim. #Sochi2014

— DJ. Pri (@ChocopieK) February 20, 2014
Because the judging results are presented anonymously, it's impossible to tell who gave out certain grades. However, it is known that one judge gave Kim a zero on a jump that seemed competently executed to the naked eye (while every other judge gave her two points), and that one gave Sotnikova top marks for every element but two during the first half of the competition on Wednesday. So, even before the second half of the event had taken place, many fans were suspicious that Sotnikova had been overmarked, while Kim's results seemed somewhat conservative for a performance that appeared to rival the way she skated before her gold medal win in 2010.
The main argument in Sotnikova's favor is that her long program (the second half of the competition) included a couple of slightly more difficult technical elements, meaning that its base value was worth about four points more than Kim's. This meant that because the two skaters were effectively tied for first place after the first event, Sotnikova had more room to screw up during her long program. The question is, were Sotnikova's scores inflated during that all-important first event, giving her more room to maneuver in the long program?
Even taking into account the intricacies of the scoring system, Thursday's medal results have inspired an unprecedented outcry from figure skating fans, with a Change.org petition racking up more than 1.5 million signatures in less than a day. The petition calls for an open investigation into the judging decisions during the women's skating competition, adding, "This is NOT for Yuna Kim, this is for the FAIR SPORTSMANSHIP THAT IS SUPPOSED TO BE CENTRAL TO THE WORLD EVENT OF THE OLYMPICS."
Writing for USA Today, Christine Brennan compared the result to one of the sport's most notorious judging scandals, the 2002 Olympic pairs skating competition when Russian and French judges conspired to let the Russian pair win gold against the Canadian favorites. 
"What happened tonight in the women's figure skating competition was worse than the 2002 Salt Lake City pairs judging scandal because, this time, we'll never find out who might have done what because all the judges' scores are now anonymous."
GIF via yehns/Tumblr
Fans are also taking to social media to analyze the results, a far more convincing endeavour since the advent of the animated GIF. Illustrated using a clip of Sotnikova stumbling during the first half of the competition, Tumblr user yehns wrote, "To those who think Adelina deserved gold: How would you explain the fact that Adelina got higher marks than Asada Mao, who landed EIGHT triple [jumps] (including a triple axel)? It is a skill only a minority of skaters can even execute and is thus meant to be marked very highly as a result. What? Are you saying that Adelina had higher technical components than Yuna? Then explain how Asada got 144 points (with clean jumps) and Sotnikova got 149 points (with NOT clean jumps). Please. Fact: Sotnikova was inflated. Yuna Kim and Asada Mao were underscored."
Unfortunately for Sotnikova, her achievement has already been overshadowed by the popular opinion that Kim was the "real" winner, helpfully illustrated by this photoshopped image where Kim's silver medal podium towers over her competitors: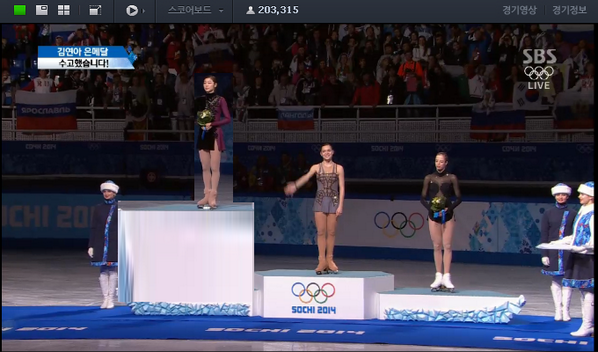 Illustration via gasengi
However, it's worth mentioning that while figure skating fans are up in arms over the defeat of their Queen, there's vanishingly little hatred aimed at Sotnikova herself. As ever, it's the judges who are being cast as the villains. Kim Yuna may have accepted her silver medal with grace and aplomb, but in the end, it's the sport itself that will suffer if fans truly believe that the judging system is too corrupt to be trusted. 
What's least surprising? That there is biased judging in figure skating or that Russian judges put the fix in? Welcome to figure skating.

— Ray (@RayCarcases) February 21, 2014
Photo via KOREAnet/Flickr