While in Switzerland, YouTuber Gursk3 was excited to go hang gliding for the first time. That is, until he nearly died. Of course, there was a camera strapped to the back of his rig, taking all of YouTube on the harrowing ride.
In a video titled "SWISS MISHAP," Gursk3 explained that "my first time hang gliding had an unexpected twist when I left the ground unattached from the glider." Obviously, that's not the way they teach you to hang glide when you graduate from hang gliding school. He also wrote the content might be disturbing to some, "including my wife!"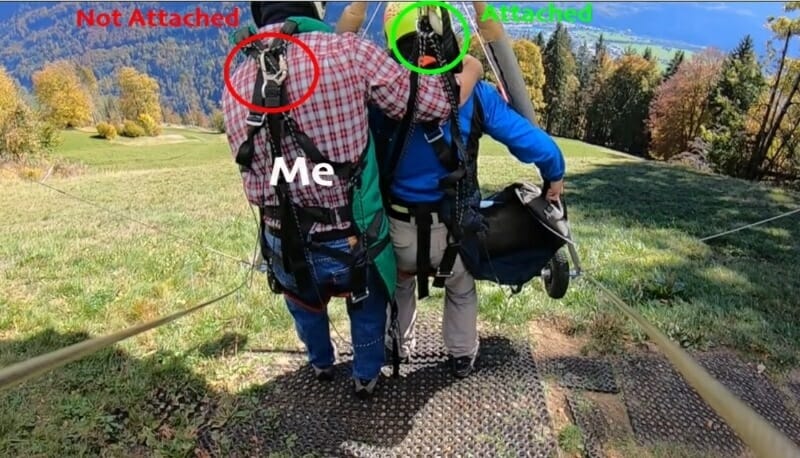 Almost immediately after their running takeoff, Gursk3 realized he had a problem as he had to hang onto his instructor's body to keep from falling out of the sky: His safety harness wasn't attached. Though the pilot tried to maneuver the glider to make a quick landing, Gursk3 had to hold on for more than two minutes.
As he landed—or, more accurately, as he fell to the ground—the YouTuber broke his right wrist, which needed surgery so doctors could insert a titanium plate and seven screws, and tore his left biceps tendon. But as he wrote, "It beats the alternative."
While the scenery is certainly beautiful as they flew through the air, it's doubtful that the YouTuber even paid attention to that. He was just trying to keep himself alive.
His video quickly went viral, accumulating more than 1 million views (as of this writing) one day after he uploaded it to YouTube—not too bad for a YouTuber with slightly more than 500 subscribers. "The landing was a rough one," he wrote on YouTube, "but I lived to tell the story."
Plus, he had plenty of vacation left to enjoy. Gursk3 said this mishap occurred on the first day of his family's Swiss holiday. For day 2, he wondered if he should go base jumping.
You can follow along with the YouTuber and hang on for dear life below.